Interview: Jemma Birrell
Written by Hello Bookcase, Posted in Interviews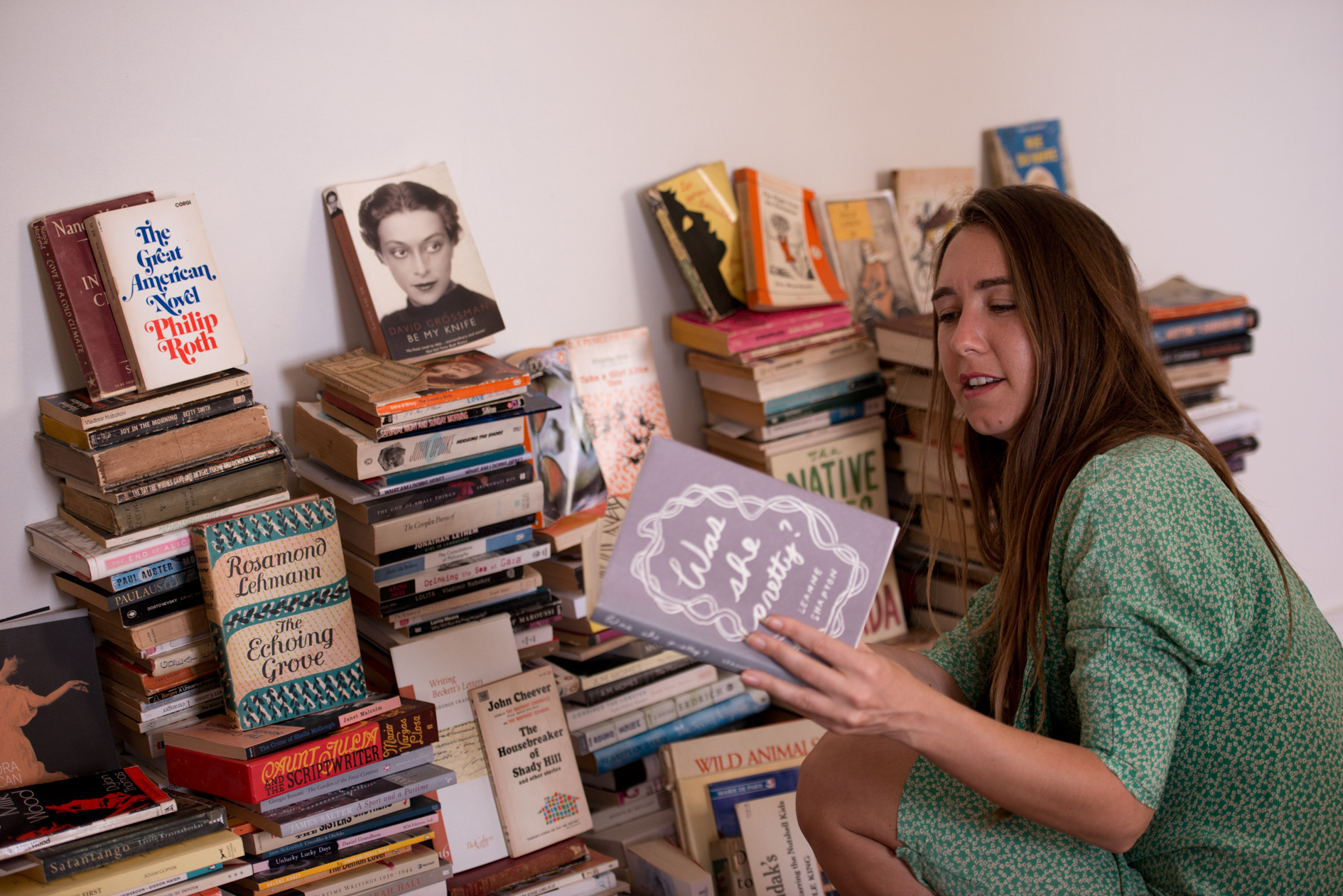 For the last seven years, Jemma Birrell has been calling the  Parisian bookstore – Shakespeare and Company  home, where she was been  involved in inviting  and entertaining some of the worlds most prestigious and upcoming authors –  including Alain de Botton, Robert McLiam Wilson, Will Self and Jeanette Winterson.
Jemma's books have  just arrived home in Bondi  from Paris. It's been a  long journey – but well worth the wait crossing oceans to be with her where she is the Artistic Director for  the Sydney Writers' Festival.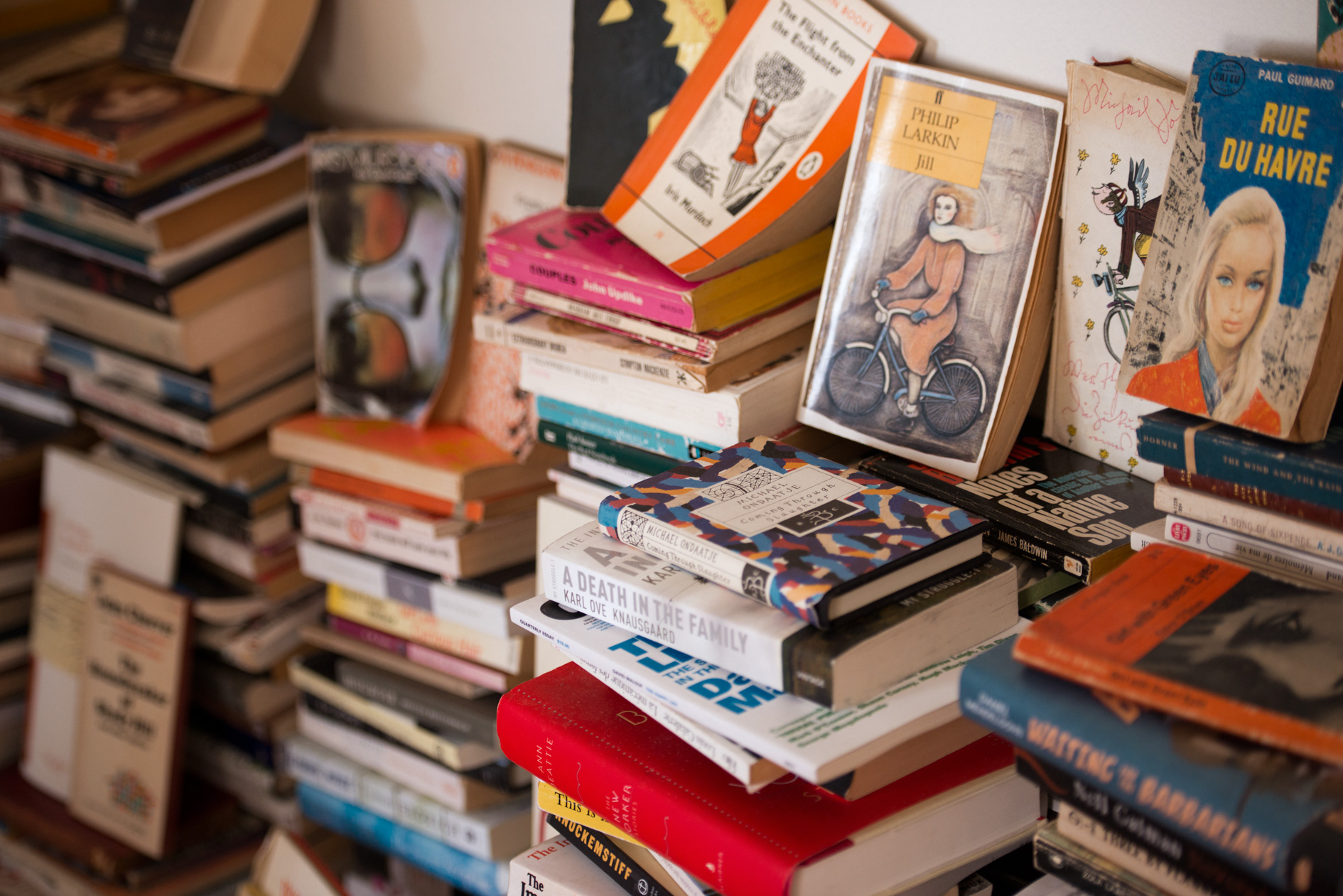 There is an element of all my books in me. Having my books back from Paris is a  comfort and I know I am home when I have them with me. The first thing I do when I go to someone's house is check out their collection, see what books they are interested in, get more an idea of the books that have shaped them.  Personally, I  love collecting books of various subjects and styles and  I got rather greedy working Shakespeare and Company – when all the rare editions and beautiful pulp classics would come in from various libraries around Paris. 
Away from the mountains of books, Swimming Studies by Leanne Shapton has comfortably taken the prime position on Jemma's window sill overlooking the ocean.
I  first met Leanne after inviting her to Shakespeare and Company (Leanne is based in New York) where she spoke about her work and painted book blocks with stunning vintage-style covers.  She is an extraordinary artist and  writer.  One of her books Important Artifacts and Personal Property from the Collection of Lenore Doolan and Harold Morris, Including books, street fashion, and Jewelry  tells of the collapse of a relationship told through the objects and looks like an auction catalogue (Sheila Heti, an author coming to this years Sydney Writers' Festival is the model and character in this book).  I also have and love her Native Trees of Canada book which is a collection of delectable paintings.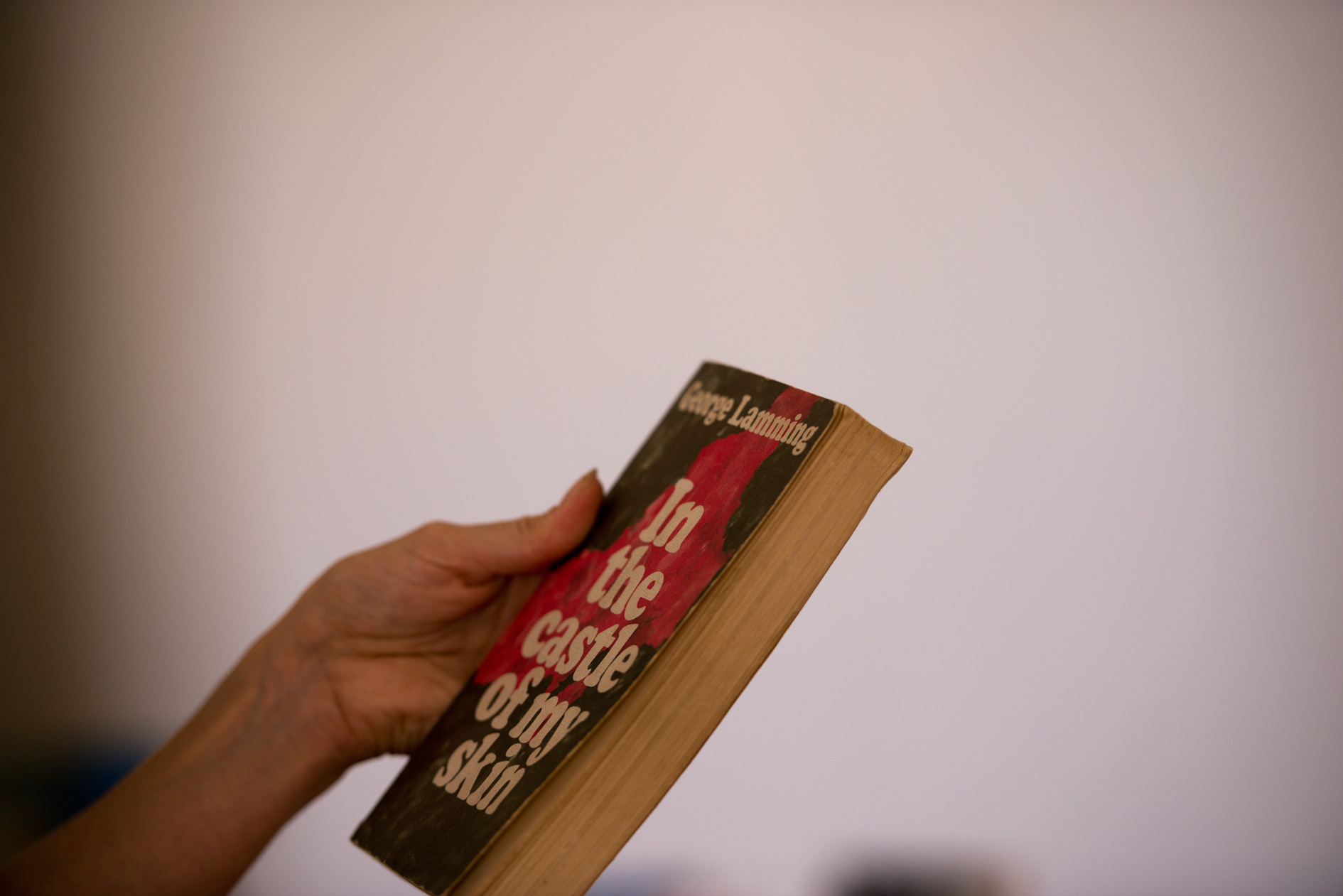 I particularly love old book design. The cover of  In the Castle of My Skin by George Lamming  is just extraordinary. It's a forgotten classic and the cover says so much to me, it's just beautiful. Also – Be My Knife by David Grossman.  The cover is such a  juxtaposition and while she has such a soft  exquisite face there is a violence to the title.   Justine by Lawrence Durell  is also one of my favourites – such poetic writing,  it was given to me from Sylvia at  Shakespeare and Company as a farewell gift.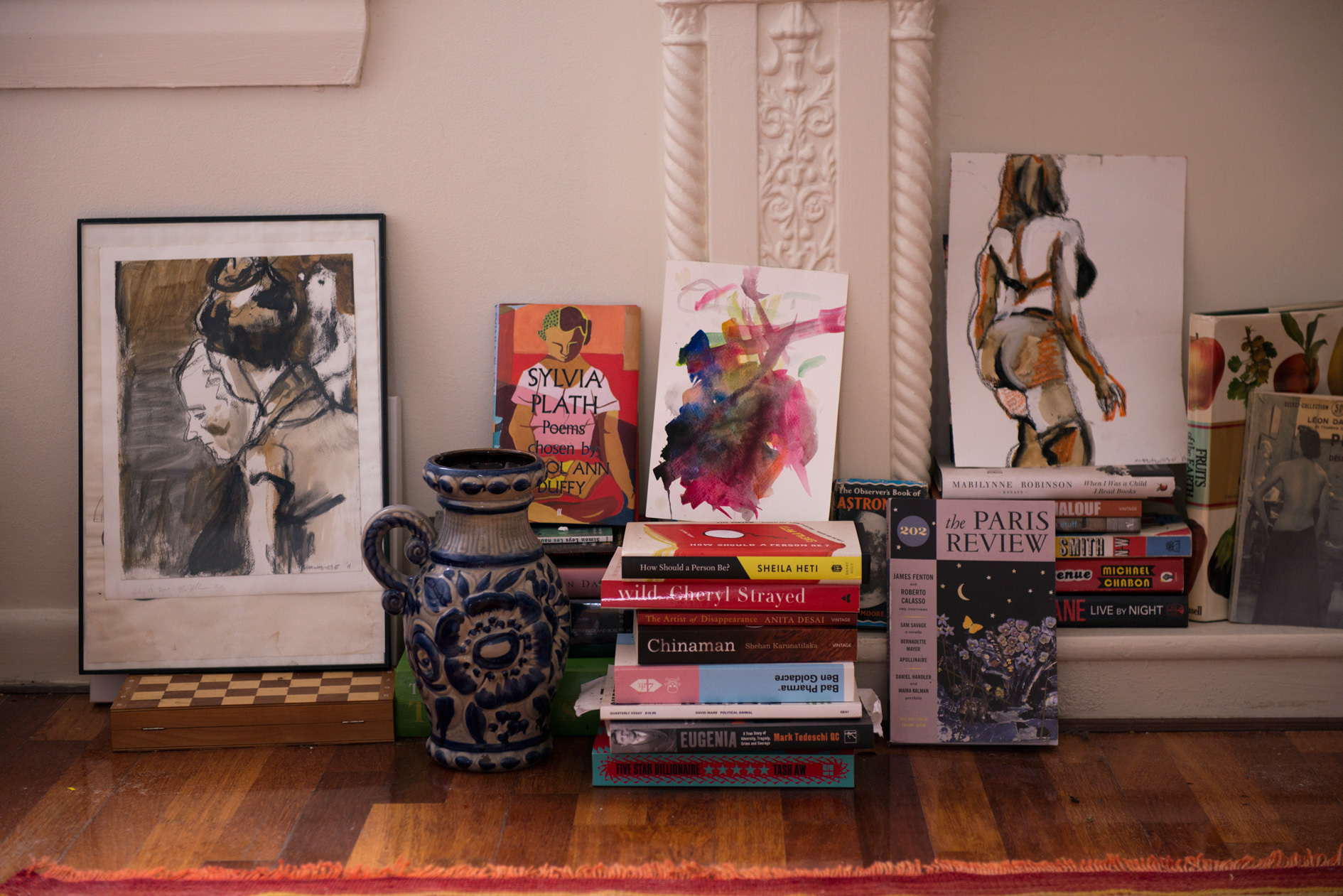 At the moment, I am reading about a million things – mostly as much as I can for the festival.  I have asked different writers to write new pieces for the festival and I've delved into Pauline Nguyen's piece on authenticity. I am also reading The Woman Upstairs by Claire Messud – which I love – who is giving the closing address this year on Imaginary Homelands (the title coming from Salman Rushdie's essay).  Have you read How Should  a Person Be? by Sheila Heti?  She is doing an intriguing event at the festival where she will involve the audience – asking them questions to work out what makes a person interesting.
I have been dying to read  The Desert by  Pierre Loti ‪– a famous French travel writer which I will when I get a bit more time.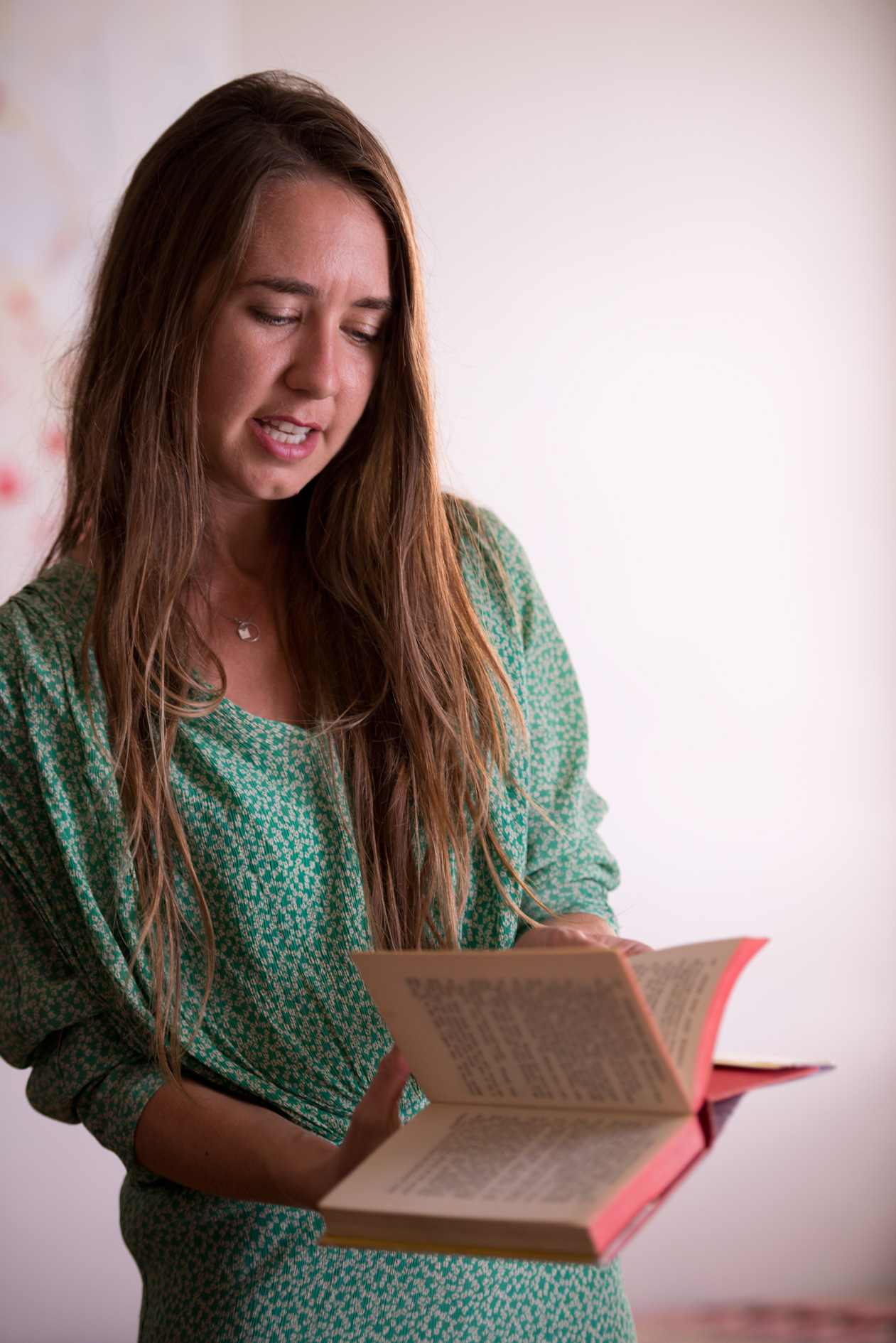 Jemma opens another book that reveals an old French postcard, that was from the book's original owner.
Every secondhand book has a past life and I love the traces you find when you open them – postcards, letters, photos.
I moved to Paris to write – I had been working in publishing and I thought it would be good to get into my own writing, but I only wrote bits and pieces and dabbled with restaurant reviews and other such things.  Instead, I got embroiled in the magic and madness of the bookshop, which was wonderful. I was around fascinating  people and found it creatively satisfying bringing audiences together with authors.  It was my creative outlet and my energy went into that.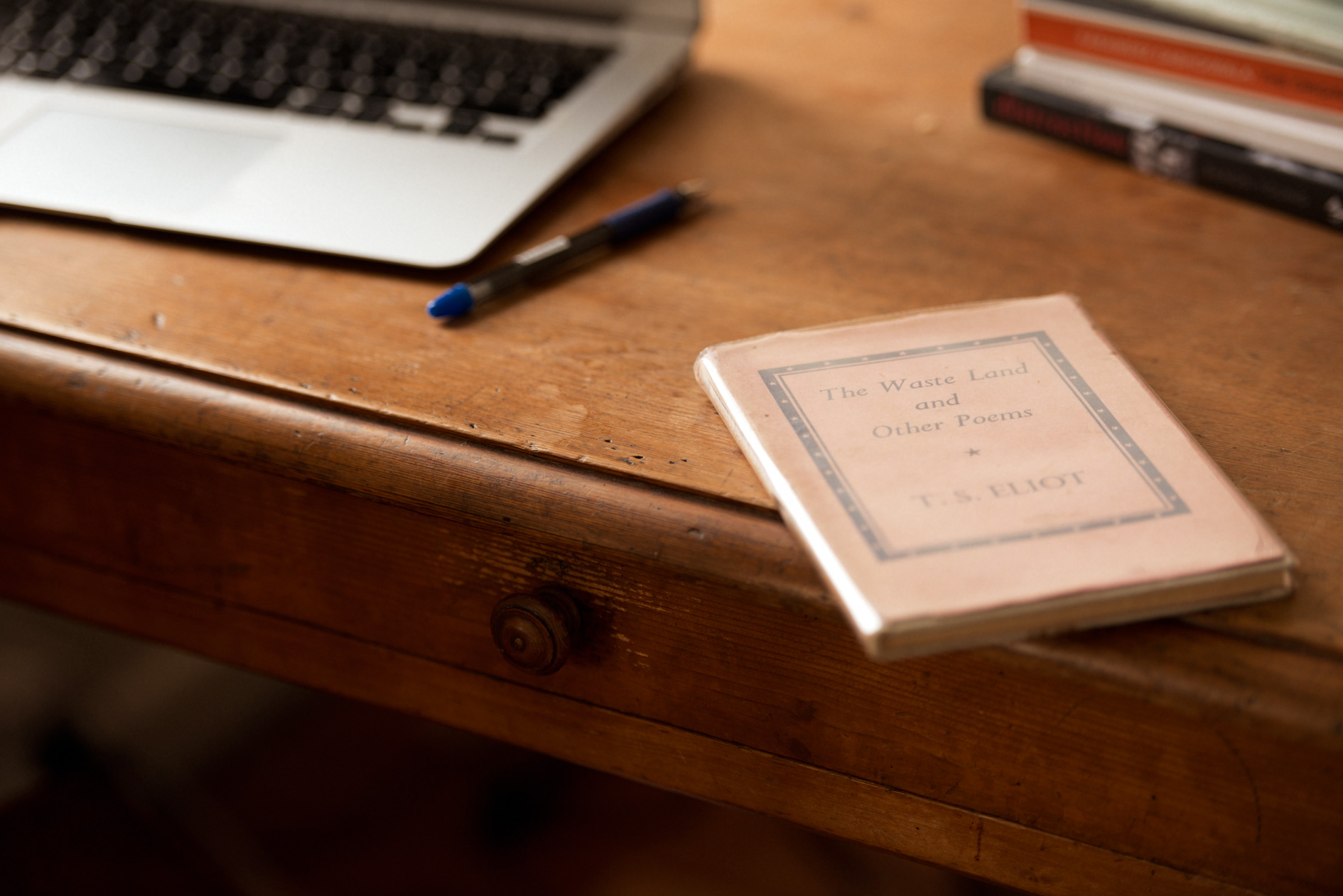 At the moment because of all of the events I have been doing the past few years in Paris and now here- I read a lot of contemporary fiction which  I really enjoy.  I also love to re-read over the classics.  I actually gave away many of my books when I left Paris but have kept many I still want to read.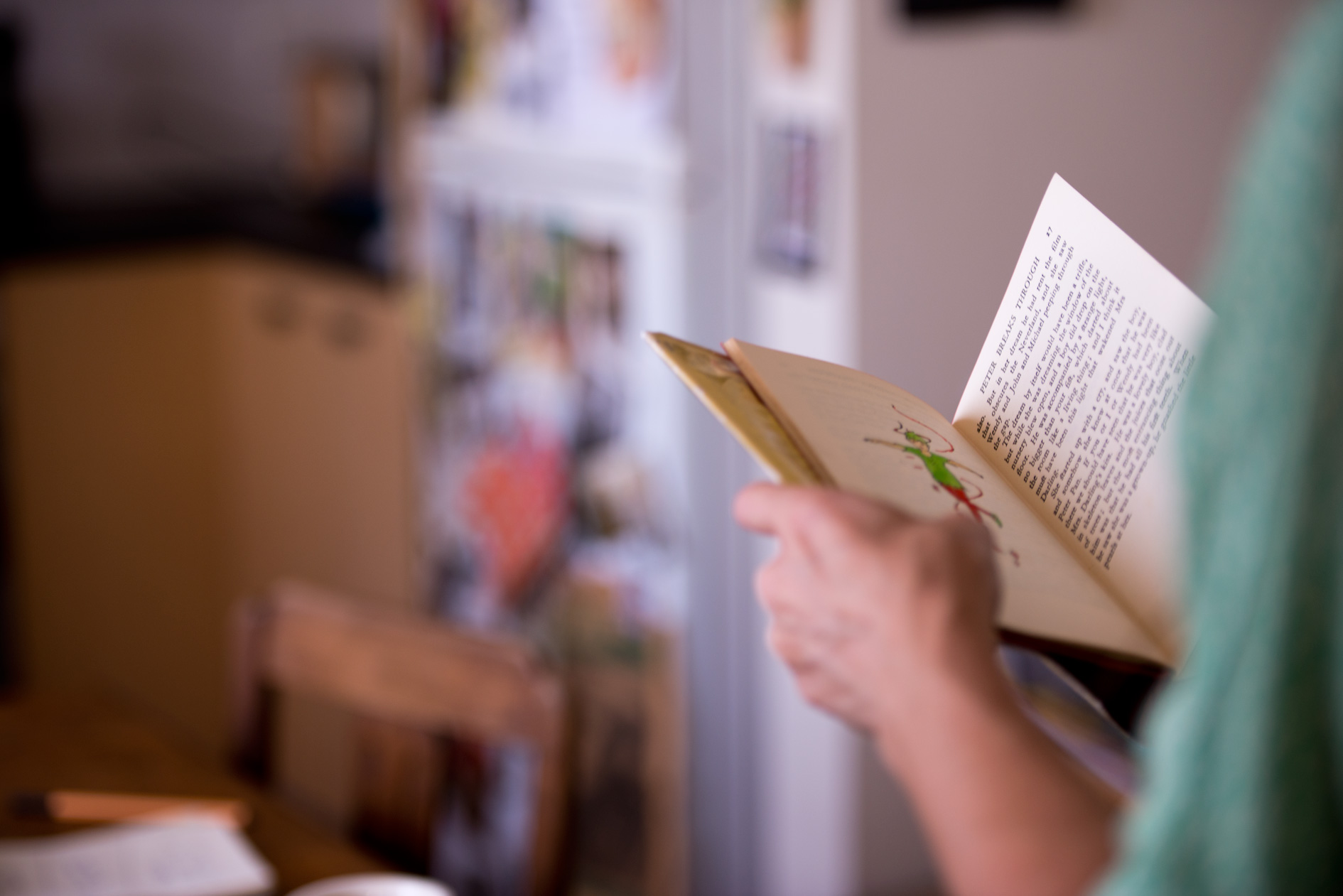 Last year I rediscovered Peter Pan by J.M. Barrie – I read it to a close friend  who was having a down moment, to make her feel better. I am not sure if it helped but it made me realise as an adult how great Barrie's writing is.  The book is outstanding and it was lovely to go back to one that I haven't read since I was a child. The drawings in the book are also beautiful – in this edition it's hard to tell if they have actually been hand coloured.
When I was a child my parents would read to me every night.  There was so many stories that I loved. I also used to love the 'made-up' stories my parents would tell me.  My mum would often tell me a story about 'The Velvet Curtain' – children would pull the curtain around themselves and they would enter a new world.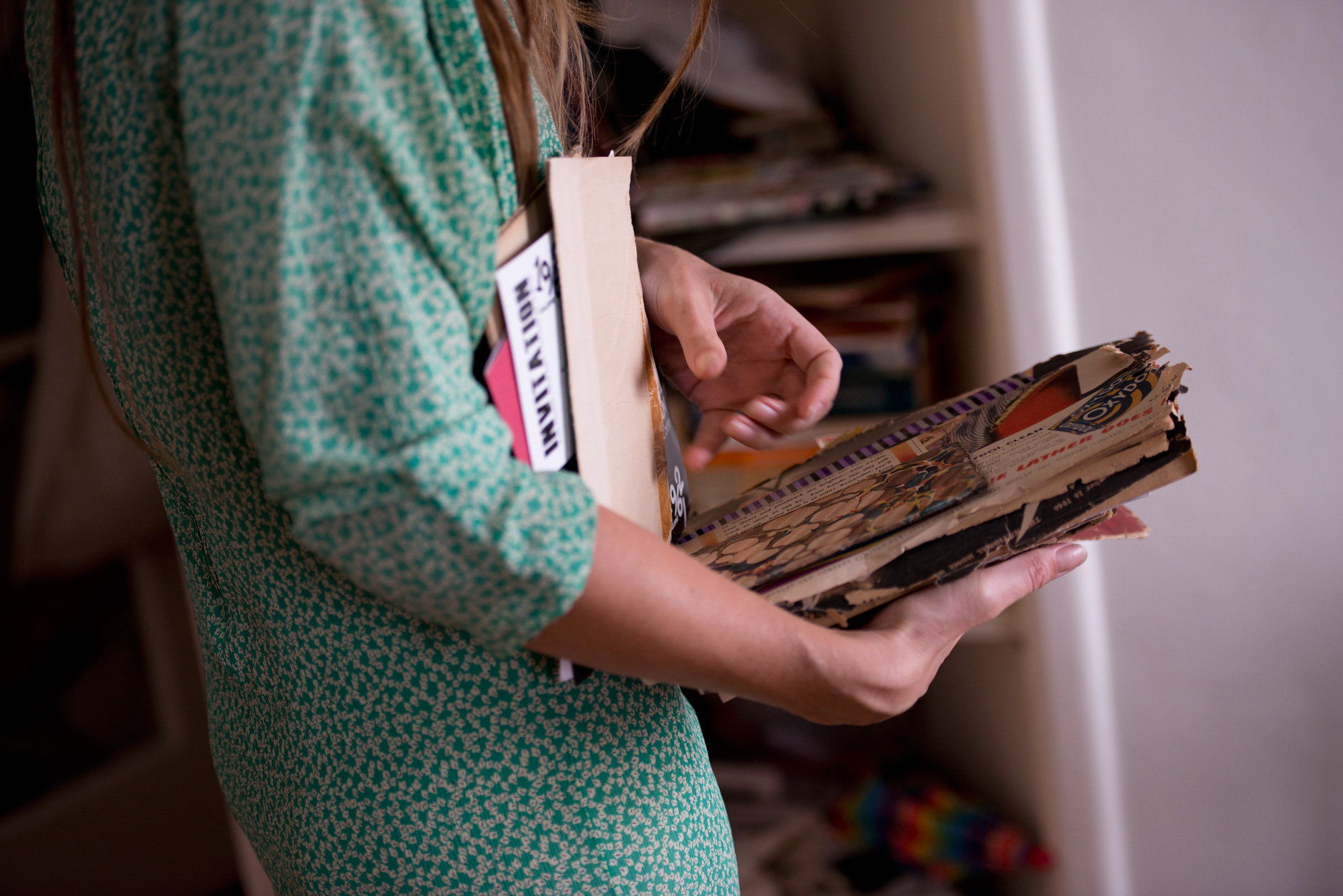 Jemma opens up a cupboard filled with broken books and discarded covers that needed a home.  I have a whole collection of book covers  – I wanted to turn them into cards.  I should not being showing you the chaos – old covers that I have collected, books that have fallen apart but I cannot throw away. I think they are beautiful and some of them are on my wall.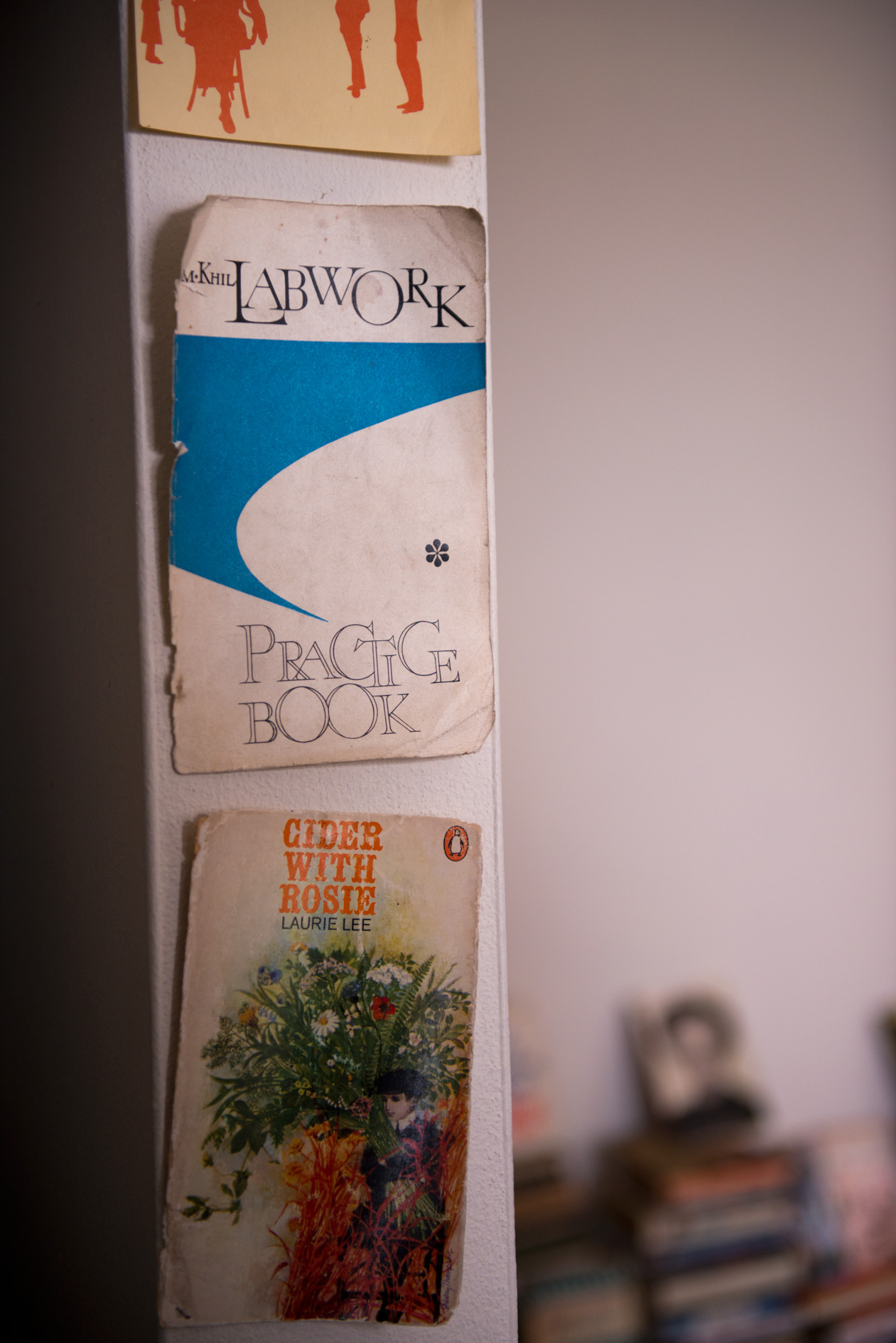 I discover new books  from my friends and people I admire and respect. Their passion for what they are reading makes me eager to read them. Part of my previous job was recommending books, and authors in terms of events in Paris and I loved it  – that's also what the festival is all about.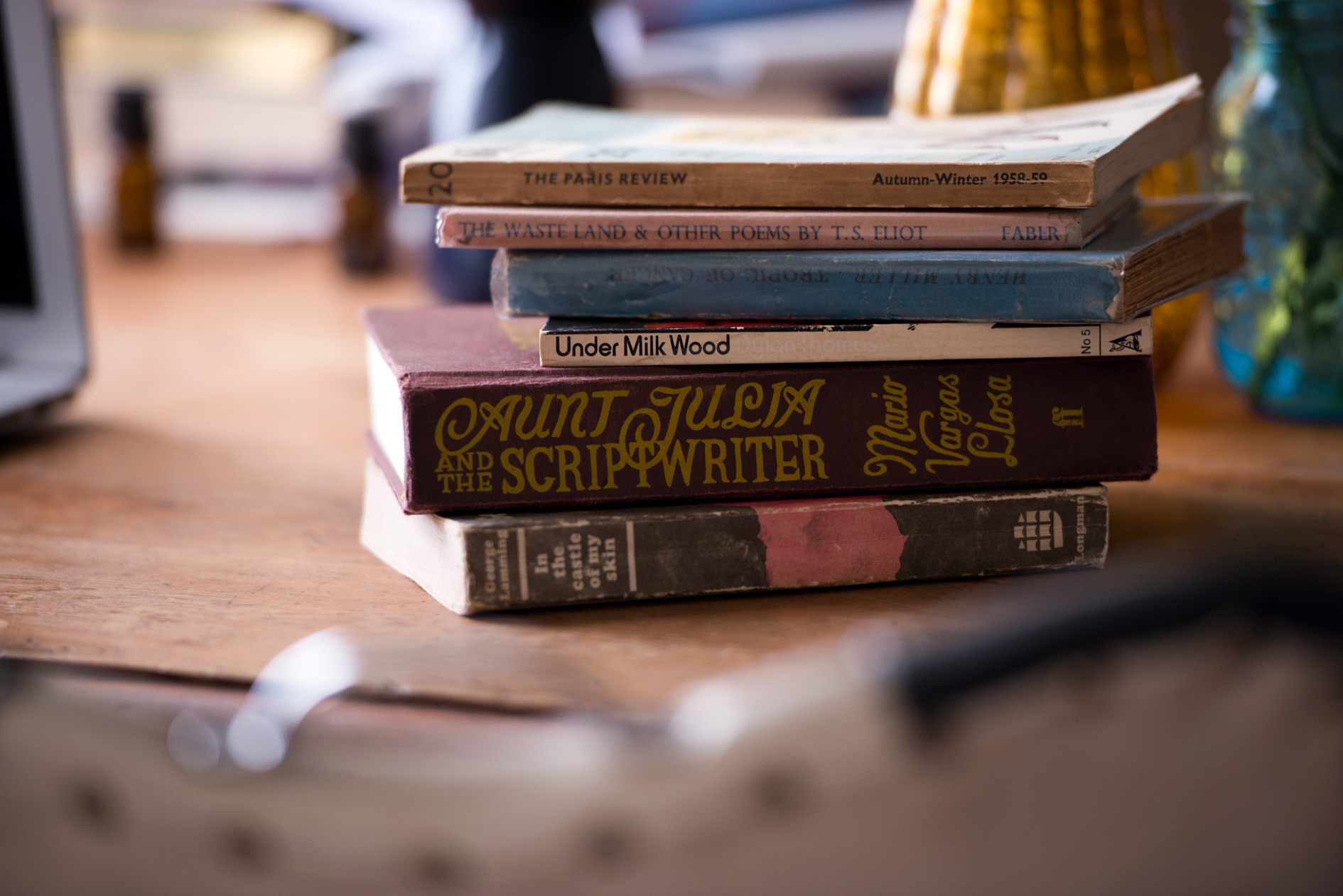 If I could only keep five  of my books with me I would want to keep a mixture of books that I love aesthetically and ones I want to re-read. I would have to keep one of my Paris Reviews and Under Milkwood by Dylan Thomas. 
The Waste Land and Other Poems by T.S. Elliot  | A precious first edition gift.

Tropic of Cancer by Henry Miller |  It's a rare edition (with uncut pages).
In the Castle of My Skin by  George Lamming | I think it has one of the most beautiful covers.
Aunt Julia and the Scriptwriter  by Mario Vargos Llosa | One of my favourites.
I collect books both for their content and also their aesthetic.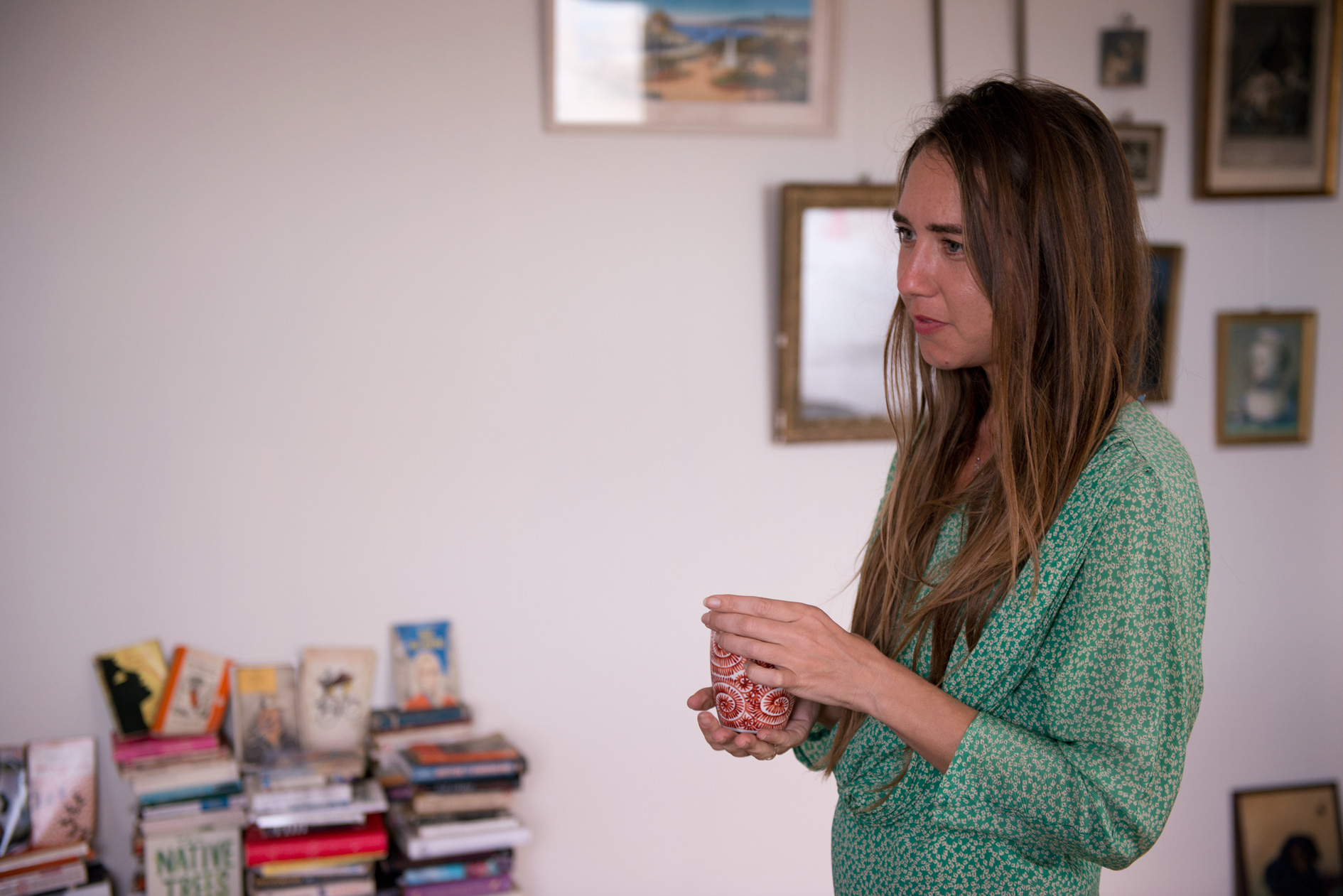 Were there any books that surprised you? Yes, many! Walks With Men by Ann Beattie  –  Ann has written since the 70s (often published in The New Yorker) and is an extraordinary writer. She was very big back in the day and then she lost currency. I only rediscovered her in the last few years and I was blown away by her writing. Similarly with James Salter, I loved his  selection of short stories Last Night.  When I read Iris Murdoch's, The Sandcastle – I  found it had a timeless quality. John Updike's – Couples – I found his writing on relationships interesting.   Erica Jong's – Fear of Flying – the cover made it look like bad 70s porn, then I read it and loved it, she's brilliant.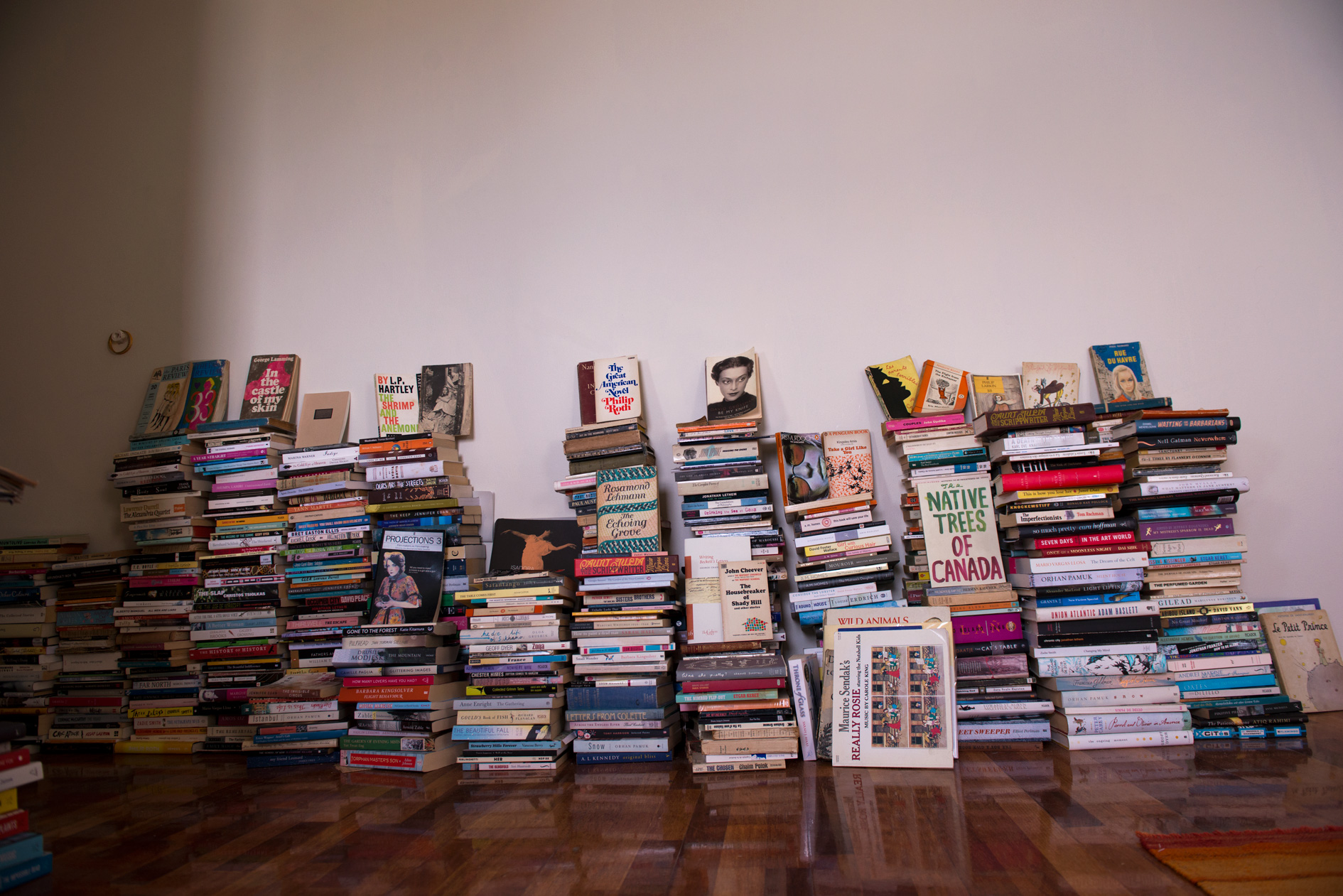 About Jemma Birrell
Jemma Birrell is the Artistic Director of the Sydney Writers' Festival which runs from 20 May until 26 May 2013.
She organised events for the legendary  Shakespeare and Company in Paris and has a background in publishing.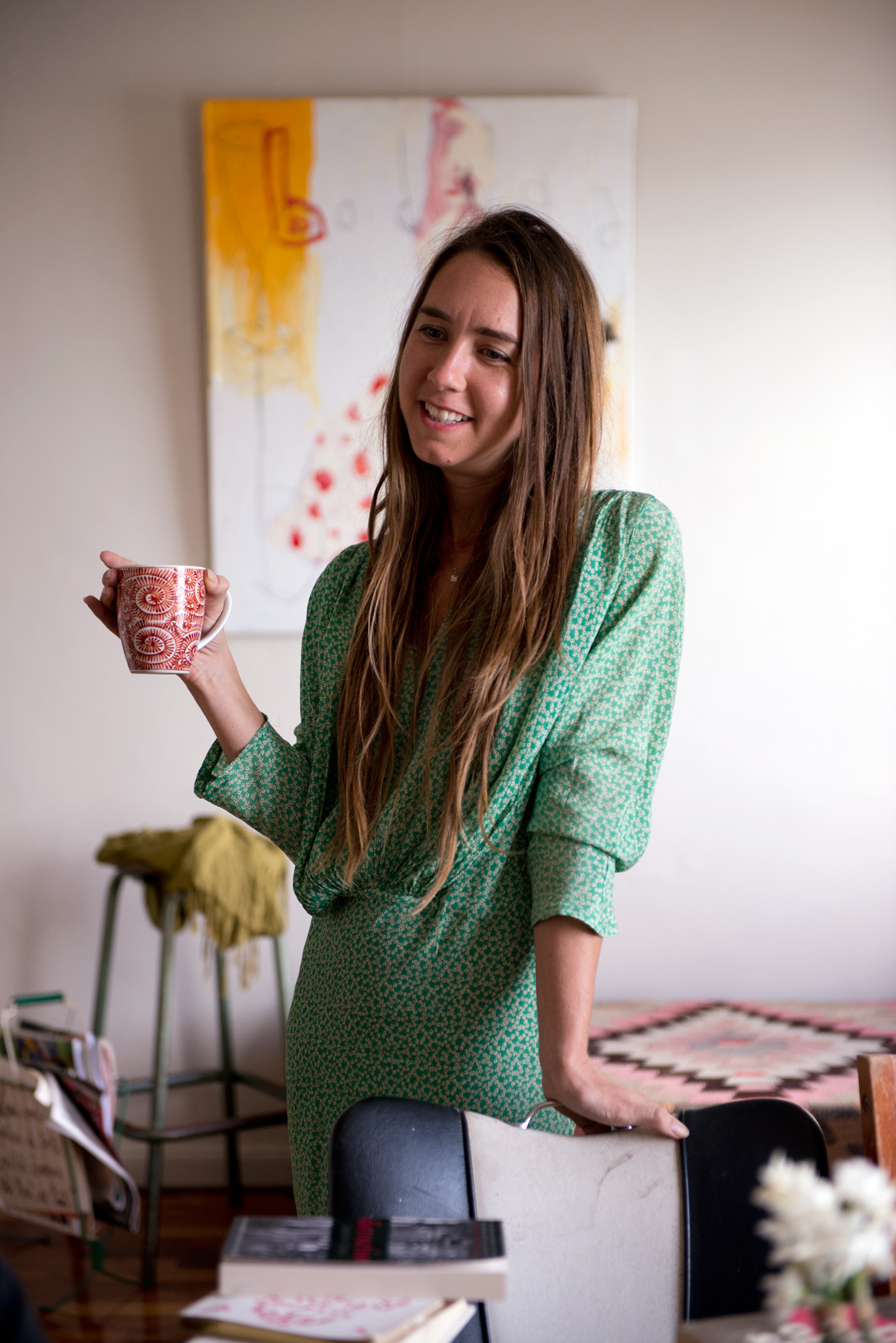 Leigh Russell and Kathy Luu chatted with Jemma on Monday 6 May 2013. Images by Kathy Luu.
© Hello Bookcase 2013. Unauthorized use and/or duplication of this material without express and written permission from this blog's author and/or owner is strictly prohibited.