Interview: Glenn Barkley
Written by Hello Bookcase, Posted in Interviews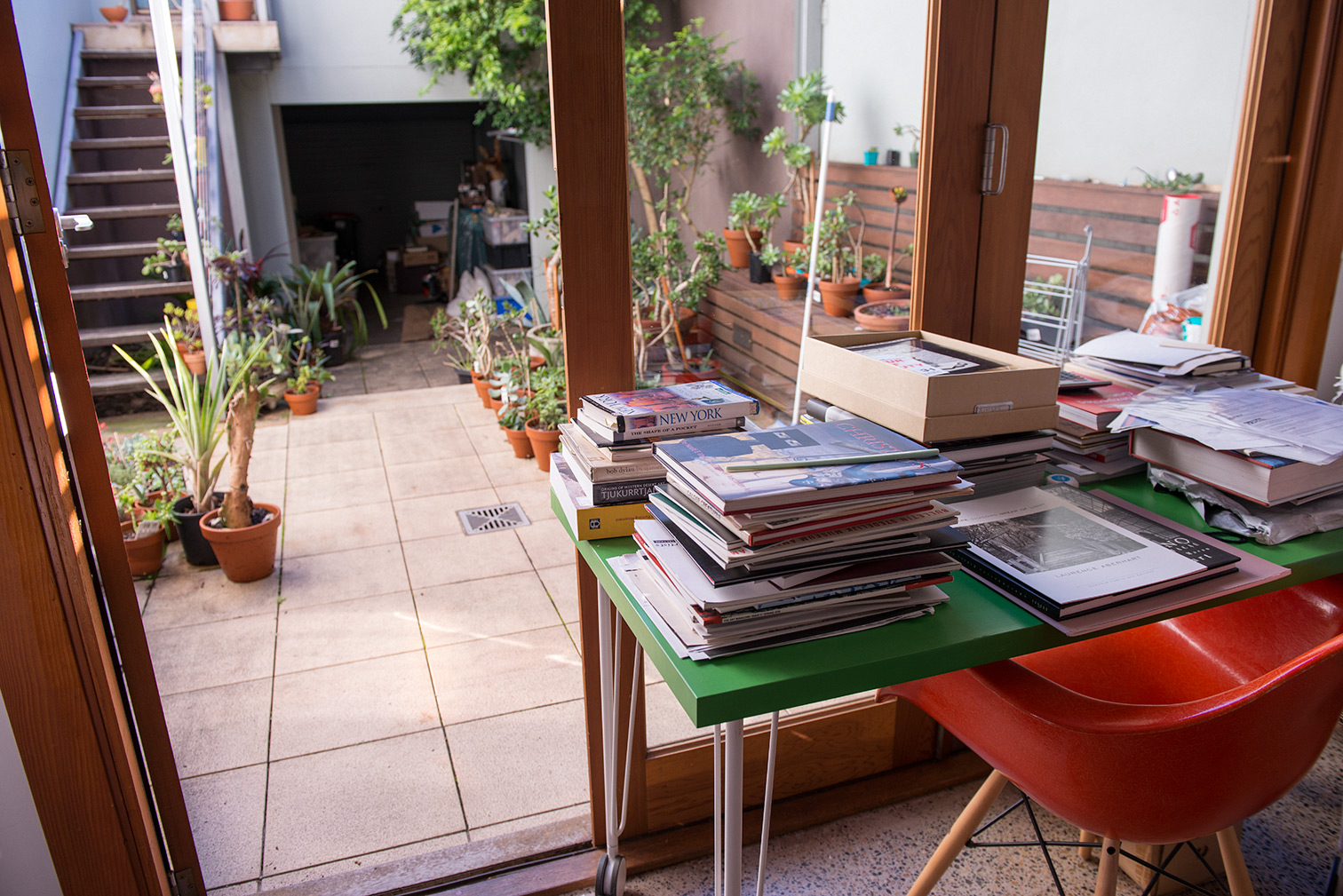 Before heading out to share stories on his zines and ephemera at the Museum at Contemporary Art Zine Fair  – MCA curator, Glenn Barkley introduced us to his wonderful, extensive book collection and we discovered his relentless passion for collecting. Under the watchful eye of his cat, Brian – our visit revealed boxes of zines, artwork lining the hallways, linen cupboards safe guarding much loved photography books, secondhand finds, shelves covered with beautiful patchwork blankets and books waiting patiently for a permanent home.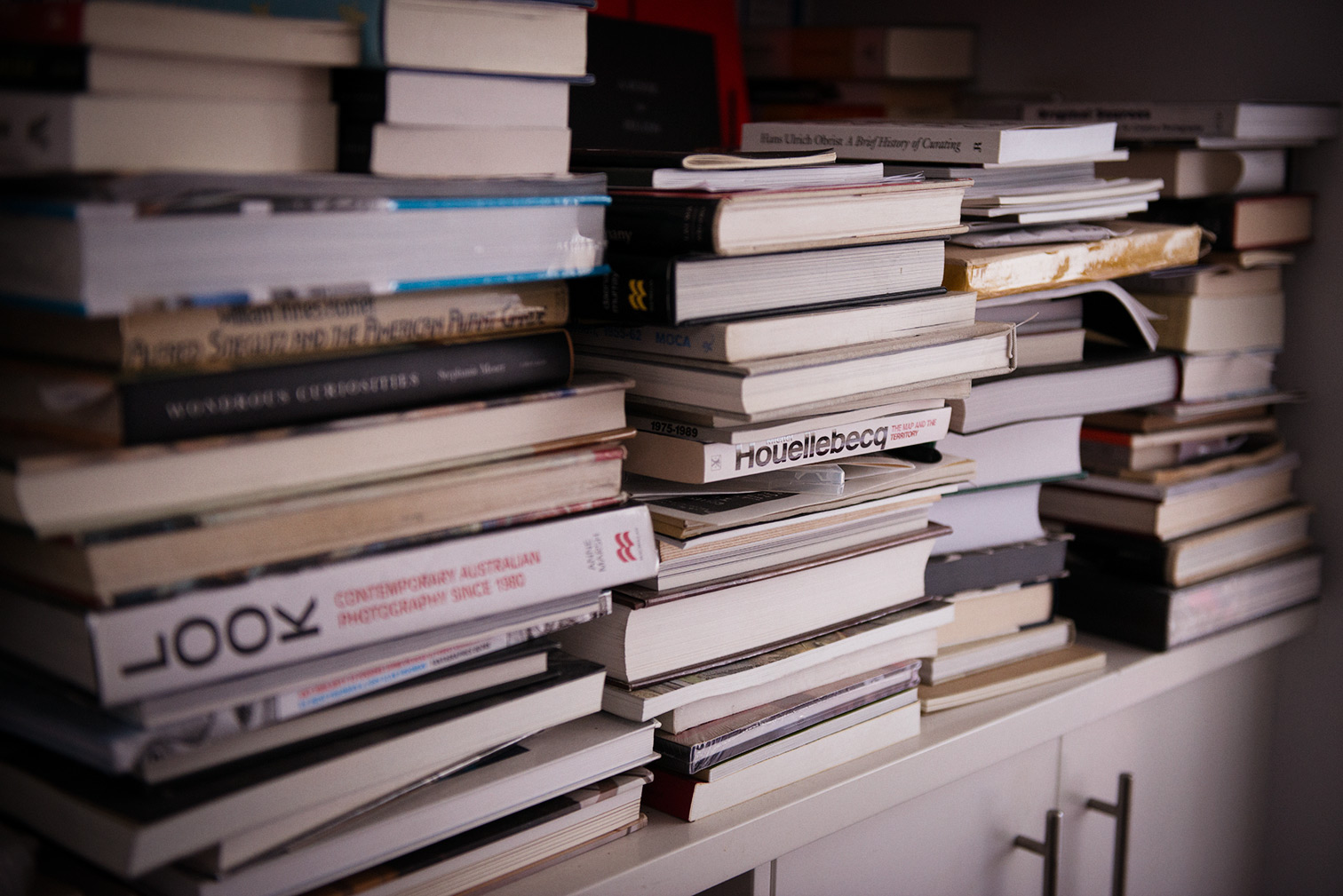 I quite often get asked to talk about my zines but I gave a lot of the collection away. I started to cull my zines and spoke to the State Library of NSW about what they had and I just sent them the whole collection. There are bits left – boxed upstairs. I like dispersing things just as much as accumulating things – some collectors are like that. I come from a family of collectors. My father's father was a collector of plants and probably collected other stuff too. 
I have been collecting zines and books forever. You can build an international world class zine collection with no money. I didn't count them but I had at least 600 zines. People tend to give me zines –  I have made a couple of my own in small runs but have never sold them – I give them away. 
There a couple of artists whose work I really like – Raquel Ormella –  she is a Sydney artist and does a zine called Flaps, Leigh Rigozzi – a comic book artist and Vanessa Berry is amazing.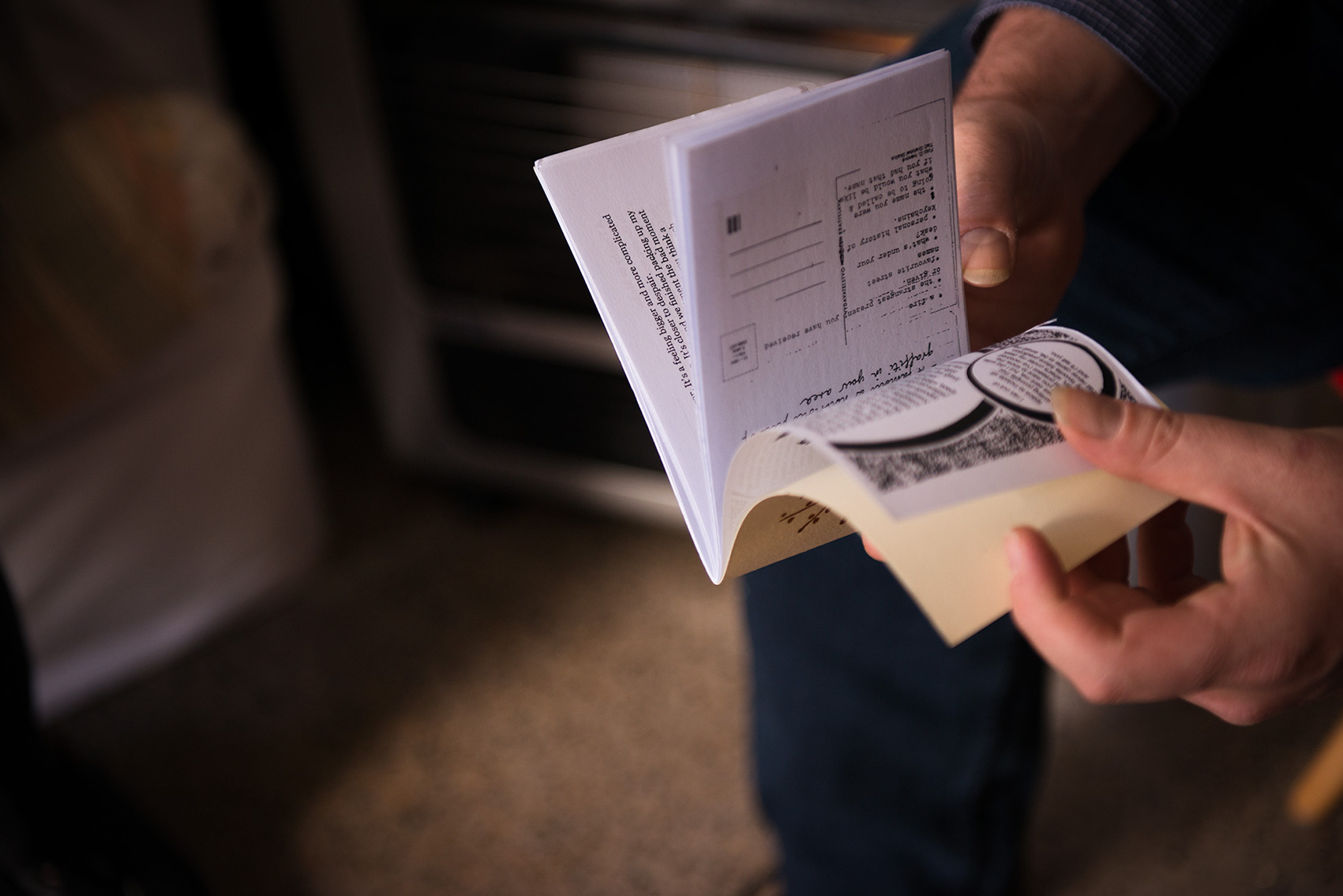 I have become more interested in vernacular photography and people using photography in an interesting way. I actually kept my photography zines. Quite often collecting coincides with my work – I have just worked with Laurence Aberhart, who is a fantastic New Zealand photographer and he sent me a whole lot of his books that were out of print. He works with a large format 8X10 camera that is about 120 years old and he only prints contact prints. It's the only camera he has ever worked with.  So these images are about the size of the originals. Laurence rarely photographs people – 90% of his work is architecture.  It's really beautiful work.
Also within Glenn's collection is a beautiful 3 volume set by William Eggleston. Los Alamos Revisited is a 3 volume work that includes images from a road trip across America that Eggleston took with the legendary American curator Walter Hopps. What did Jack Keroauc say about Robert Frank's book The Americans? 'With one hand he sucked a sad poem right out of America'. This book is a bit like that – it's easy to put Eggleston and Frank in the same sentence. I love American photography of the twentieth century – it feels perfect.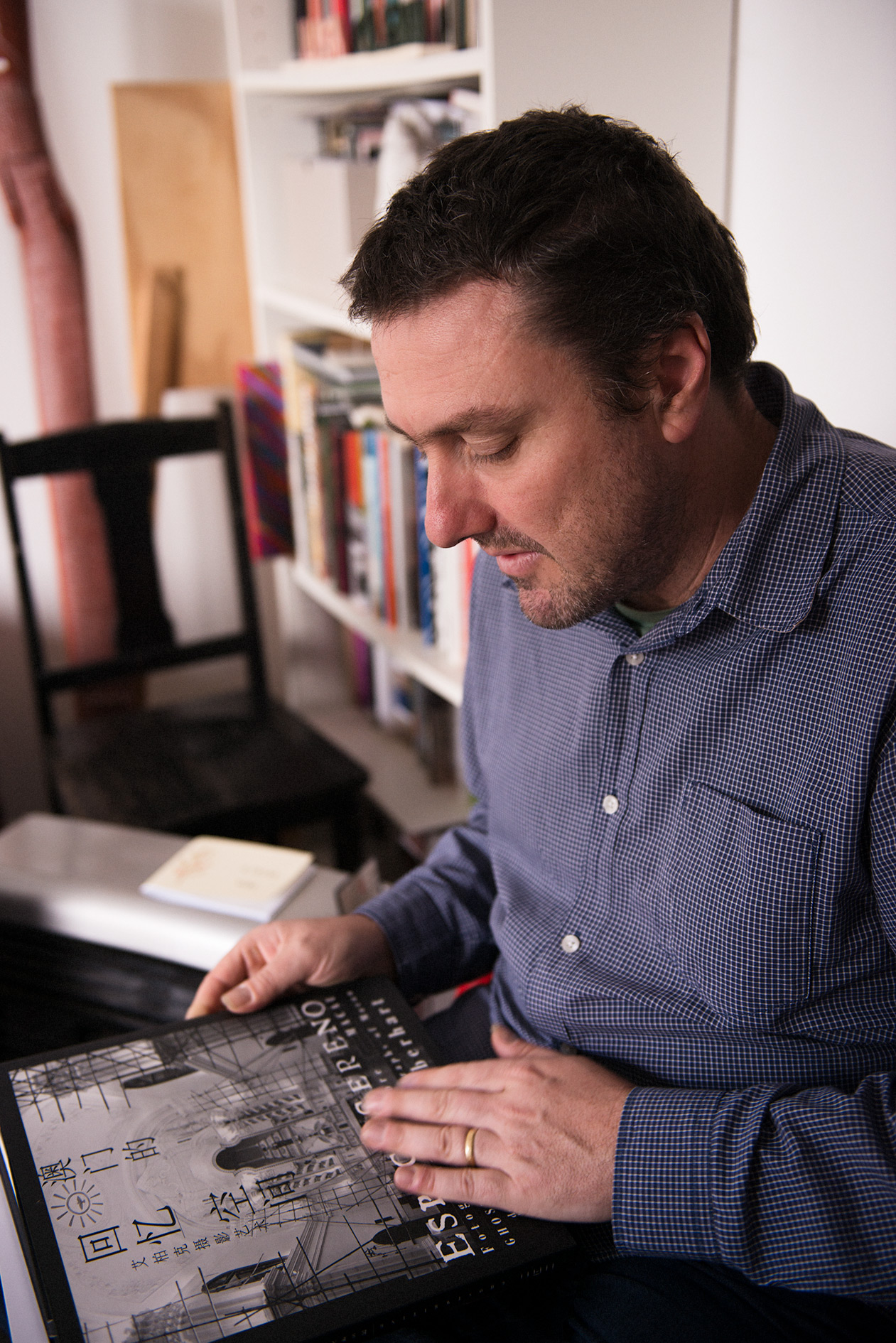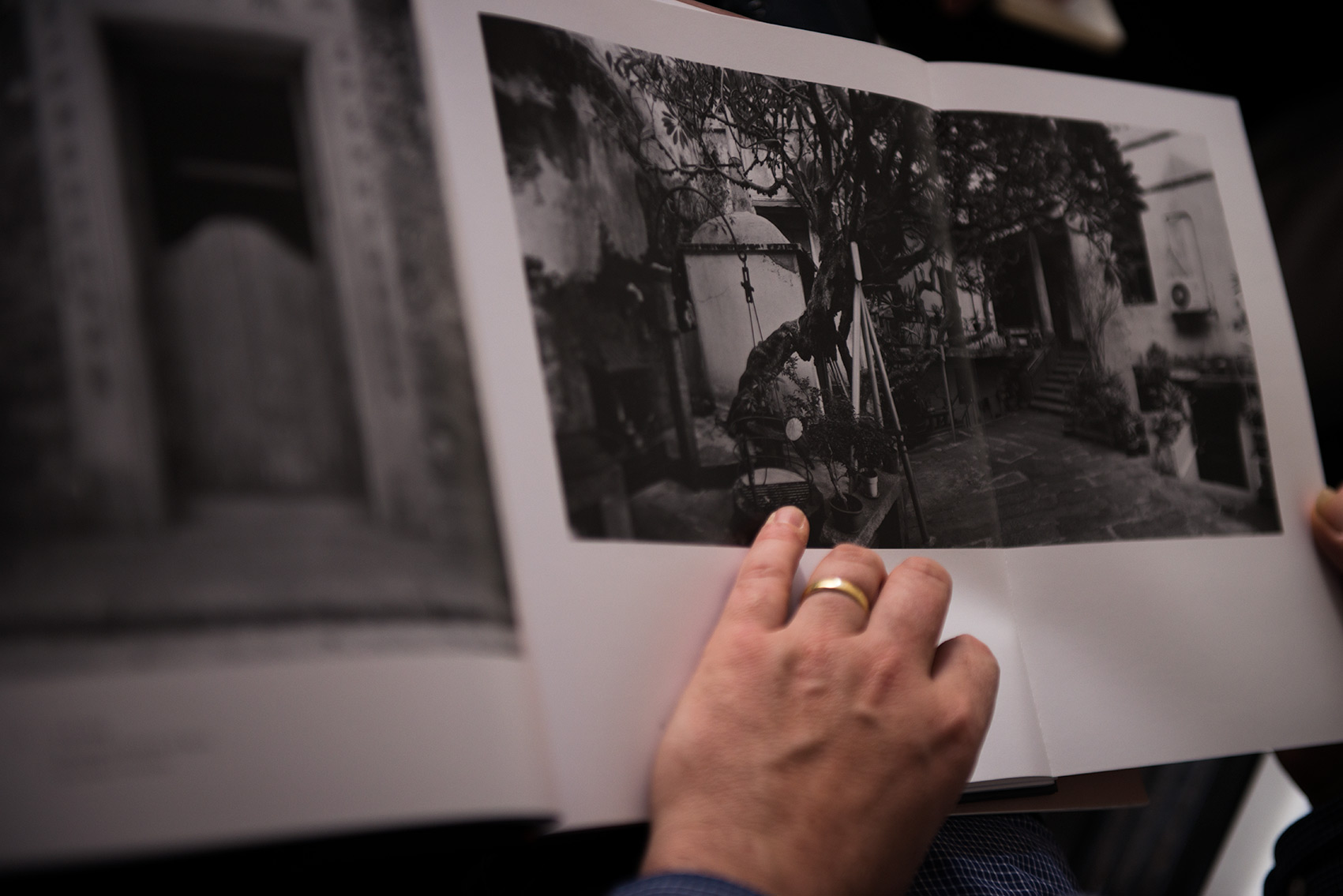 This is my book – SOUTH of no NORTH from my recent exhibition. I am lucky that I have this job that I can make my own books. My books are my favourites and I love it when I find one of them in a secondhand store. I don't buy them but I photograph them. It's exciting to see them secondhand.
There is an amazing bookstore in New Zealand called Parsons and they used to do their catalogue every month that was photocopied and handwritten – it was almost like someones school project. I subscribed to their newsletter because I wanted to collect them because they were so great. I actually made into the catalogue. I thought – I've made it, I can stop now. Nicholas Pounder listed a book of mine into a catalogue, which was great too.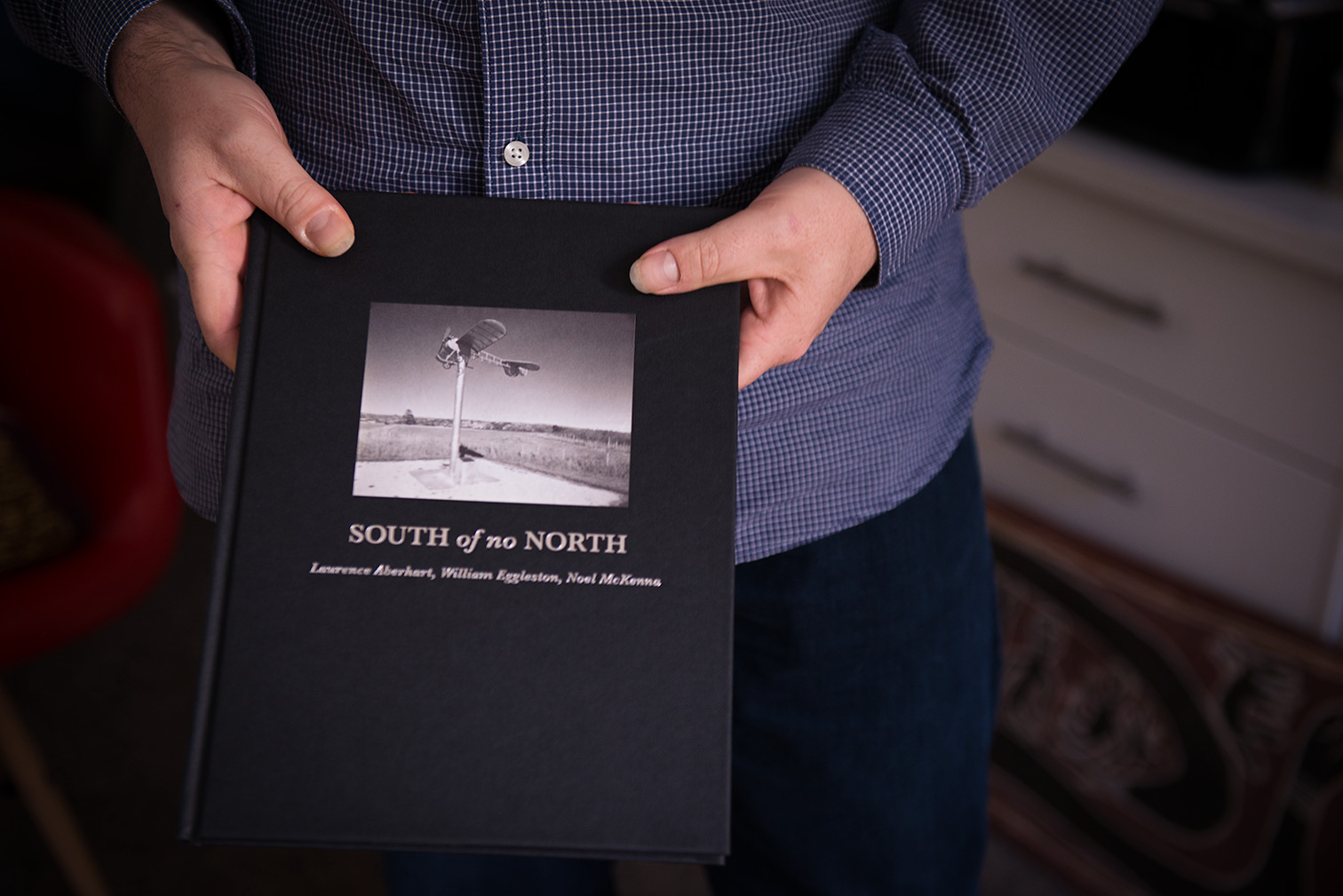 Glenn opens up his linen cupboard to reveal books hidden amongst his towels and sheets. This is all the photography books. I want to look after them – I keep them here so they are not exposed to the light.

Martin Parr is a really great photographer and published this book in two volumes –  The Photobook: A History Vol 1 and Vol 2,which is now quite famous. This book has become influential in making every book within the book very expensive and sought after and has established a list and people are buying books according to the list. This is what happens with book buying – people are always after Booker prize and Miles Franklin first edition signed copies. This book has become the list for photography books.
There is a funny story linked to The Photobook: A History. I was meeting Matthew Sleeth who is a great photographer in Melbourne. Tour of Duty was one of his books that I found in a sale for about $5 but it is a limited edition book featured in Volume two of  The Photobook: A History. When I gave my zines away to the State Library, they asked me to come in and talk to them about my zines. After I spoke to them I went down to the ground floor and their was a second handbook dealer in front of me and that book was literally sitting up. I was meeting with Mathew and took it in for him to sign. When Matthew went through my pile of books of signed he told me about producing a hardcopy version of the book but he was unable to sell it because everyone wanted the soft copy version featured in the book.  That book sells now online for between one – two thousand dollars. He signed it for me and inscribed  'Nice score'.  
I felt like it was karma because I had  given away all those zines. It was like a gift from the gods. It's a great book.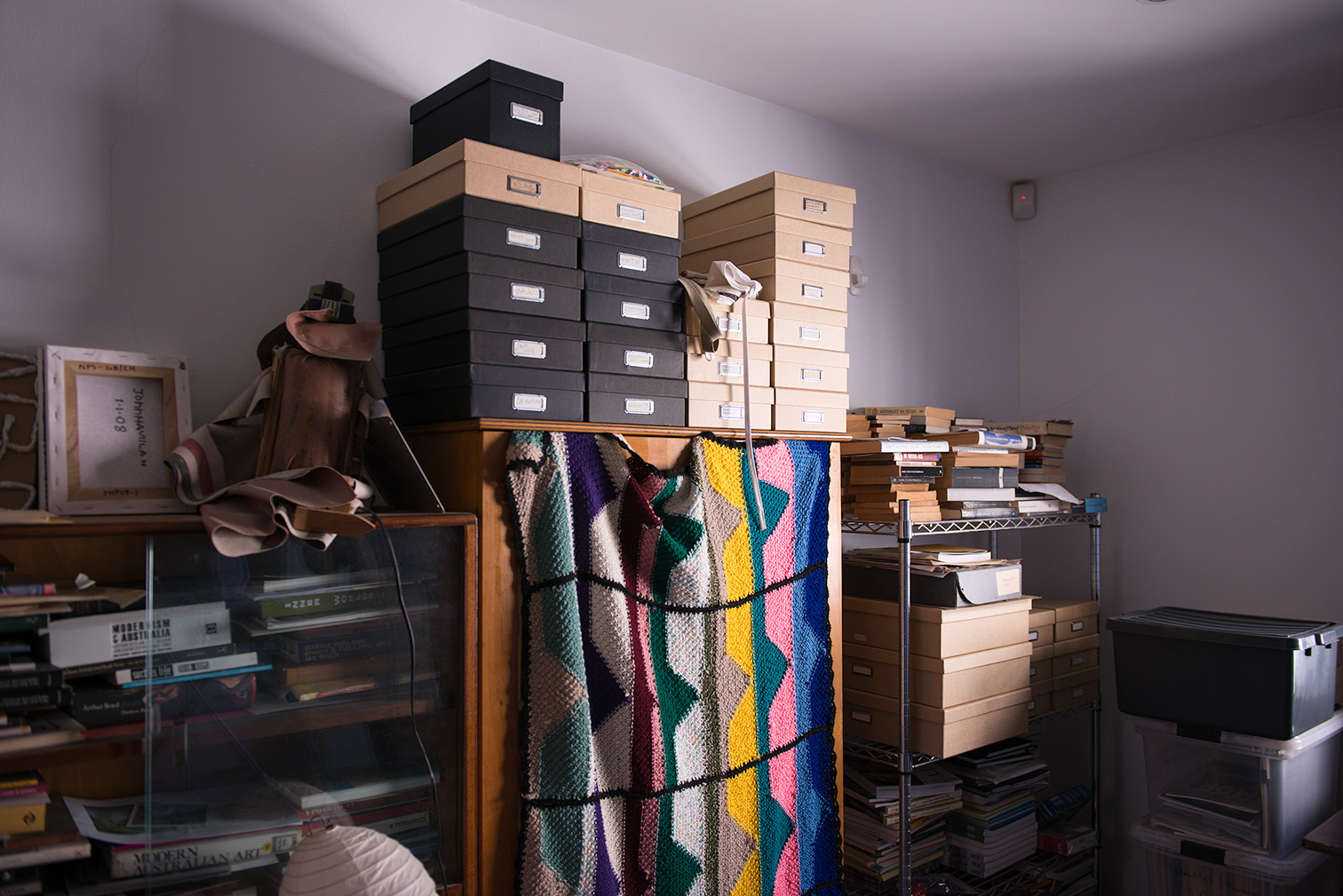 This shelf is my archived books – no-one is going to archive you – apart from you. People don't realise if can keep a collection as complete as you can there is some value to it. I may never sell it but I can give it to a museum. There is a big box that is full of every notebook that I have ever had. People don't think to keep that. If I go somewhere  –  I'll buy half a dozen of notebooks for my writing. 
All my zines are stored above in Kiki K boxes. I am trying to get through things but it keeps building up.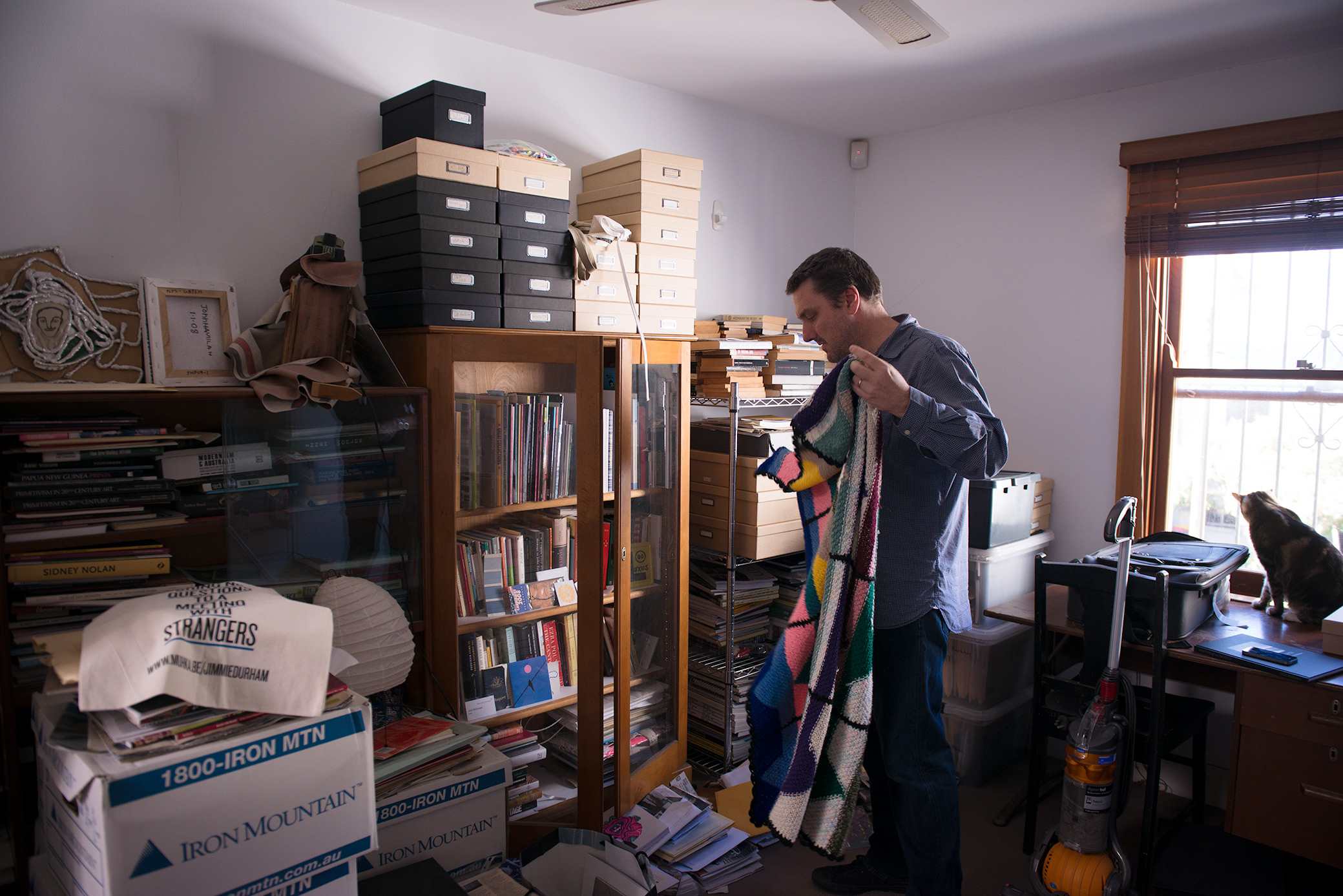 I was collecting all of Noel Mckenna's books. He is an artist I am interested in and I just started collecting everything. I have known Noel for a while now and comminised him to paint a picture for Lisa.  I just did a show with Noel and and he gave him his full collection of catalogues and it goes back to 1991. Everything has also now been signed.  
There are certain things I wouldn't lend out and others I don't mind. I actually don't like borrowing books from people. But I have a very good friend George Hubbard, a New Zealand  curator. We swap books a lot – I see him twice a week – he is the only person I swap books with.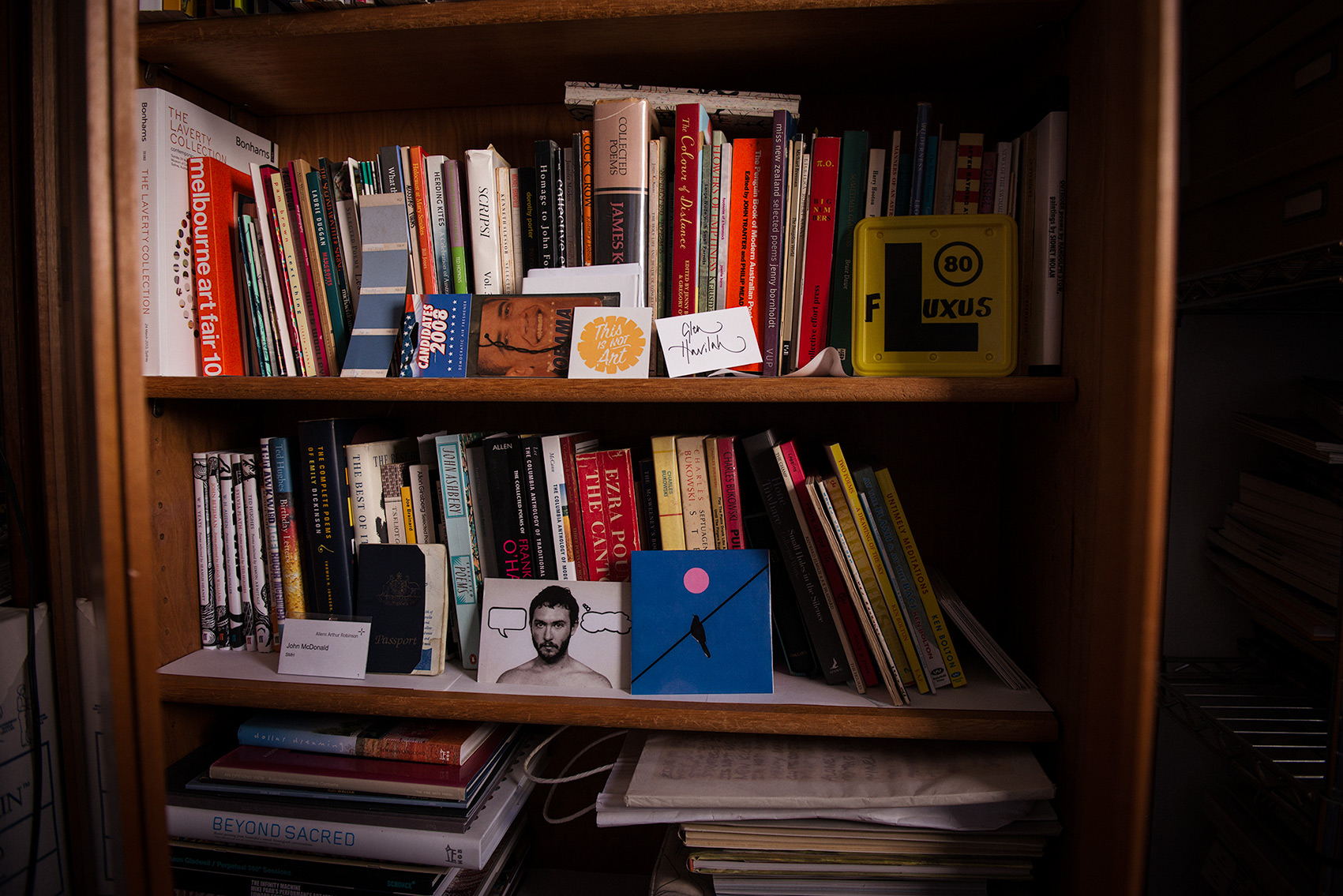 Glenn shares his shelves with his wife  – Lisa Havilah (Carriageworks director).  Lisa and I went to art school together at the Uni of Wollongong – Lisa was in the year above me. We all thought she was the best painter in the school. We didn't really know each other that well although we both grew up on the south coast . I gave her some books I thought she would like and somebody stole them from her studio space. To repay me Lisa gave me a copy of Robert Hughes' Nothing if Not Critical – a book we still have.
We also have the early Charles Bukowski books from his first publisher Black Sparrow – they were reprinted with the same cover but with the new publishers name. These books, Lisa and I collected when we were first together.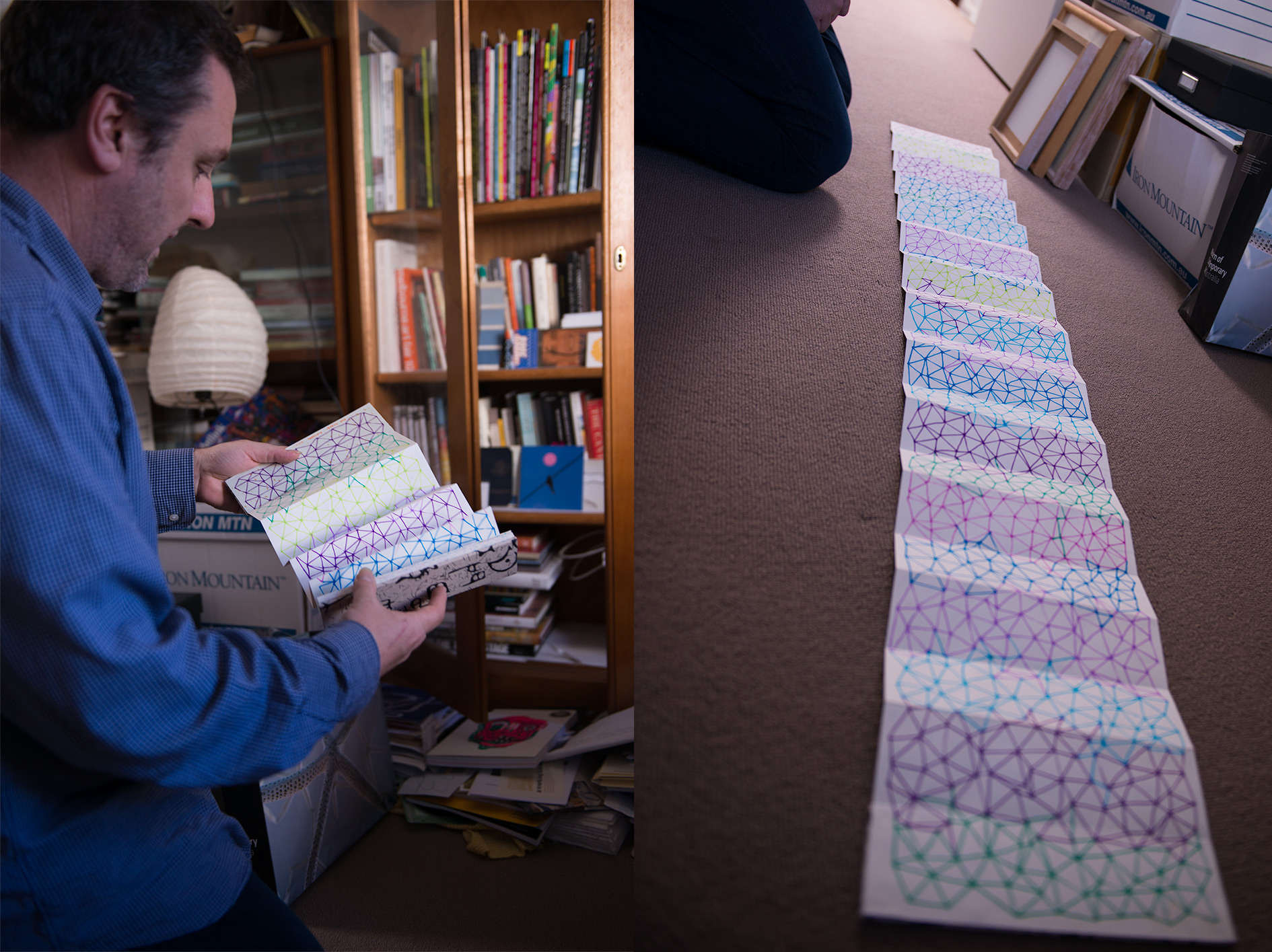 For my birthday last year the artist Helen Eager – who I have worked with at the Museum  and a friend of mine gave me this beautiful gift. This type of book is called a leporello – the art work folds up into this tiny form. It's like an exhibition in a book.
I am about to do a show in Melbourne and this is my second copy of this book which I had found secondhand – A Package Deal.  I am showing this piece in Melbourne but my copy has the whole thing.  This is a great piece of Australian conceptualism – it is an assembly book. A hundred people would give you a hundred pages of the same thing and then you make a hundred copies of the book. People still make this type of book.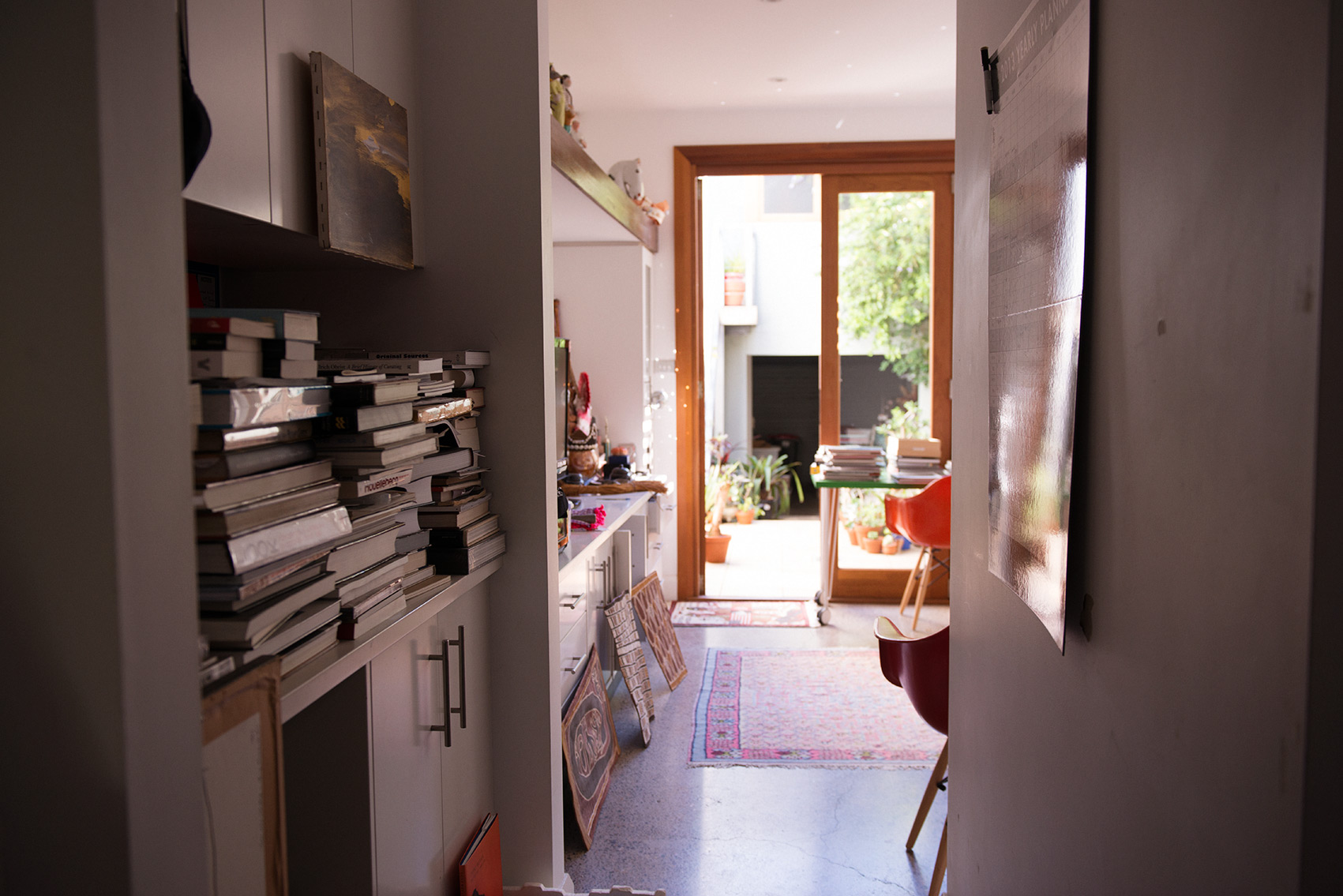 I read everything – I am a huge Stephen King fan and I am not ashamed to say it. I think I have read every Stephen King book about six times. I bought the iPad  and I tend not to buy novels anymore. People think that kindles and iPads are the end of reading but I think it is the beginning of reading. People will read more, not less. I am a real bibliophile and most people that I know who are bibliophile's do both. 
I get up at 6 am at every day and I read for an hour. This is a record of everything I have read in the past year – I am now on my second book and I write something about each book. It's almost like a reminder. Sometimes I will be reading a book and I know that I have read it before. When you have so many books its difficult to know what to read so you end up buying more books.
Glenn is also preparing for a trip to America for work. When I am at the airport tomorrow it's going to be hard for me not to buy a book –  so I bought a Michael Crichton for the plane ride so I can just leave it on the plane  – a good read and throw.
On Glenn's return from his trip we asked him what books followed him home.
I bought a lot and was given a lot to – I sent back five boxes and had to buy a new wheely carry-on bag to fill with books.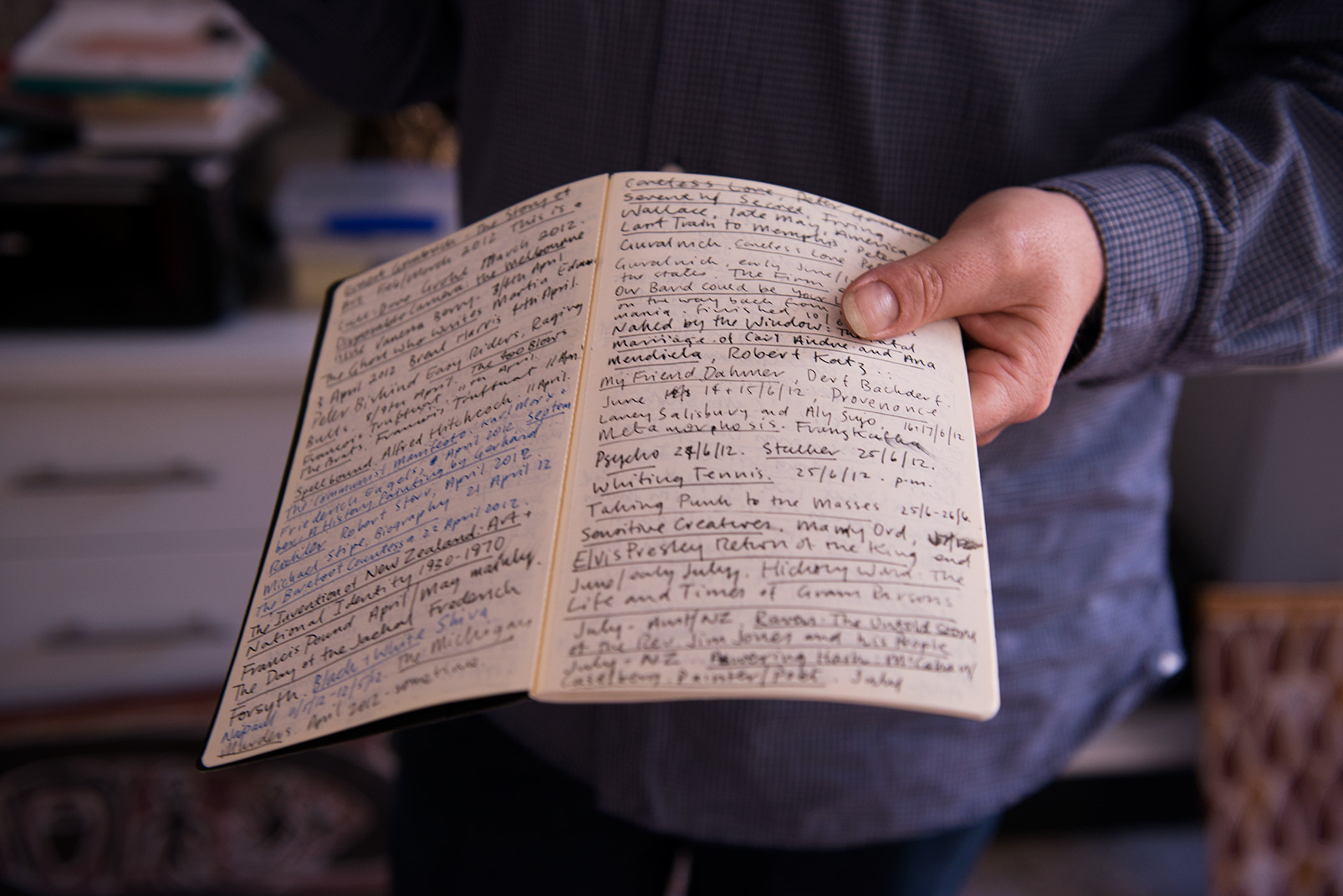 About Glenn
Glenn Barkley is Curator at Museum of Contemporary Art (MCA), Sydney and was previously curator of the University of Wollongong Art collection from 1996 – 2007. He was founding co-Director with Lisa Havilah and Nathan Clark of Project Contemporary Artspace, Wollongong.
Major curatorial projects have included Almanac: The Gift of Ann Lewis AO, MCA (2009-10), Making it New: Focus on contemporary Australian art, MCA (2009) avoiding myth & message: Australian artist and the literary world, MCA (2009), Home Sweet Home- Works from the Peter Fay Collection NGA (co-curated with Dr Deborah Hart) (2003/2004 and touring), Multiplicity: Prints and Multiples from the Collection of the MCA and the University of Wollongong, MCA (2006 and touring), Without Borders: Outsider Art in an Antipodean Context (co-curated with Peter Fay), Monash University Museum of Art and Campbelltown Art Centre, Sydney (2008).
In 2011 he curated a survey of Berlin based New Zealand artist Michael Stevenson and a major exchange exhibition tell me tell me: Australian and Korean Contemporary Art 1976-2011, between the MCA and the National Museum of Contemporary Art, Seoul, Korea). In 2001 he curated the  initial hang of the MCA Collection, Volume One: MCA Collection for the MCA's new collection galleries and  co-curated with Lesley Harding, Heide Museum of Modern Art, As If a retrospective of Australian artist Ken Whisson.
He is the curator of South of no North: Laurence Aberhart, William Eggleston and Noel McKenna and in August 2013 string theory: Focus on Australian contemporary art a survey of Australian indigenous textile and fibre art. In July he is also guest curator of the annual Octopus at Gertrude Contemporary Melbourne. This exhibition, titled on this day alone, looks at photography and transformation.
Leigh Russell and Kathy Luu chatted to Glenn on Sunday 26 May 2013. Images by Kathy Luu.
© Hello Bookcase 2013. Unauthorized use and/or duplication of this material without express and written permission from this blog's author and/or owner is strictly prohibited.