Anne Summers
Written by Hello Bookcase, Posted in Interviews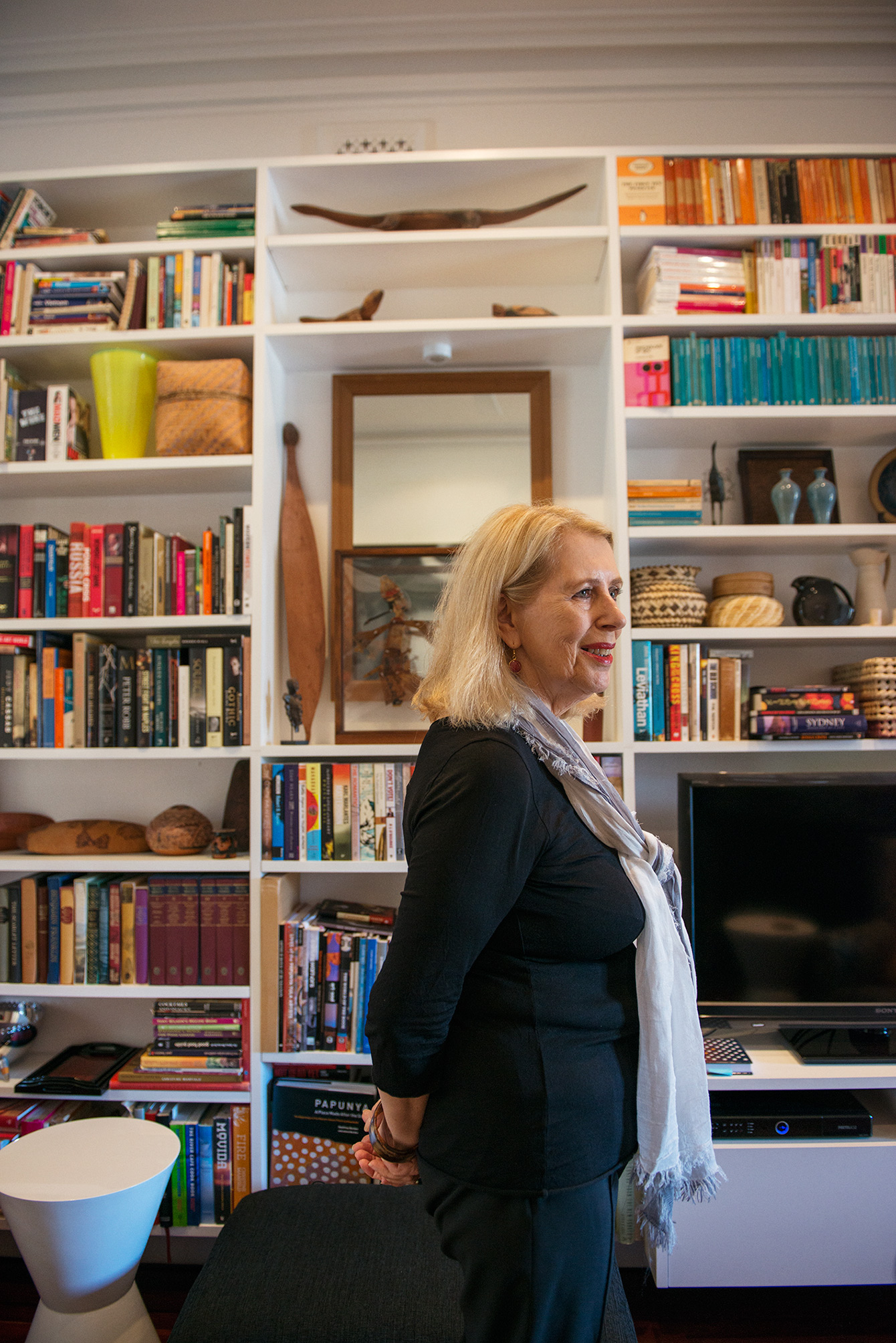 On our visit to the bookcase of celebrity chef and writer, Christine Manfield, she suggested we meet the bookcase of Anne Summers, a pioneer of Australian feminism who continues to shake the system with her commentary, literature and insight. Anne agreed to introduce us to her bookcase and in sharing her collection, she unravelled stories from her past and present. One of her gifts to us on our visit was a long list of books to read.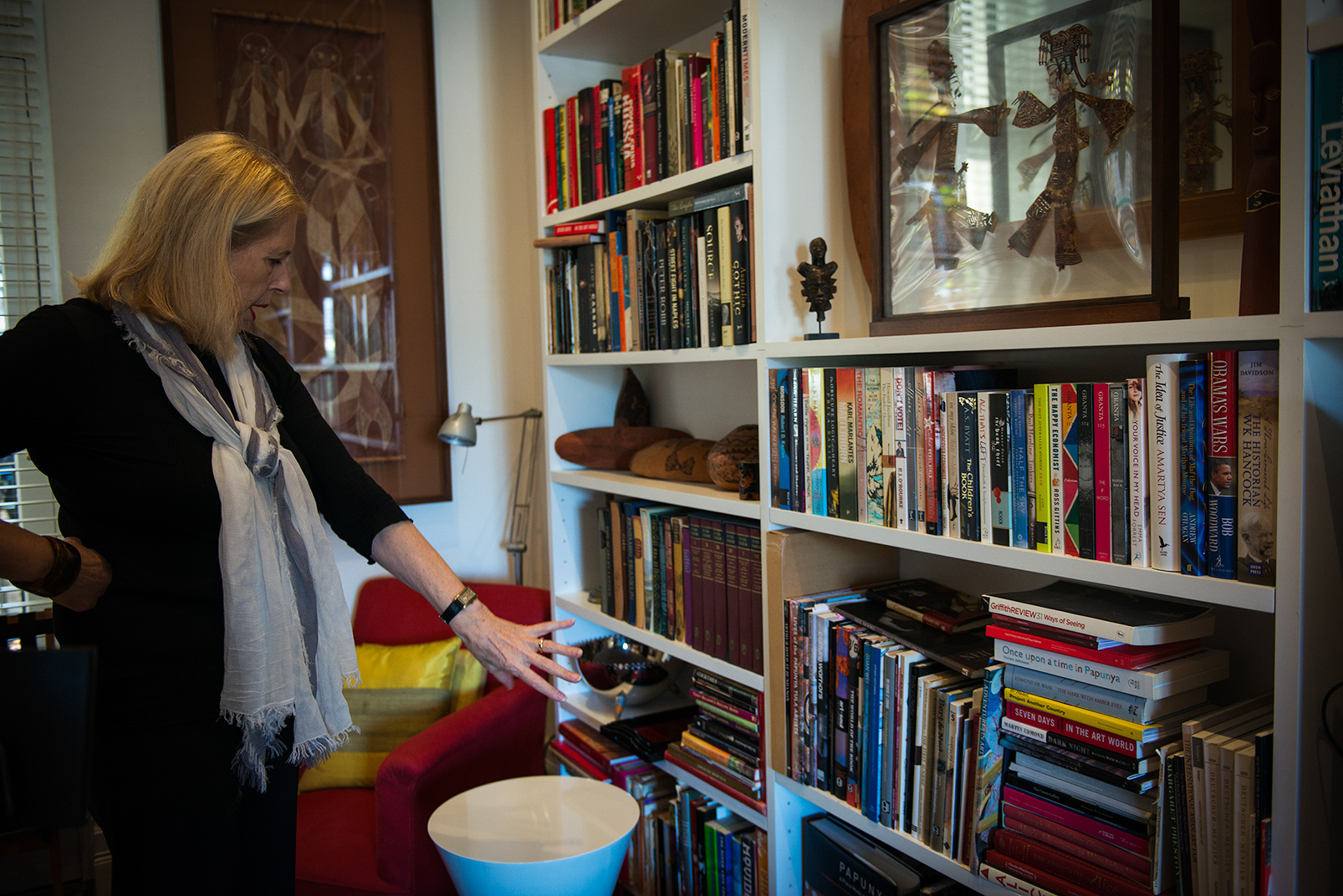 There is a little bit of method to this madness—all our art, cooking and travel books are in the downstairs library and the main library is upstairs. Our designer thought our blue Pelican books would look good all together down here. I recently heard on social media that Pelicans are now back in fashion. I have too many of them. 
I have recently read the four Elana Ferrante novels about the friendship of two women in Naples. I found them amazingly violent emotionally; it is so rare for women's feelings to be portrayed with such rawness. They are a great series. I have also been reading the words of some younger Australian women: Emily Maguire's latest novel, An Isolated Incident and Clementine Ford's forthcoming Fight Like a Girl. Although Maguire's is fiction and Ford's is a political tract, both are informed by an anger at the violence that is currently a burden being ensured by too many women.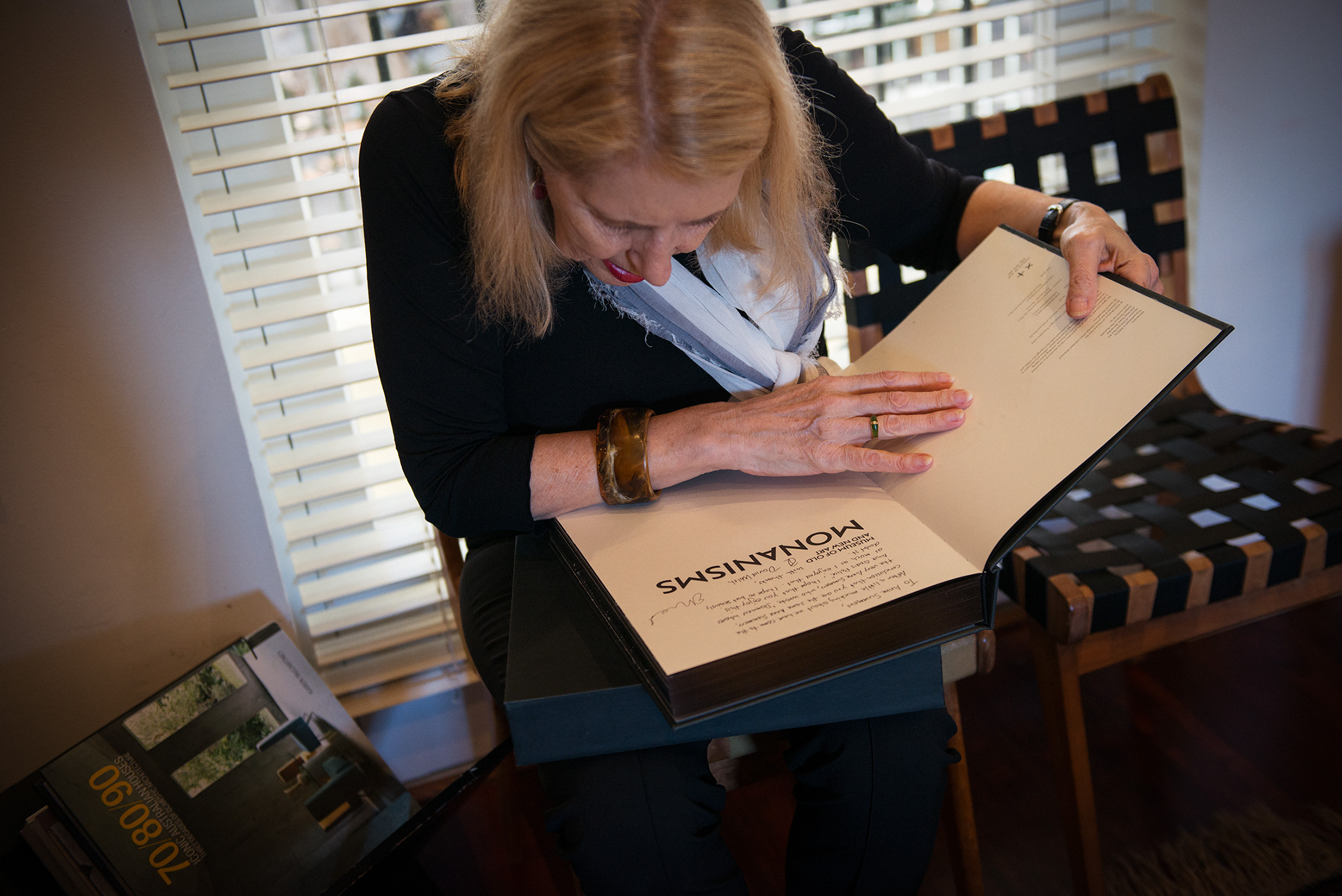 When MONA first opened in Tasmania I ordered the book Monanisms from them but I didn't get to MONA until 2013. It was still in the box in the table until I opened it. And once I did open it I noticed David Walhs had made a personal inscription in which he referred to my first book (Damned Whores and God's Police). It is a very special copy.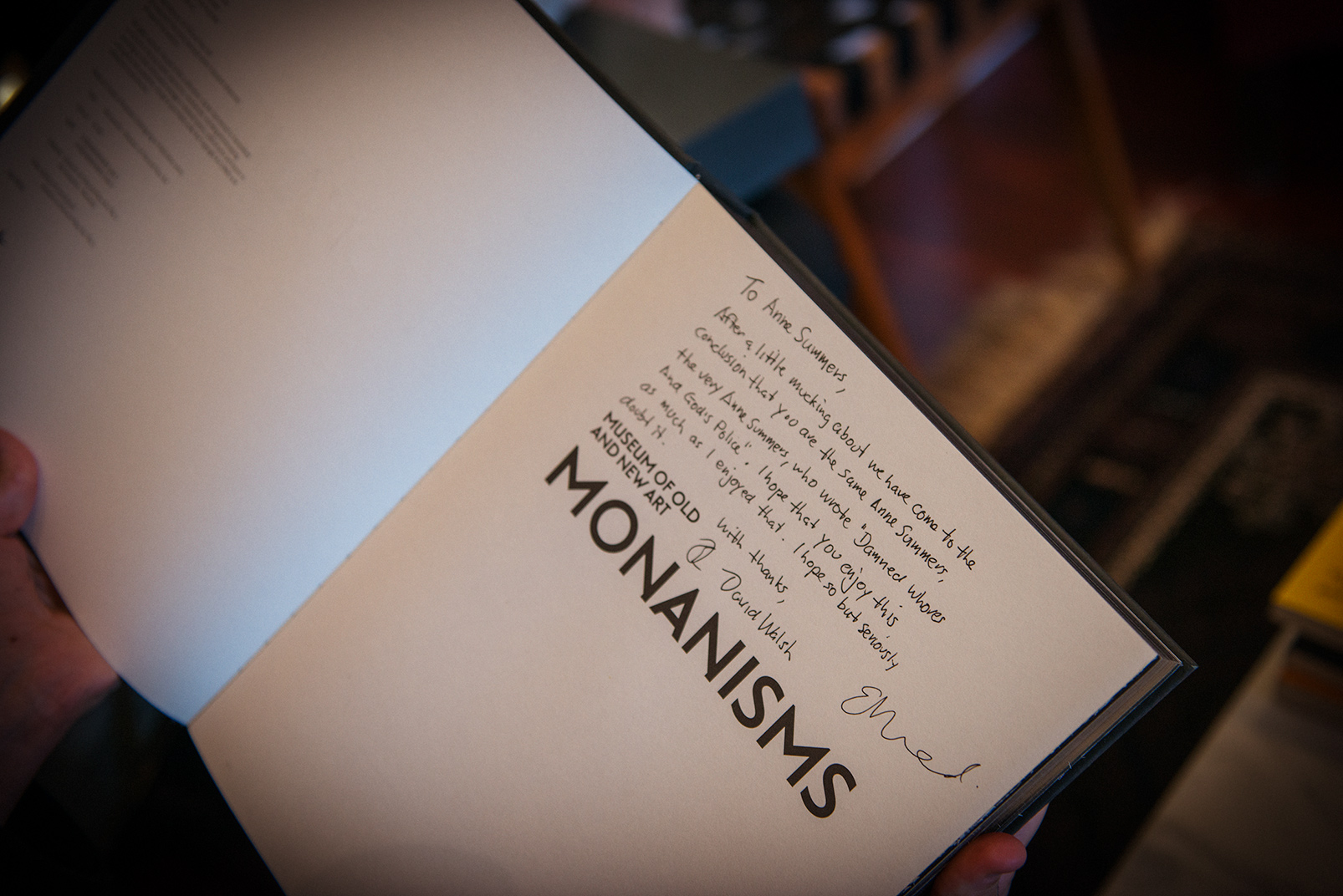 This bookcase also has catalogues from exhibitions I have been to—this one was wonderful, the Fred Williams exhibition in Canberra a few years ago. The catalogue from the Ballet Russes exhibition is important to me. My book, The Lost Mother, features the Ballet Russes and I was very keen to see it as it had a lot of costumes and set designs. It was great to see in reality the things I had included in my book.
The Stein exhibition, 'The Steins Collect', at the Metropolitan Museum in New York was extraordinary. It was the art collection of Gertrude Stein and her brothers of what they had collected of artists before they were accepted into the art world. This exhibition is about the artist each of the family members favoured. It was a fantastic exhibition because it was arranged as it was in their apartments, as best they could.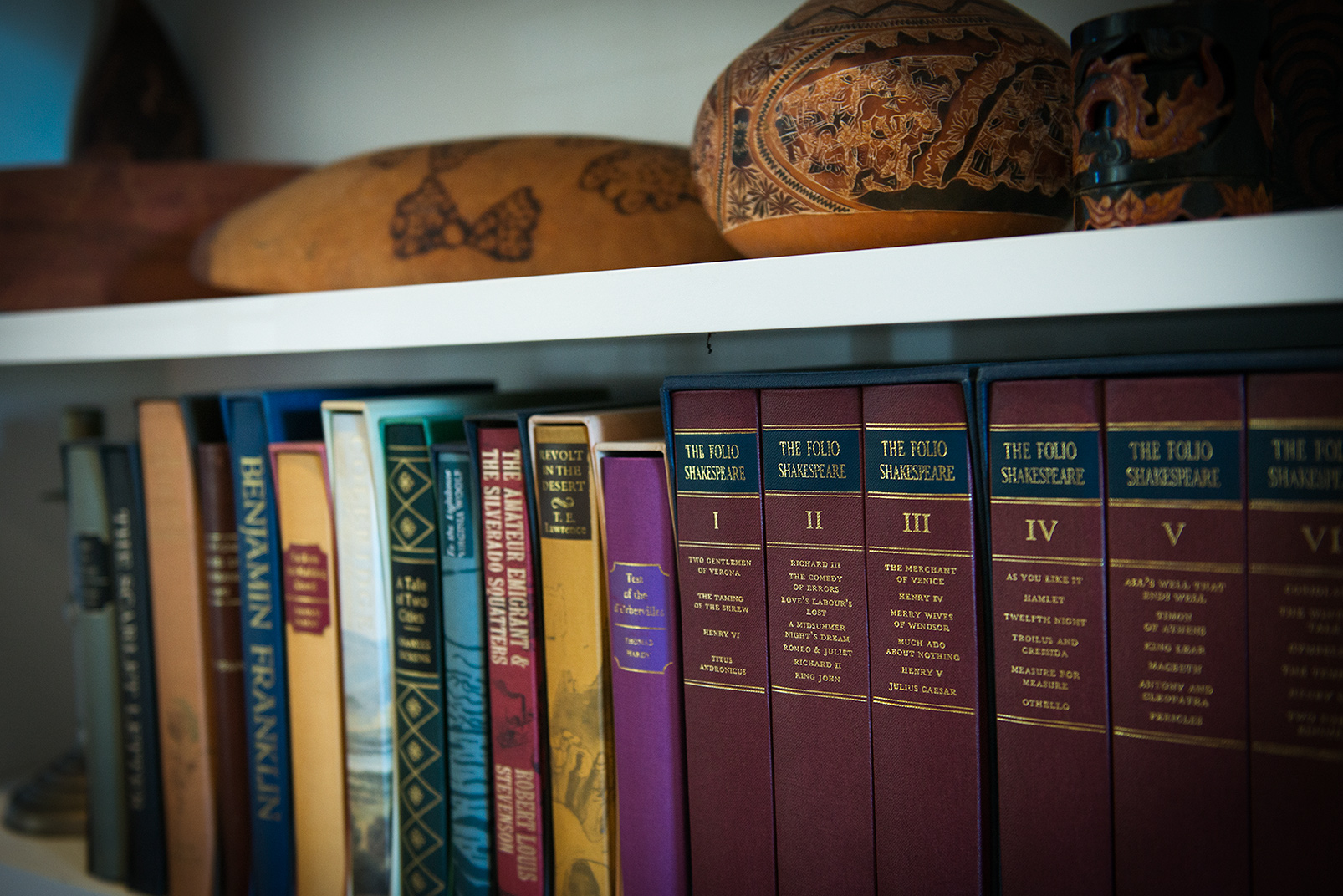 I do document the books I read by keeping a list. I don't write reviews of them all but sometimes I write what I think of the book. I have read 17 books over last 17 weeks partly because I have done a few plane trips which is a great chance to read straight through—I don't normally get the chance to do that. I also took part in the Perth Writers' Festival and chaired a few sessions which involved reading a lot of books.
On a trip to London in March 2014 via Tokyo I read the diary of Watkin Tench who in 1788 sailed with the first fleet to Australia. He published his book which was incredibly popular in its day but was forgotten until Tim Flannery discovered him and republished his diary.
I interviewed Tim so I read a lot of his books to prepare. What was interesting was that he is a scientist, zoologist and also an historian and very interested in Australian history. You might not think that reading a journal of a marine between the years 1788–1791 is so riveting but I literally could not put it down. It is a remarkable book that describes Sydney and the Aboriginal people before any derogation from us. The book has sold over 50,000 copies and continues to sell.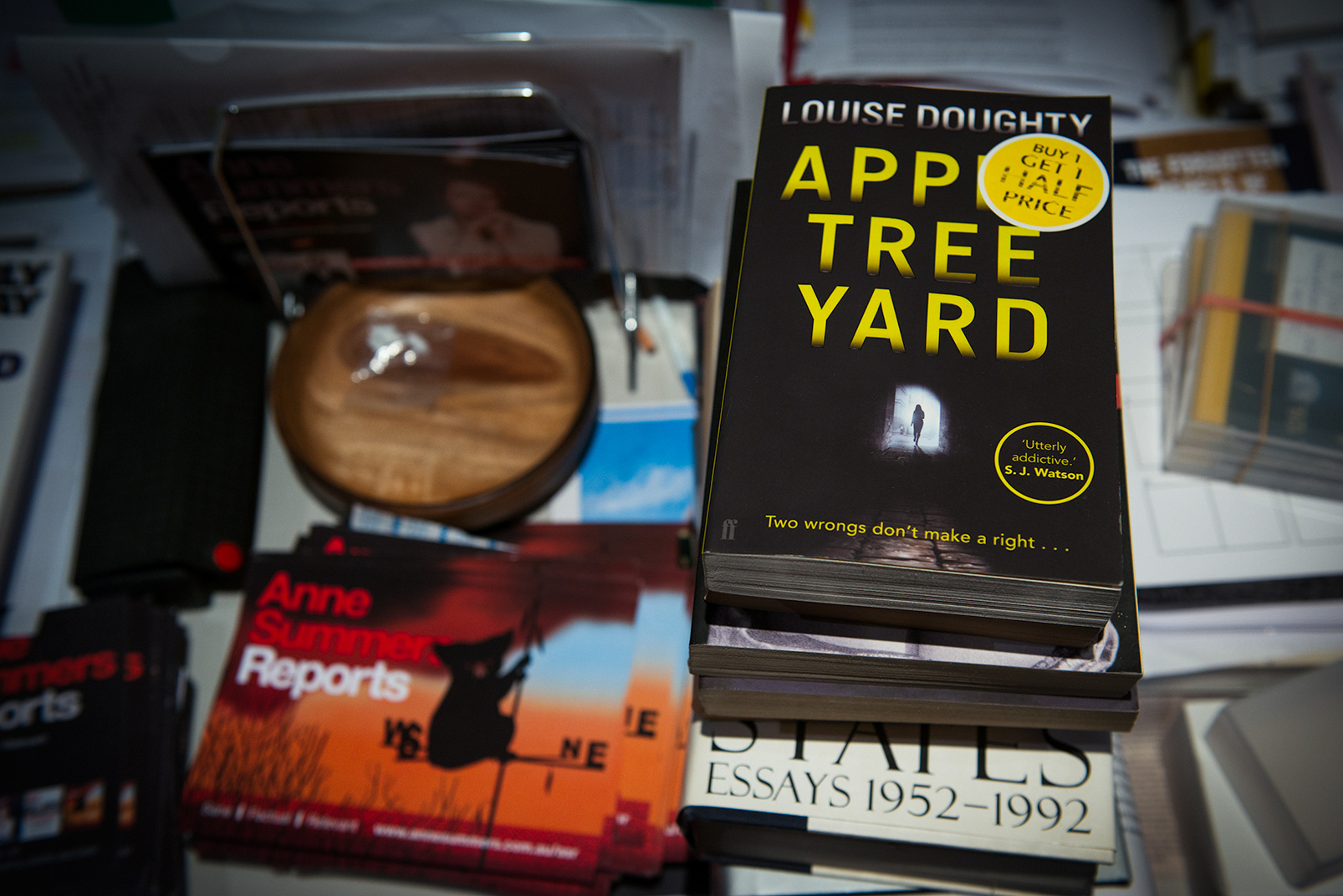 On the way back from London in 2014 I read Apple Tree Yard by Louise Doughty as an ebook. I hadn't heard of this writer before but she has a huge following and I discovered she is an extraordinary writer.  
I decided to write a review of it for my magazine, Anne Summers Reports, because I was surprised that no other reviews mentioned the rape, only the trial. This makes it seem like a court room drama but it's actually about violence against women. Steig Larsson writes about violence against women [The first book's original title, Girl with the Dragon Tattoo, was Men Who Hate Women but was changed for the English speaking market] and that's acceptable but in our culture we don't want to mention it. The rape in Apple Tree Yard is an acquaintance rape—the most common form—somebody you know. Because it is so ordinary it is horrifying.
I also read I am Mahalia, a memoir of the young girl who was shot by the Taliban. I heard her speak in London and she was quite remarkable so I bought the book—I wanted to know and read more about her from her own point of view.
Two books that were a huge influence on me in my twenties were The Feminine Mystique by Betty Friedan and The Second Sex by Simone de Beauvoir. The Second Sex is the most revolutionary book about women ever written. This first line says it all in a nutshell: One is not born but rather becomes a woman. The Feminine Mystique of course describes the fate of educated women who gave it all up to become housewives and mothers in the 50s. It's great for a while but then the kids grow up, the husband loses interest and it all goes downhill from there. This generation of yummy mummies are doing it all again. I think every woman should read this book.  
These books gave me knowledge. I read these books in the late 60s/early 70s when the second wave of the women's movement was just getting going. My generation was educated and we didn't have any sense that anything was wrong in our lives. We didn't feel oppressed and we thought we could do whatever we liked. It was a shock to find out we couldn't and we found out that women were getting paid far less than men. These books came along and said you're not born a woman, you become a woman and society tells you how a woman ought to be. A thousand years earlier a woman was something completely different. The only thing that defines women is that we can have children—everything else is cultural.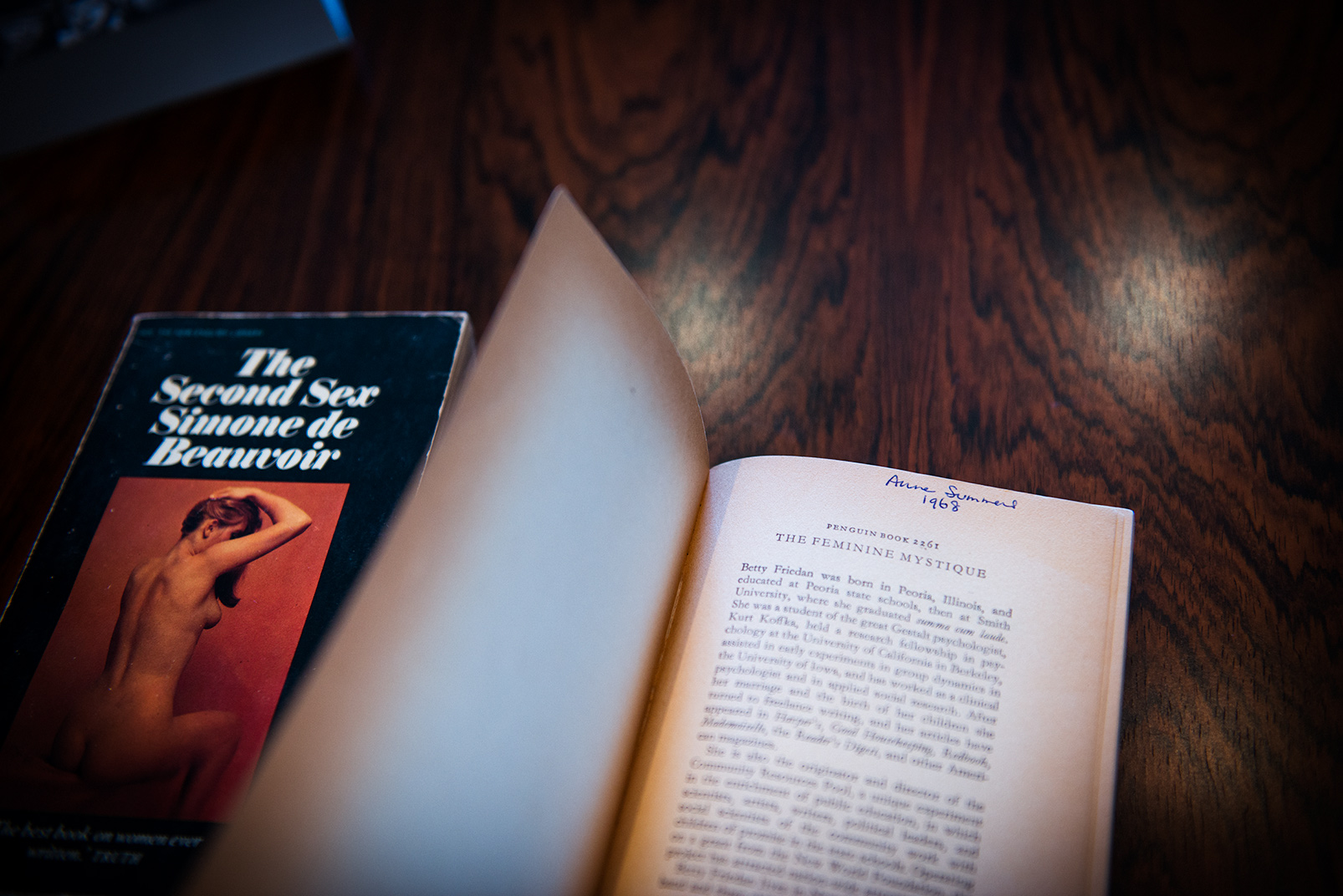 So many of my books are precious to me but the most incredible book is the first book I wrote, Damned whores and God's police: the colonization of women in Australia, in 1975.
In the lead-up to my book being published I was reading books by my contemporaries: Germaine Greer's The Female Eunuch, Robin Morgan's anthology Sisterhood is Powerful (an anthem for the women's liberation movement) and Sexual Politics by Kate Millet.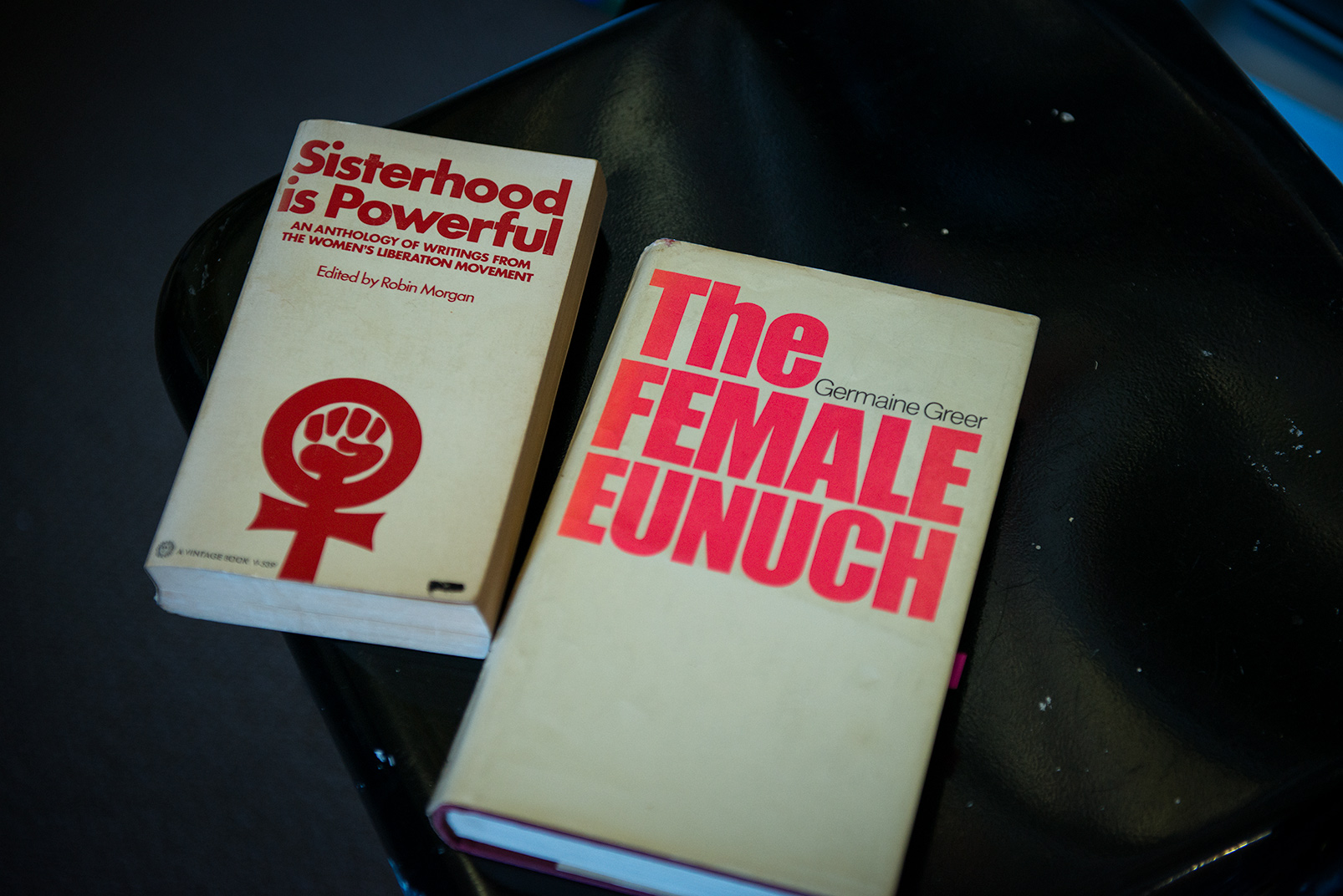 In Britain, Sheila Rowbotham and Juliet Mitchell were leading the discussion on issues for women at that time and helping us think our way through the constraints and barriers being placed on women. The point about these books is that they were either American or English and we had nothing in Australia that told our story and that fitted into our history and our society. I was bold enough at the age of 27 to think that I could write a book that provided a way of giving Australian women an understanding of their own story, using our history and our society as it was then. I thought it was going to be a quick book but it ended up taking me four years to write and was much bigger than I anticipated, but I enjoyed it.
The book is in two halves—the first half looks at history and the second half is about contemporary society then (in the 70s). It has been reprinted and also released as an ebook. I have been told that it is still relevant for this time.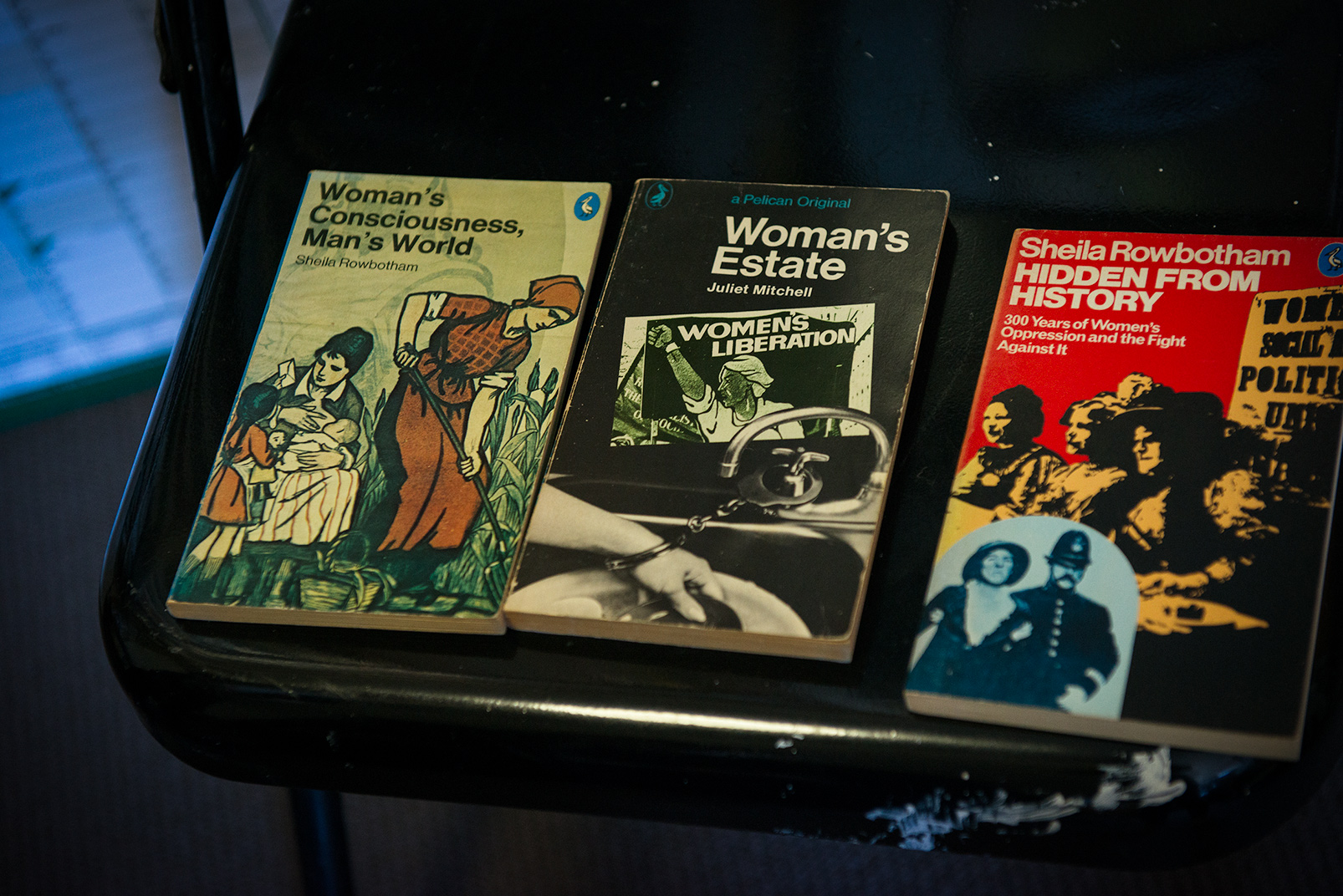 My new book is a memoir. I have already published an earlier autobiography, Ducks on the Pond (1945–1976). This book will look at my life as a grown-up. One of the themes will be about how you keep on changing. You leave school and suddenly you are an adult but it doesn't stop there. I am particularly interested in how we as women keep changing. I am unmarried with no children but I am living a happy life with my partner. Women today have lots of life-style options: they can be in same sex relationships with children, and women can be fulfilled being single. It is about how being a woman has changed and how we feel about it—the freedoms and also the violence being worse than ever. Not that all women have to deal with violence but enough women do and it's something we all need to be worried about.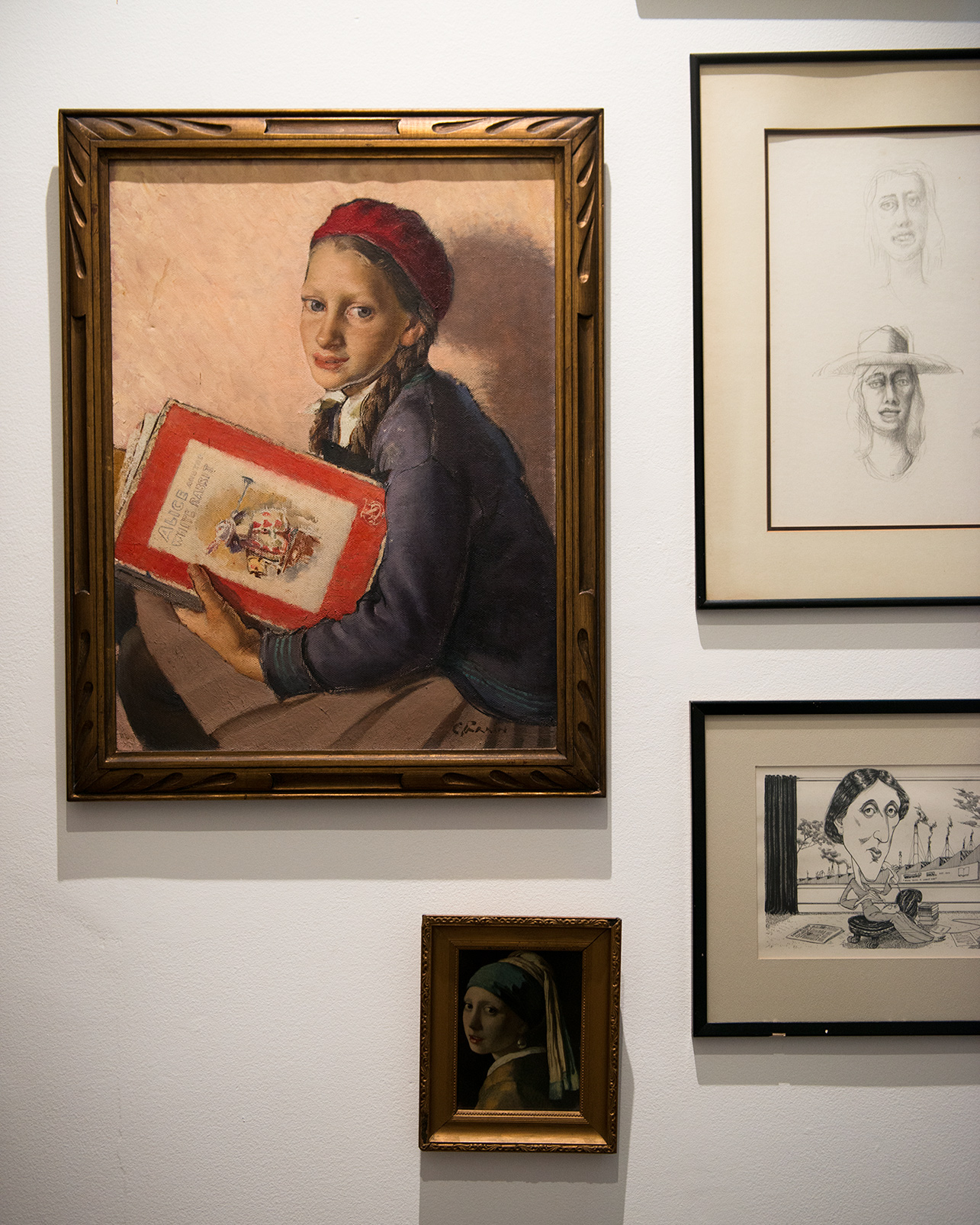 I enjoy rereading some books in my library—The Great Gatsby I sometimes go back to and did when the film came out, Anna Karenina and Madame Bovary I enjoy rereading—books about tragic women. They are classic books that tell us about lives that we can't relate to but are incredible stories and we learn from them.
In my book The Lost Mother there is a strong Russian theme. This book is about a painting of my mother that was painted when she was ten years old. The artist saw her at Mass one day and asked to paint her. She was just a subject so her parents didn't have any rights to ownership to the painting. The painting disappeared and the book is, in part, the story of finding it. It was bought by a Russian woman who was a former ballerina living in Melbourne. I now have the painting back and it is hanging on my wall.
It is always a temptation to reread my own books but I do so only for research.
I read a huge amount as a child and I started writing when I was seven and have written ever since. I read everything I could get my hands on—a mixture of English books and a lot Australian novels. I enjoyed the Seven Little Australians and the Billabong series about adventures of girls in the outback by Mary Grant Bruce.
My parents would buy me a lot of books and I had a huge library and kept them all but then gave them up as an adult to my oldest niece Amy when she was eight.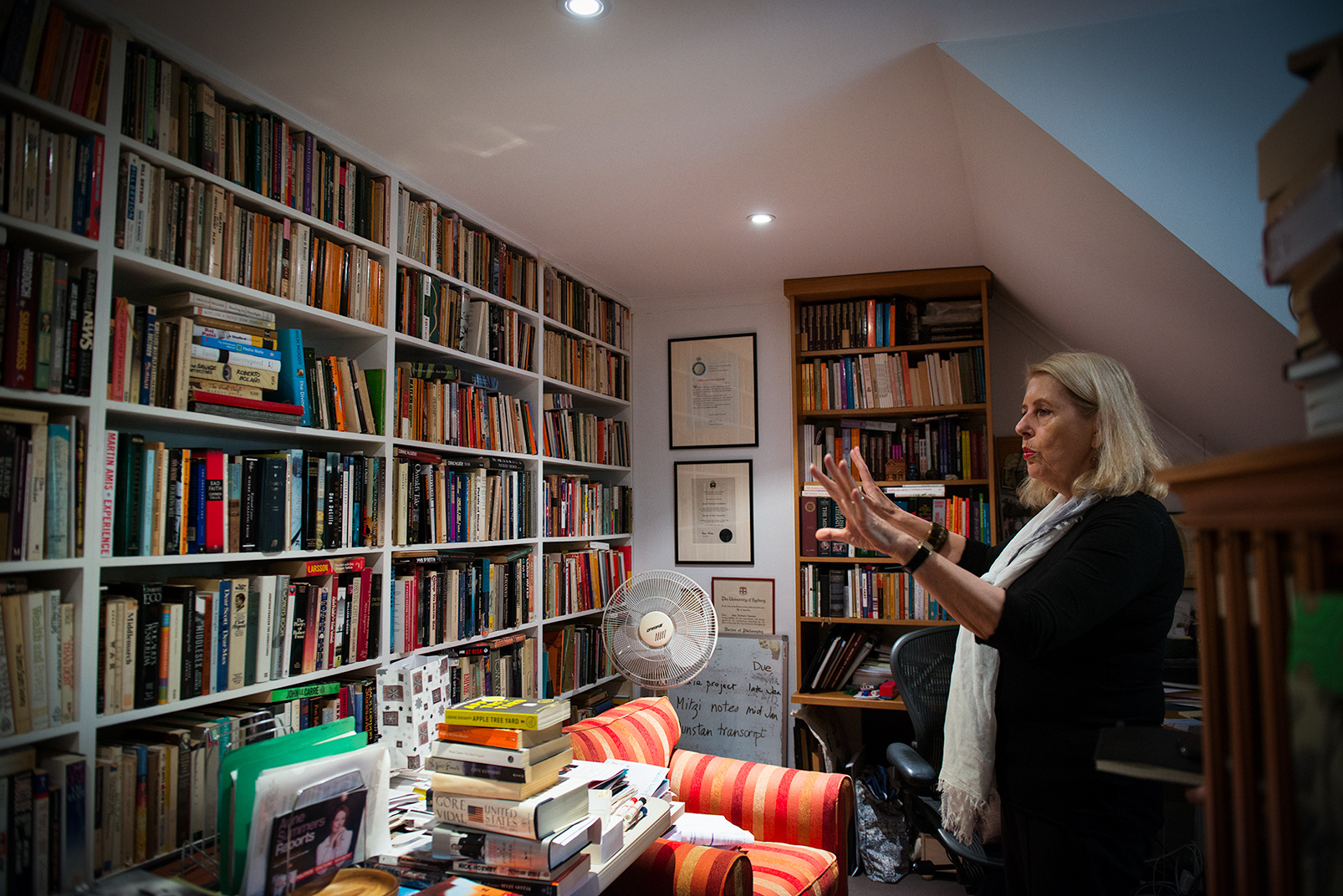 I have been one of those people who would always underline in pencil but now I don't care. Books are more replaceable now. I have completely run out of room for my books and up until recently we had books climbing up the stairs. That is why I try to buy ebooks now.
We did do a large cull and took two full bags around to the Wayside Chapel—books that we have multiple copies of or ones we won't read. I want to keep most of my books for research for my new book—sometimes it might just be for a visual reference. I'm hoping when I finish this next book I might be able to get rid of some more.
I enjoy collecting books because I always liked the idea of having my own library. It's a pre-Google thing but if I want to know something I have it on hand. There are some things that Google can't capture. I regard this section as my reference library and it's organised by all the books that I have written, and this is for dictionaries and reference books. I have an Australian, English and American dictionary—I know they are on the way out but I'm holding onto mine.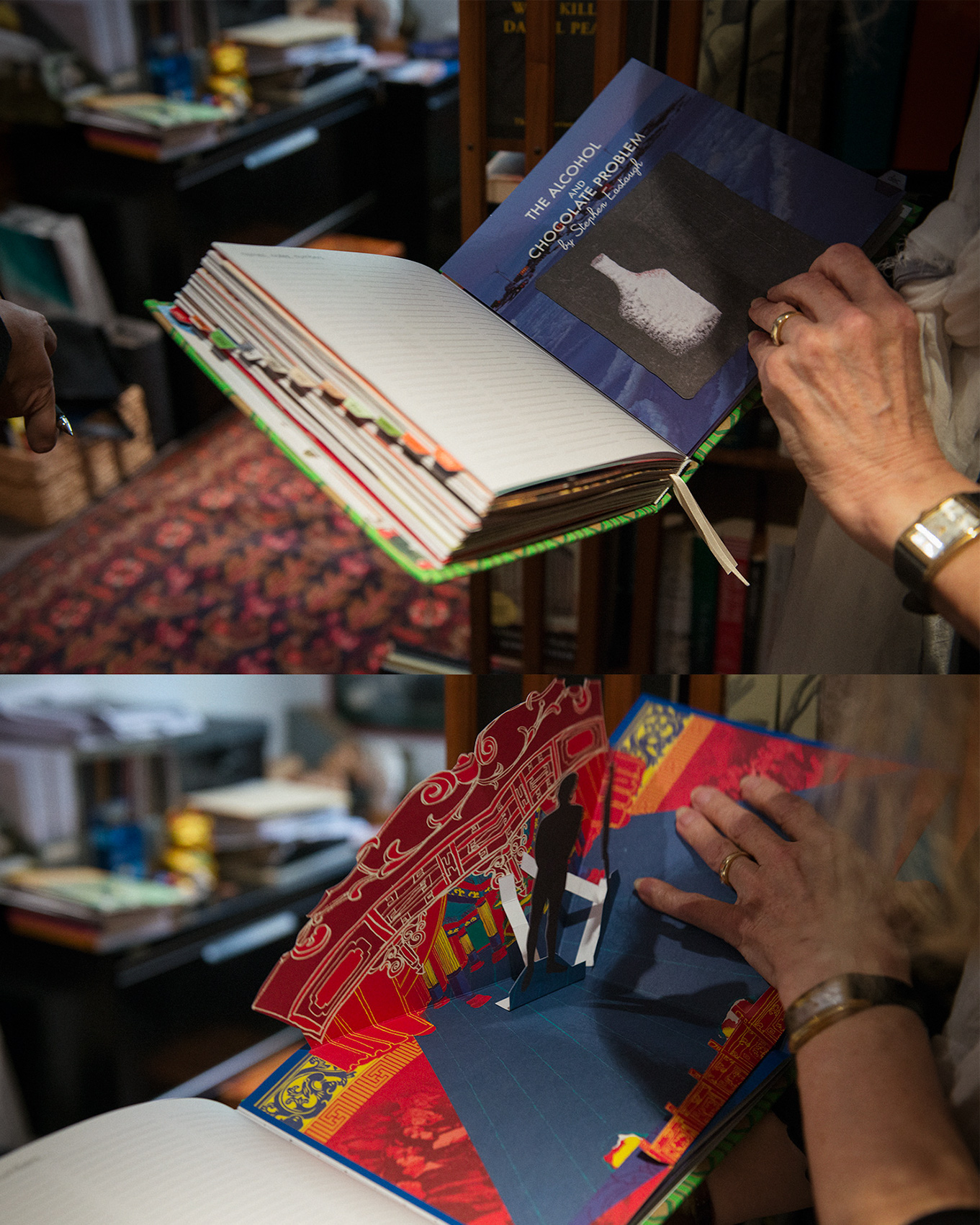 I keep these diaries from [restaurateur] Michelle Garnaut, which she sends every year to her friends. They are quite elaborate and she always outdoes herself with the various new elements each year, for example, rare recipes or a CD or a pop-up of some kind. Michelle is a philanthropist and businesswoman, and has restaurants in Beijing and Shanghai. She also runs the Shanghai Literary festival which I attended in 2010.
Everyday Sexism is a book from Laura Bates and she has collected everyday examples of sexist attitudes and behaviour (when I was her age it was the kind of thing we used to do) and encouraged people to put it on her website and social media. They were pouring in by the thousands and it is the mundaneness of them all that makes them so oppressive. It's an example of what women put up with walking down the street all the time. It started out in England and it just spread.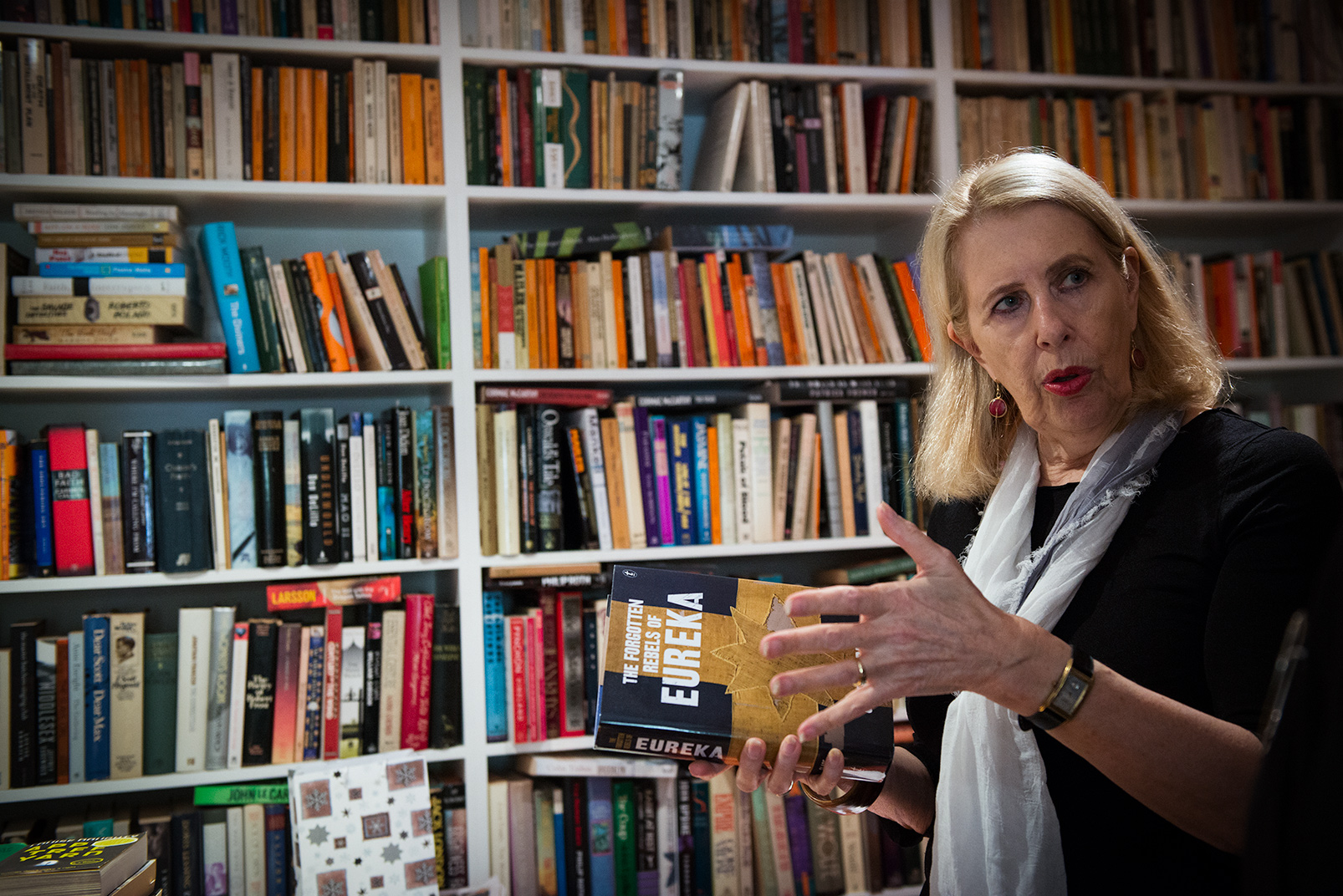 I like to keep all my Australian fiction books together. I am going to the Stella Prize this evening (April 2014) and I am hoping The Forgotten Rebels of Eureka by Clare Wright will win [Clare Wright won the 2014 award]. It's a fantastic book. What she has done is write about Australia's most famous episode, the Eureka Stockade, which a lot of people say is the start of Australian nationalism and defiance and where we developed our own flag. The story was always told that there were only men there but she talks about how the rebels included women. She not only recreates the brutality of the battle of Stockade but also talks about everyday life.
 One of the examples of her historical research was to go through all the papers from that period and look through all the advertisements. She noticed ads for breast pumps which got her thinking about the number of women having babies in the goldfields and the story of childbirth, midwifery, child care in those times. After reading her descriptions of how primitive childbirth was on the goldfields I had to put the book down. It's gut wrenching stuff.
It's the second year of The Stella Prize [2014] and it was set up because the shortlist for the Miles Franklin Prize for the last few years was dominated by men and so a lot of women got pissed off with the underrepresentation of women. They started their own prize modelled on the Orange Prize in Britain, but which awards fiction and non-fiction. It was named after Miles Franklin whose first name was Stella, to stick it up them even more. In the first year of the awards (2013) Mateship with Birds by Carrie Tiffany won and I have just read it and it is amazing.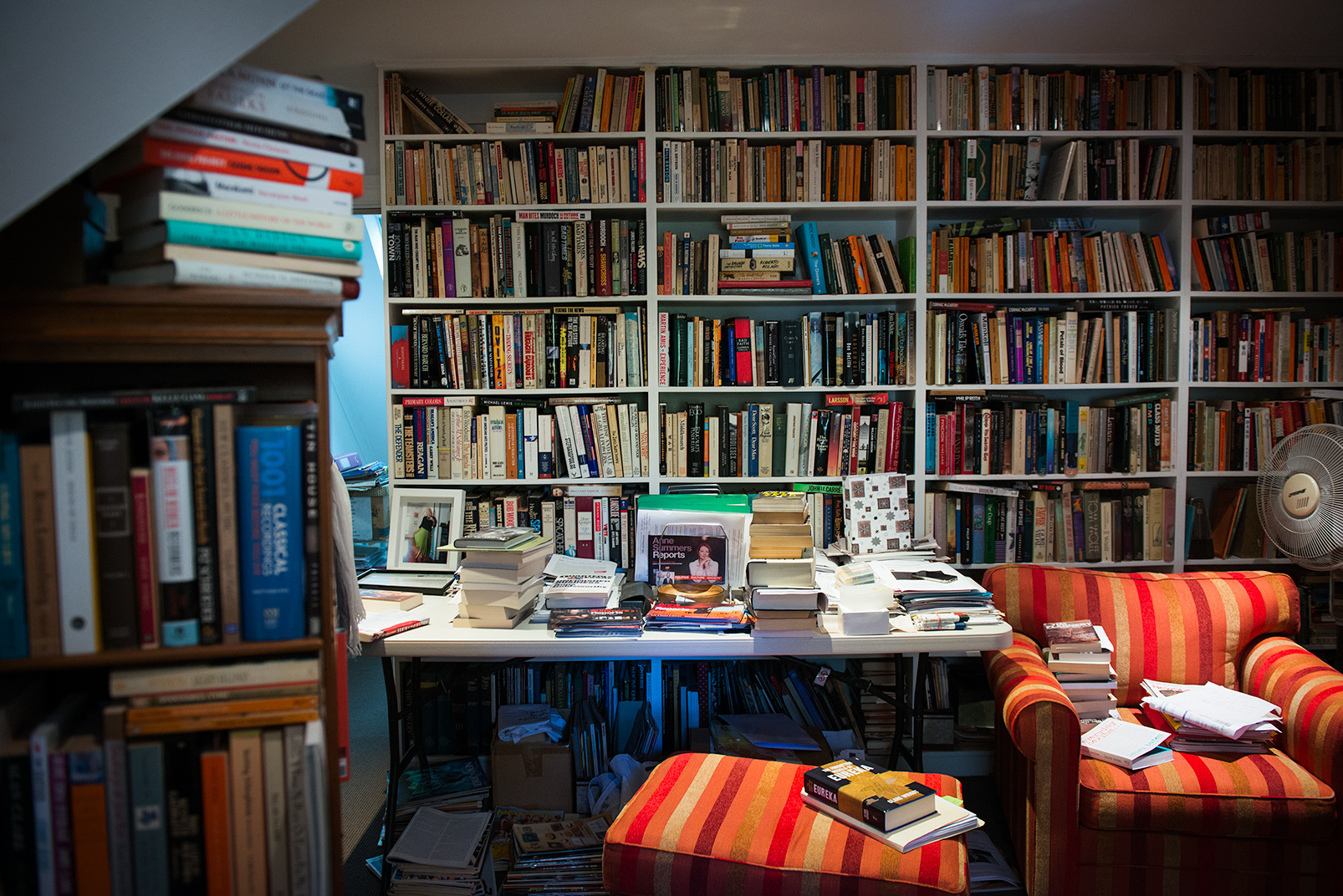 About Anne

Dr Anne Summers AO is a best-selling author, journalist and thought-leader with a long career in politics, the media, business and the non-government sector in Australia, Europe and the United States.
She is author of eight books, including the classic Damned Whores and God's Police, first published in 1975. This bestseller was updated in 1994 and, again, in 2002 and stayed continuously in print until 2008. A new edition was published by NewSouth on International Women's Day 2016.
Her previous books are The Misogyny Factor (2013), The Lost Mother: A Story of Art and Love (2009, 2010) and On Luck (2009), The End of Equality(2003), Ducks on the Pond (1999), Gamble for Power (1983) and Her-Story: Australian Women in Print (with Margaret Bettison – 1980). She writes a regular opinion column for the Sydney Morning Herald.
Anne was involved in the early 1970s, in helping start Elsie, Australia's first women's refuge and Refractory Girl, a women's studies journal.
In 1975 she became a journalist, first on The National Times, then in 1979 was appointed Canberra bureau chief for the Australian Financial Review and then the paper's North American editor.
She ran the federal Office of the Status of Women (now Office for Women) from 1983 to 1986 when Bob Hawke was Prime Minister and was an advisor, on women's issues among other things, to Prime Minister Paul Keating for a year prior to the 1993 federal election.
In 1987 in New York she was editor-in-chief of Ms. – America's landmark feminist magazine – and the following year, with business partner Sandra Yates bought Ms. and Sassy magazines in the second only women-led management buyout in US corporate history.
In November 2012 she began publishing Anne Summers Reports a lavish free digital magazine that promises to be 'Sane Factual Relevant' and which reports on politics, social issues, art, architecture and other subjects not covered adequately by the mainstream media.
In September 2013 Anne launched her series of Anne Summers Conversations events with former prime minister Julia Gillard in front of a packed Sydney Opera House.
Anne was chair of the board of Greenpeace International (2000-2006) and Deputy President of Sydney's Powerhouse Museum (1999-2008).
In 1989 she was made an Officer in the Order of Australia for her services to journalism and to women. In 2011, along with three other women, Anne was honoured as an Australian Legend with her image placed on a postage stamp.
Anne was a leader of the generation and the movement that changed Australia for women. Her involvement in the women's movement has earned her community respect.  She has received Honorary Doctorates from Flinders University (1994), the University of New South Wales (2000), the University of South Australia (2014) and the University of Adelaide (2015).
Personal
Anne lives in Sydney with Chip Rolley, her partner of 27 years who was the editor of The Drum, the ABC's opinion website and Artistic Director of the Sydney Writers Festival from 2010-2012.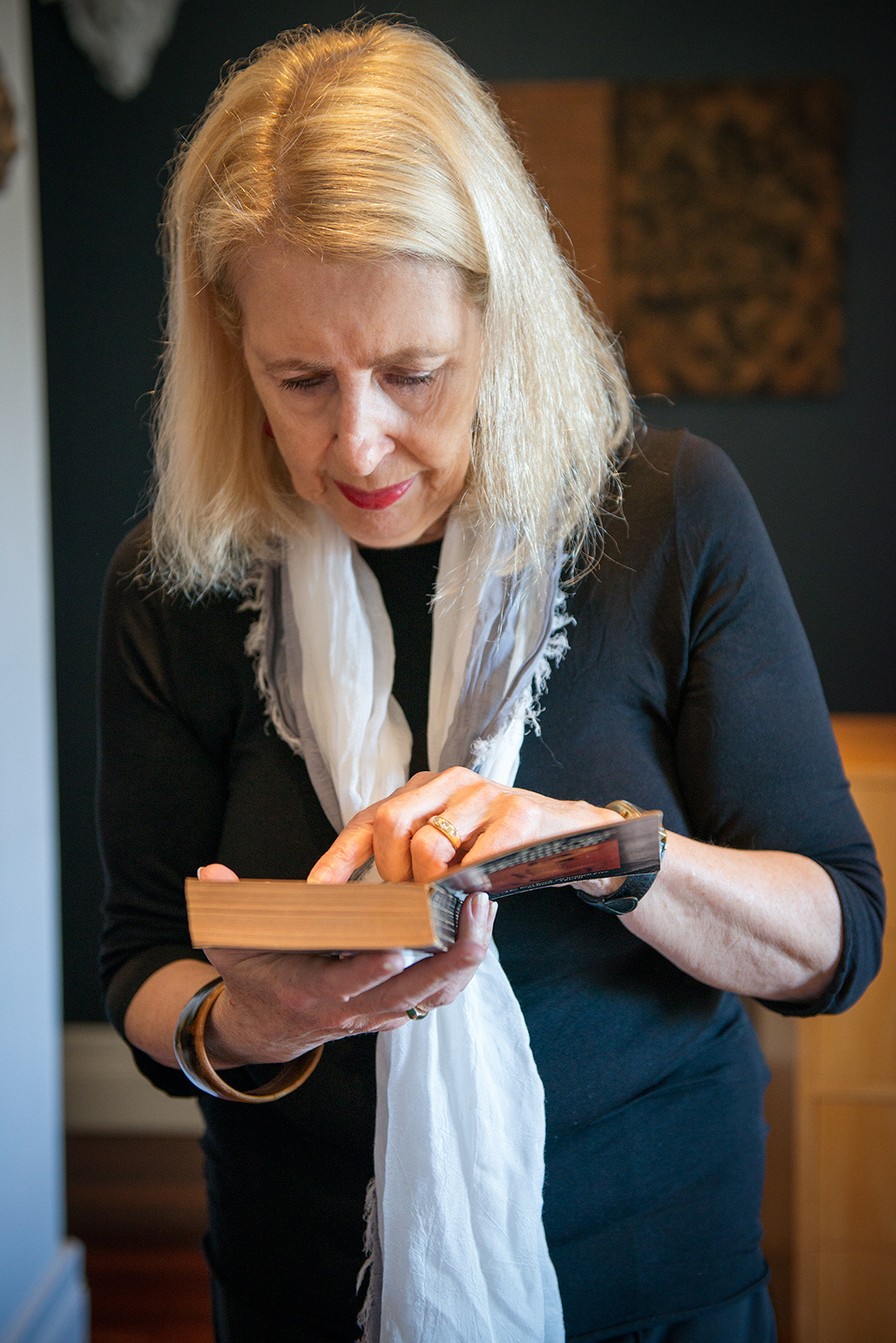 Leigh Russell and Kathy Luu spoke to Anne Summers on 29 April 2014 and August 2016.
© Hello Bookcase 2013. Unauthorized use and/or duplication of this material without express and written permission from this blog's author and/or owner is strictly prohibited.