Interview: Hilary Bell, Phillip Johnston, Moss and Ivy
Written by Hello Bookcase, Posted in Interviews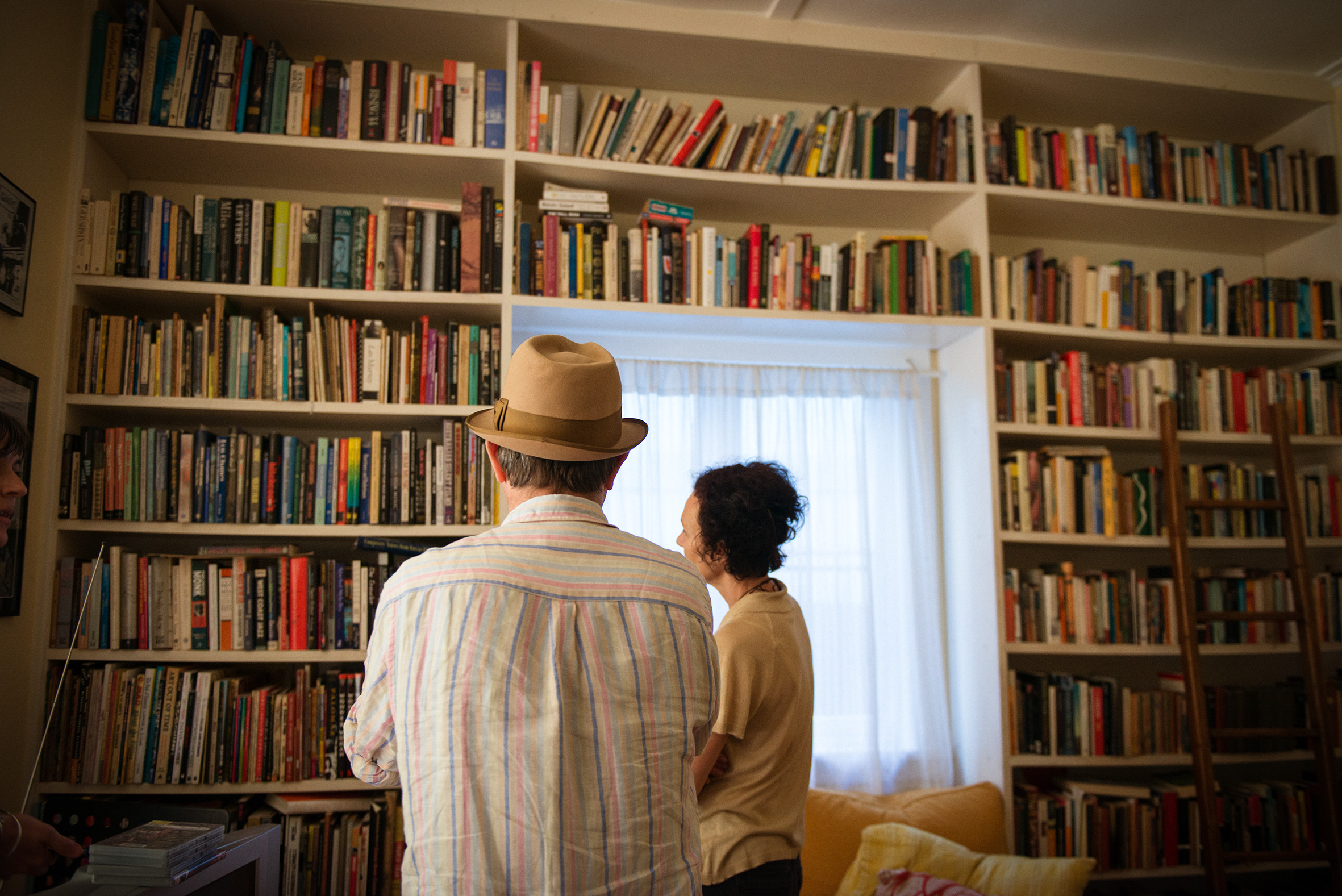 We caught up with the Bell/Johnston family to chat about books on their return from the Woollahra Library Book Sale and on their way out to have lunch with author, Claire Messud at the Sydney Writers' Festival. Hilary and Phillip both have strong literary upbringings and this has come full circle with their own children – Moss (12) and Ivy (10) who also write their own poetry and plays. Their Bondi home is a bibliophile's dream with overflowing bookcases (many that have been rescued from the street to join their family) from the living spaces, the hallway and to the bedrooms.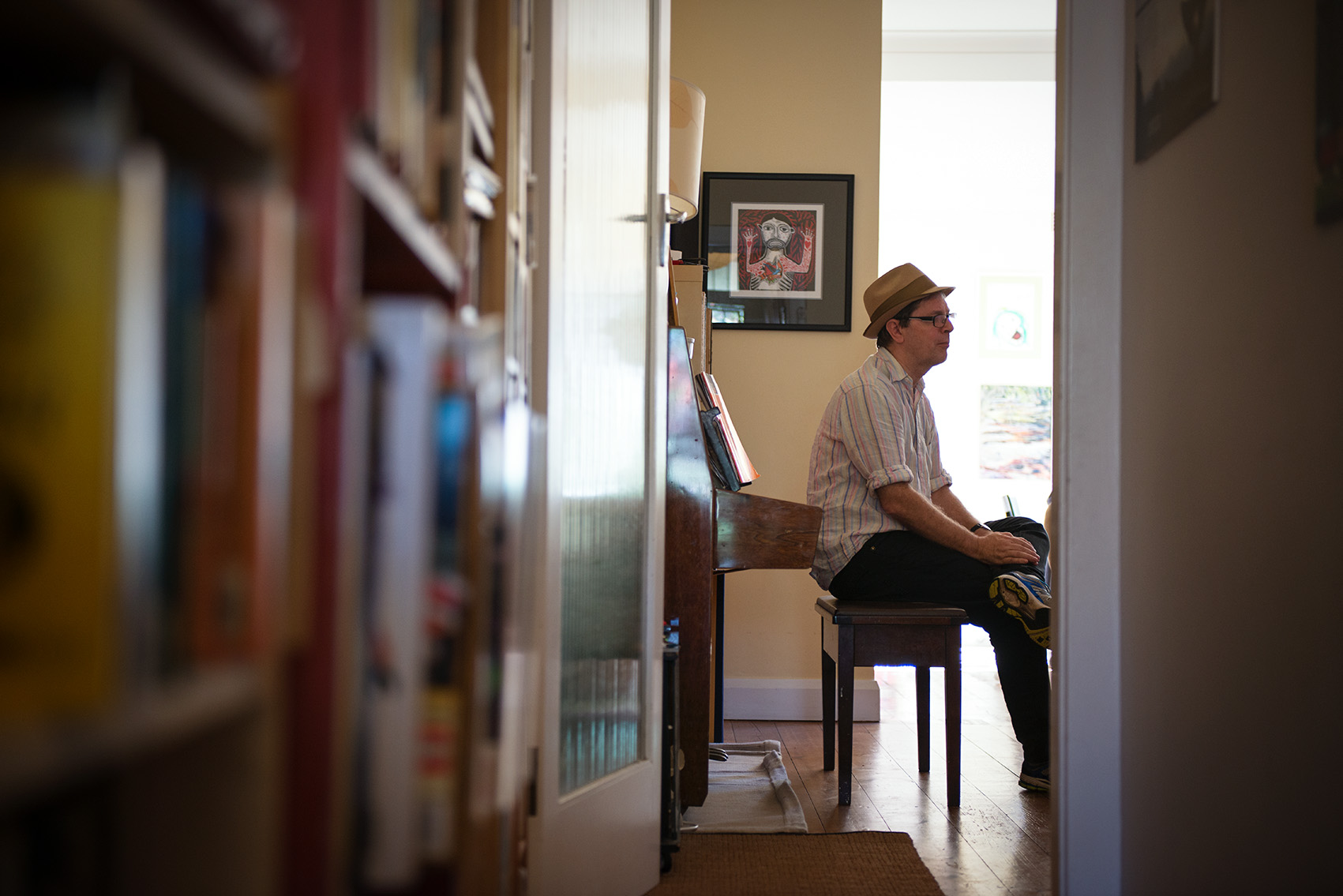 Phillip and Hilary walk us through their bookcases while Moss and Ivy read their comics in the sundrenched kitchen.
Phillip: Over here is our comics section and then we have larger comic books down the bottom. I am working on a piece with Art Spiegelman at the moment and I am a comic book freak. In my childhood I was really into DC comics – Superman and Batman, the Justice League of America, Adventure Comics. I also discovered Mad Magazine when I was very young through my aunts and uncles, and loved that. Some of the collections on our shelves are some of these, which Moss loves. But those aren't the original comics, those are reprints. I don't like the modern super hero comics, too angst-y and too expressionistic – I don't like the art work or the stories. But of course I like other kinds of modern comix – a huge topic. Moss and Ivy like all different kinds – some the same as me, some totally different.

Hilary: I am not a comic book fan but I do appreciate them. I had never picked one up until I met Phillip and then we had kids and they would ask for Plastic Man as their bedtime story. I have been sucked into it. 
Hilary: I have a collection of research books up there – The Piltdown Man, The Worm in the Bud. They all relate to different plays that I have worked on. I got Phillip to bring back this amazing book from New York for me – The Circus 1870s – 1950s. The cover was extraordinary and then when I looked inside I got even more excited. There are a few Noel Coward and Cole Porter – musical theatre books.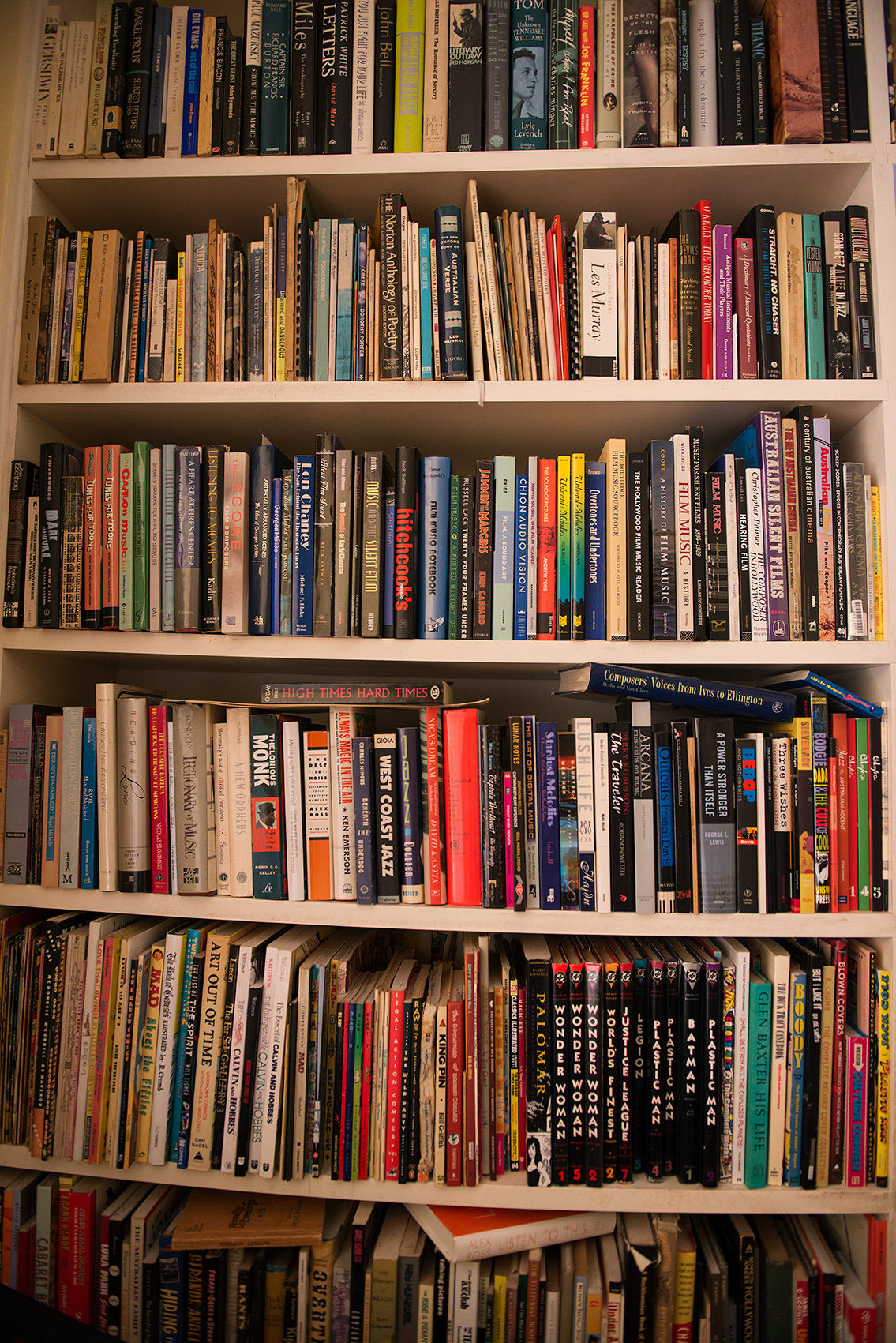 Hilary: A lot of our friends are writers too so our bookcase is filled with their books. My brother-in-law, James O'Loghlin has a few books out, Larry Buttrose is up there also, Claire Messud, Paul Auster and his wife Siri Hustvedt. Also artists who are friends that have made books – those coloured spine books up there are from our friend Nelly Reifler who made these zines with original artwork by Josh Dorman – a series called Aceldama. We also have artwork by Josh in our hallway.
Phillip: This whole shelf is for my PhD in music composition – my area of study is film music. So all these books relate to film music and silent films. I write original scores for silent films and my PhD project is called "The Polysynchronous Film Score: Contemporary Scores for Silent Film" and is being presented at the Newcastle Conservatorium. Prince Achmed is the 'creative' part of my project – I also have to do a written dissertation. The Adventures of Prince Achmed just premiered in Randwick and it will be performed again at Paramatta Riverside in September.
As an artist every book is a reference book because everything has ramifications that relate to everything you are doing even though I am a musician and composer a lot of my work is collaborative with writers, filmmakers and theatre writers. All things have waves that go out in different directions and come back again. To me having a library is such a valuable resource.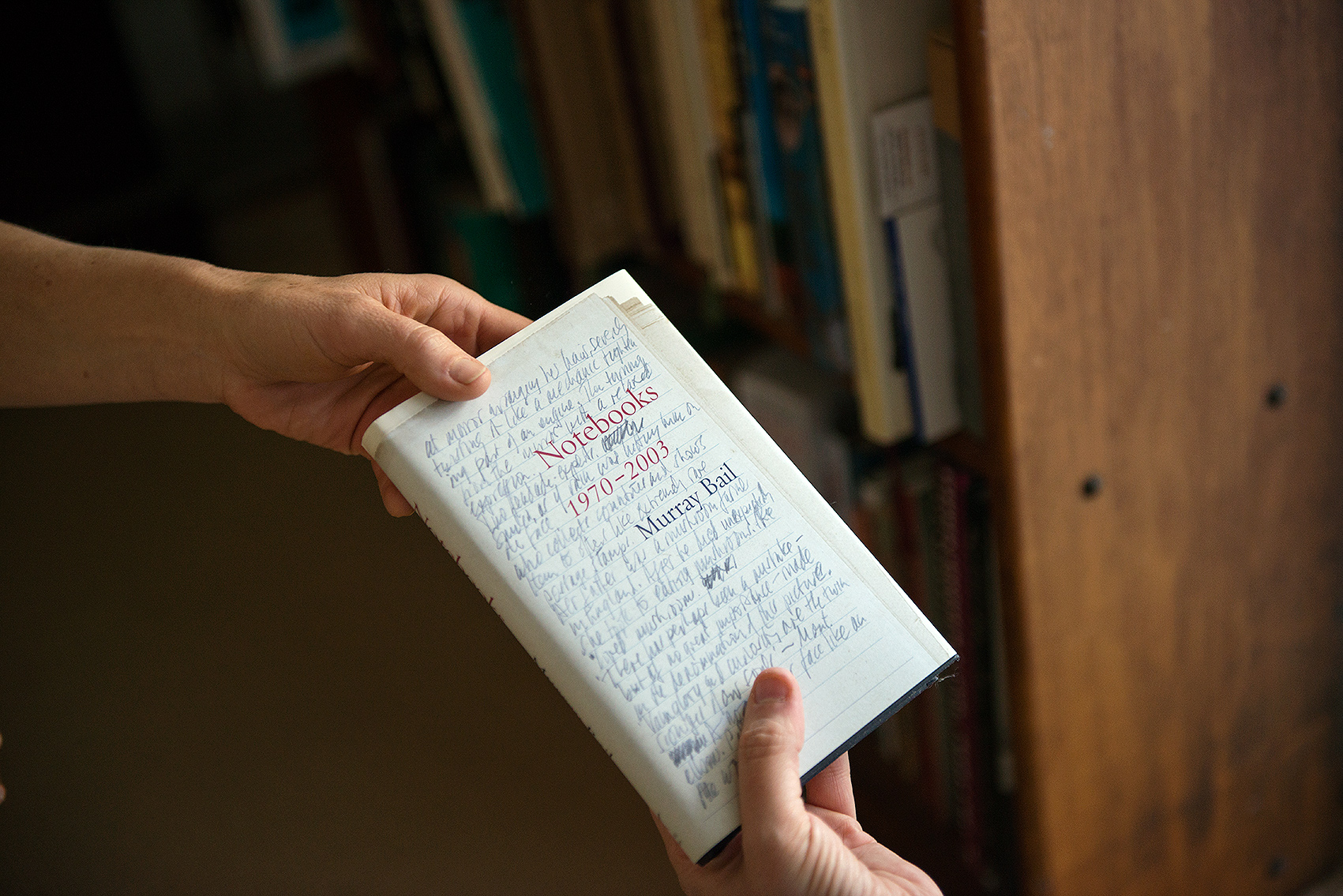 Hilary: There is actually a logic to all our shelves. This bookcase is for plays and my theatre books and are organised in order of countries, musical theatre and opera. These books are all on writing; these are screenplays, and I also have a project-based bookcase. I am writing a musical about Cole's Funny Picture Book which requires the delight of trawling through Cole's Funny Picture Books 1-4 (though I'm missing #3) and the biography by Cole Turnley, Cole of the Book Arcade. We have a few very precious editions. The musical is called Do Good And You Will Be Happy. It's a show for children and adults, that takes us into the world of the Funny Picture Book itself. The anthropomorphised animals (bespectacled pig, waistcoated stork, etc) are characters, as are Cole and his wife Eliza. The challenge has been taking a book that is a collection of poems, pictures, puzzles, political tracts, games and lists, and finding a dramatic form. We tried it early on as a kind of vaudeville variety show, but it needed a compelling story, progressing the action. We've got that now, and we're doing a workshop with Merrigong Theatre in September.  
I'm writing a comedy called Piss Elegant for my dad, John Bell and I've been reading particular comedies – Gogol and commedia dell'arte in particular, to capture the tone. But the subject had me reading Ben Jonson's Volpone, Moliere's Tartuffe and Zuckmayer's The Captain of Kopenick.
This book I really love – Notebooks by Australian writer, Murray Bail. It's not a novel but little jottings out of his notebooks. As a writer I find it very inspiring – survival tips, things he notices sitting on the train. It's a book you can dip into at any time without having to commit. Another book I have read a few times is The Information by Martin Amis, about a writer's envy and self loathing ­– so that's a healthy read!
Hilary's stack of personal reading includes: Claire Messud's The Woman Upstairs – I had to put it down for work-related reading, and can hardly wait to get back to it. Before that, I read Carson McCullers' The Member of the Wedding, Anna Karenina, Mary Gaitskill's short stories, Bad Behaviour, and Jennifer Egan's A Visit From The Goon Squad. I can read again and again Pinter's play Betrayal. And another that I read for pleasure is Caryl Churchill's The Skriker. I also love La Bete, by David Hirson.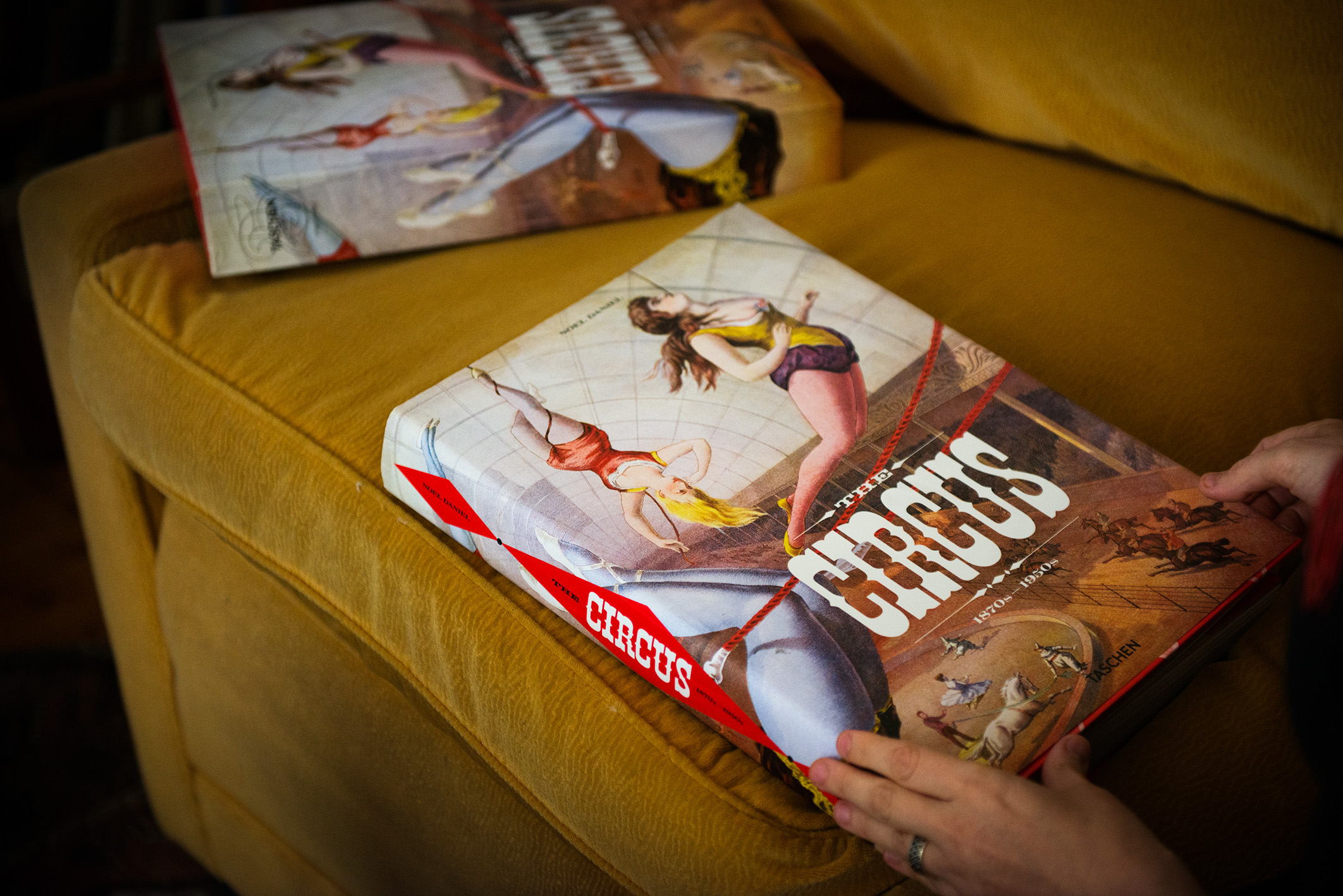 Phillip: I have been spending maybe 25% of my time reading books I have read before. One – because I have forgotten them entirely or two – they are just the best book. Philip K. Dick is one of my favourite authors. I have been reading William Kotzwinkle, Martin Amis and Kurt Vonnegut and then I have been rereading stuff I had read when I was very young..like Catcher in the Rye.  I do read the same books again and again. I am also rereading books by Dutch detective writer Janwillem van de Wetering. He is a bit of weird writer – he was a member of the Dutch police but has also written books on Zen Buddhism. I went through a big Dr Fu Manchu kick for a while – these ones I have here are now all out of print.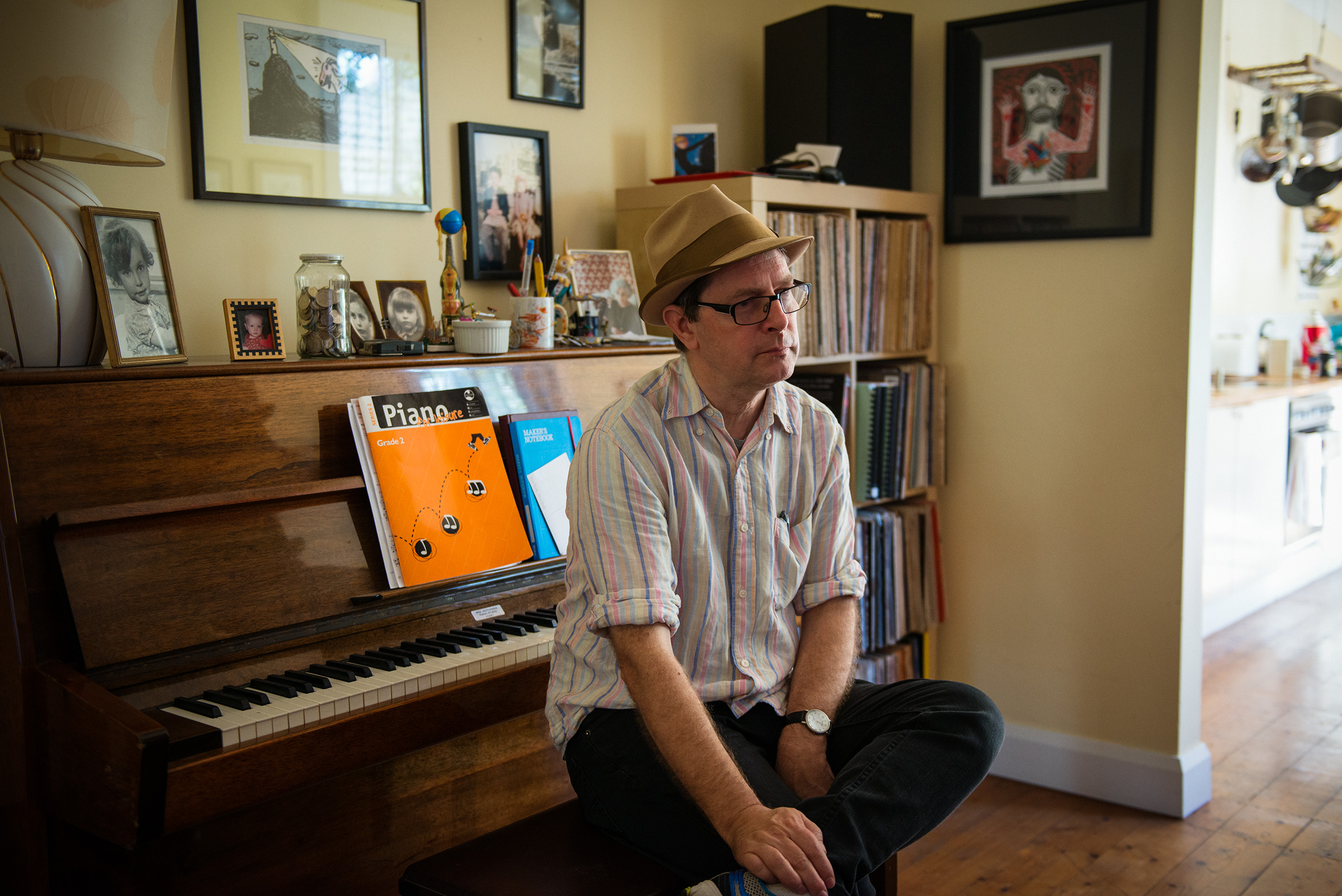 Phillip: My father was a novelist (William Johnston)– he was a hack writer – he published about 150 books and would write on demand. He wrote books from TV shows like Get Smart!, The Brady Bunch and The Flying Nun. The Marriage Cage and Barney are his only original novels. We also have a copy of an unpublished manuscript. After 20 years as a professional he quit writing and went to bartenders school – he couldn't get a job as he was older so he bought his own bar and ran it successfully until he retired in Long Island. The books are now hard to find but we collect them whenever we see them.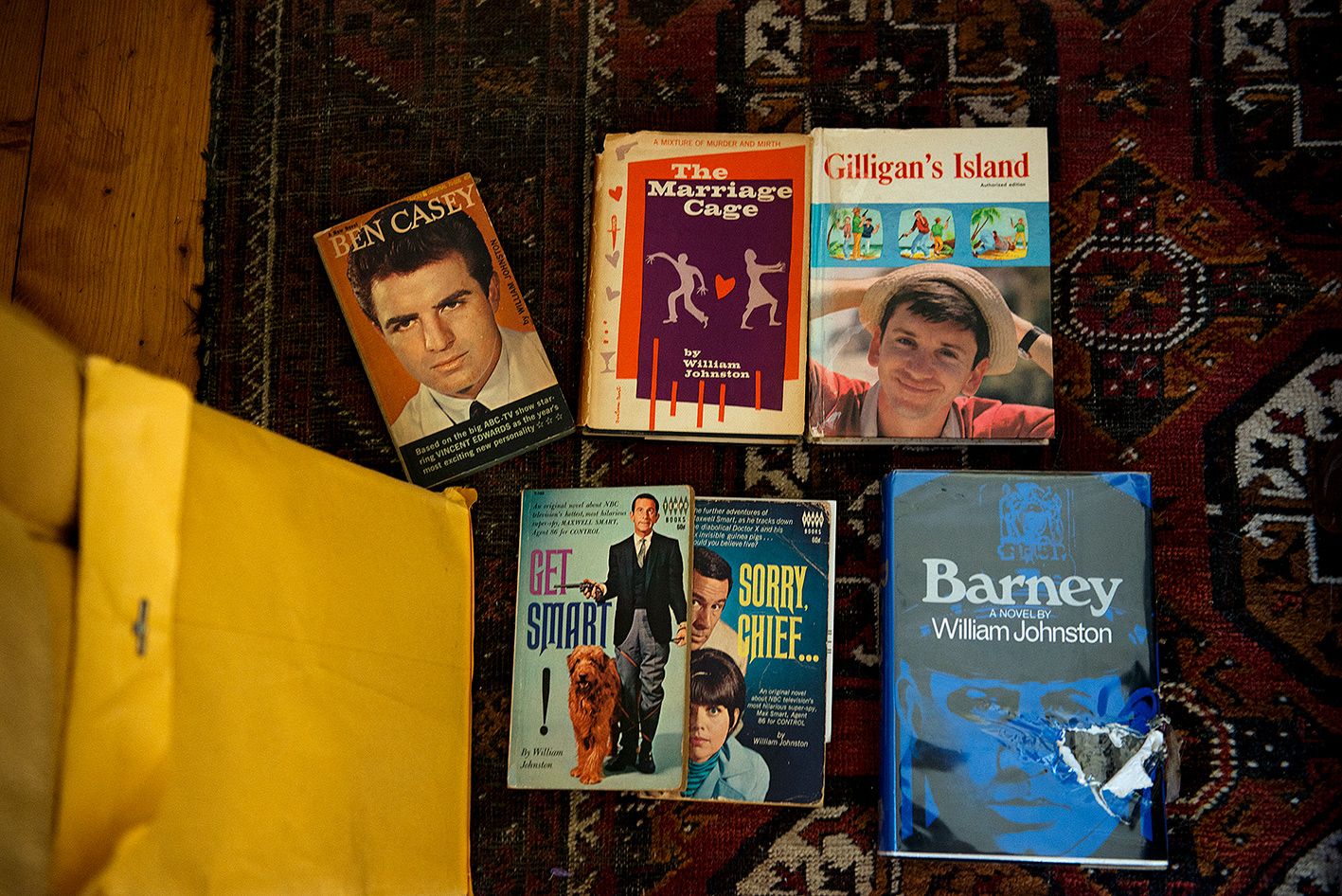 Hilary: My father started reading Dickens to my sister and me when we were very young – I would have been 7 or 8. I thrilled to the horror of the world described in these stories, and revelled in the grotesquery of the characters. I'm sure my passion for Victoriana was born here. He also read us Chesterton's Father Brown, and I loved the wry humour that wove throughout the cracking stories, the crisply drawn characters, the surprises at every turn. The Hobbit, which he read to me when I was very small (perhaps four), made a very deep impression. I think when you are introduced to books at a young age, you feel a kind of ownership over them, and they entwine with your imagination and form the kinds of worlds you start to create in your head.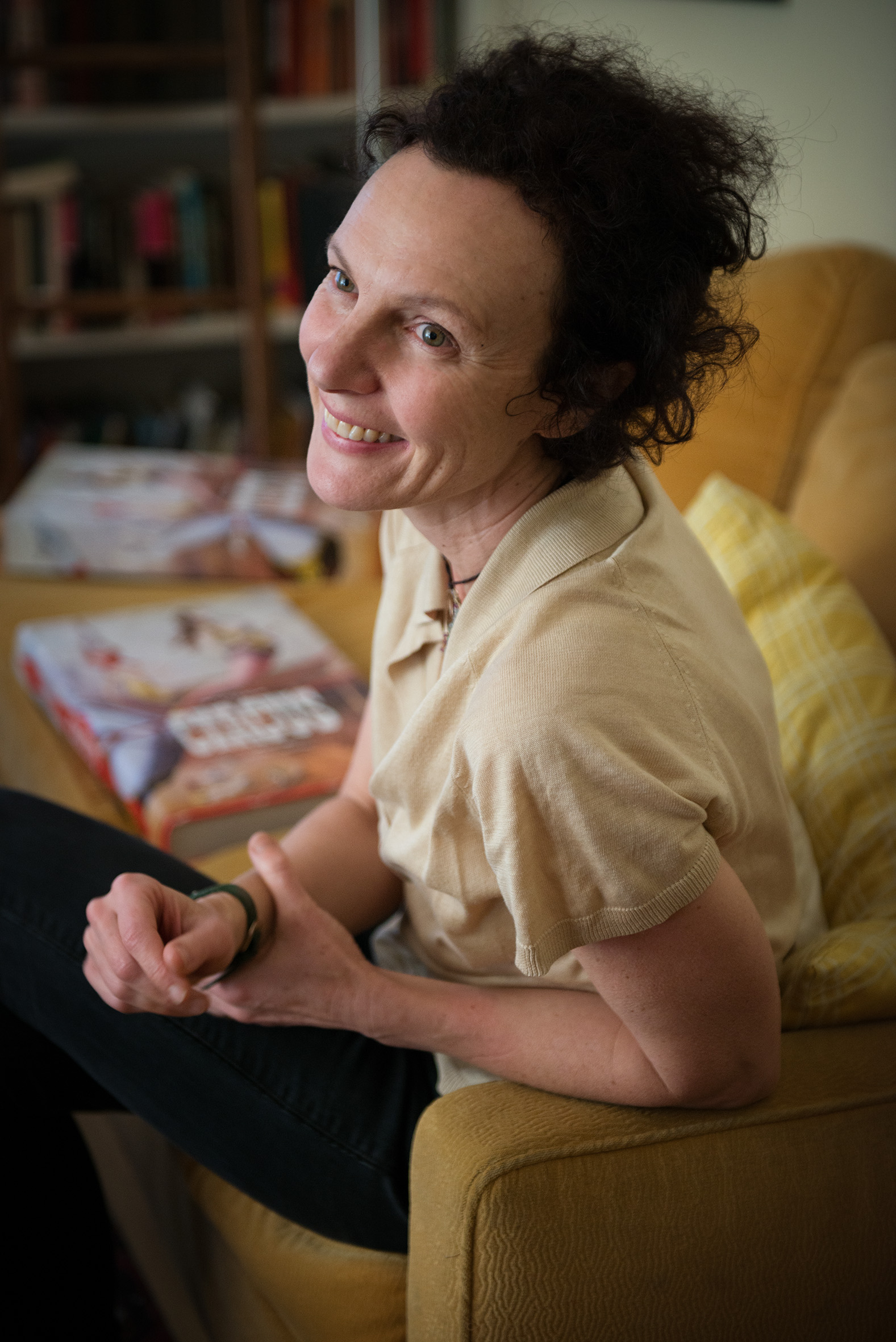 Phillip: My parents had a big bookshelf like this and I discovered a lot books – that is one of the reasons why I wanted to make sure when we moved back here from New York that we had all our books. A bookcase is a great resource for kids as they reach different ages they can see things that were always there  all along but weren't ready for and can discover incrementally as I did at my parents house. There were certain books that I was fascinated with but too young to understand.  There is a book I always talk about as an influence when I was a young adult —  Great American Plays and it had  The Glass Menagerie, The Man Who Came to Dinner and others. That book got me into the theatre. Another one that caught my eye was Catch 22 – I had looked at it for years but eventually picked it up when I was older.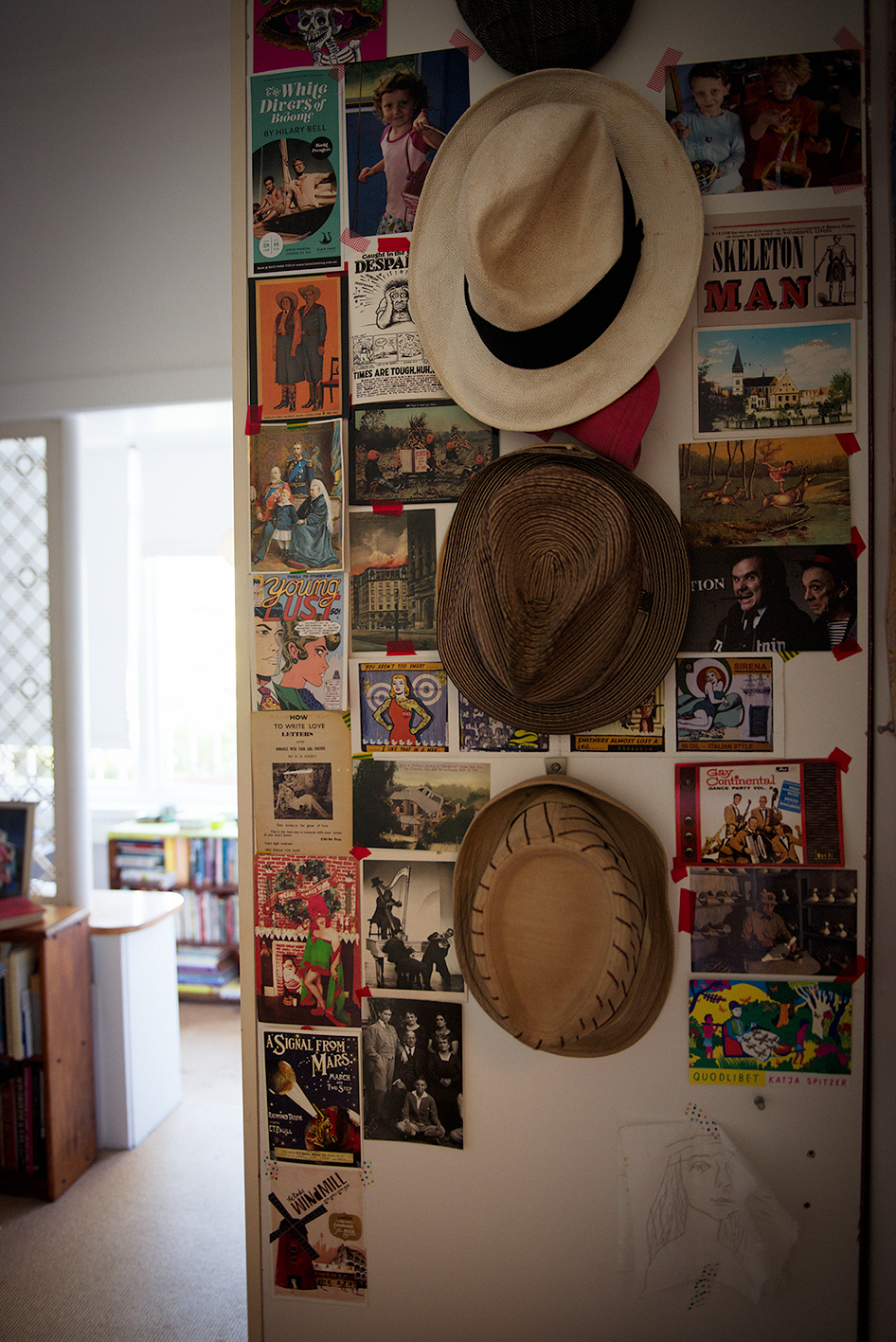 I was curious about what books they had introduced to each other. Phillip: Hilary introduced me to the work of Helen Garner – who I really like a lot. We discovered Dorothy Porter together. Hilary: I liked the one you were begging me for twelve years to read – The Third Policeman by Irish writer Flann O'Brien. I loved it.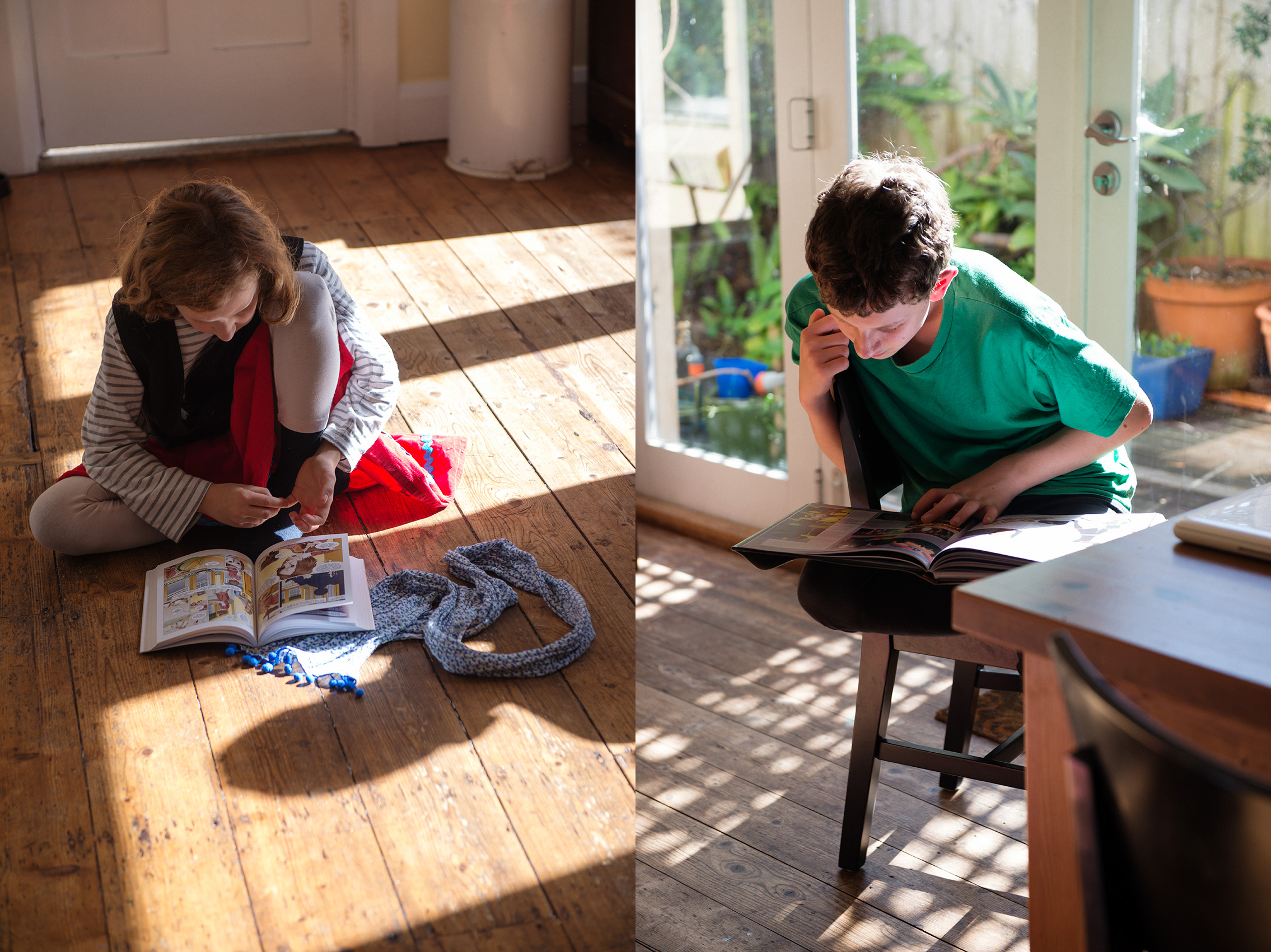 Moss (12) and Ivy (10) have a bookcase of their own filled with their most treasured and well-loved books.
Moss: I am reading The Scripts of Black Adder and I have just started Coraline (Neil Gaiman). 
Ivy: I am reading that too. He always reads my books. A prominent series in Ivy's collection is Ivy and Bean by Ann Burrows.  The Ivy and Bean books are really good. We know the illustrator (Sophie Blackall) and she is really nice. Ivy points to a brightly covered book… I also like The Candymakers (Wendy Mass) but I have read it only once.
Hilary: They have been devoted to Lemony Snicket for 11 years now. They have been listening to the audio version of the book and also reading it.  They of course love Roald Dahl, like every child and Anthony Browne.  Moss is into mythology, science and history – they were into Horrible Histories for a while – they get obsessed with a few things and then move on. The kids' shelves get rejuvenated as they grow out of their infant books. We have hung onto two books that were given to us when the kids were born in New York. We pass on the books we don't keep to family and we never feel we are completely giving them away.
We have started to share older classics with them – The Time Machine, Kidnapped, Dr Jekyll and Mr Hyde. When our friends write books for children we read them and the kids give their feedback. At the moment we are reading a young adult novel by Verity Laughton. She is a playwright but is branching out into another direction.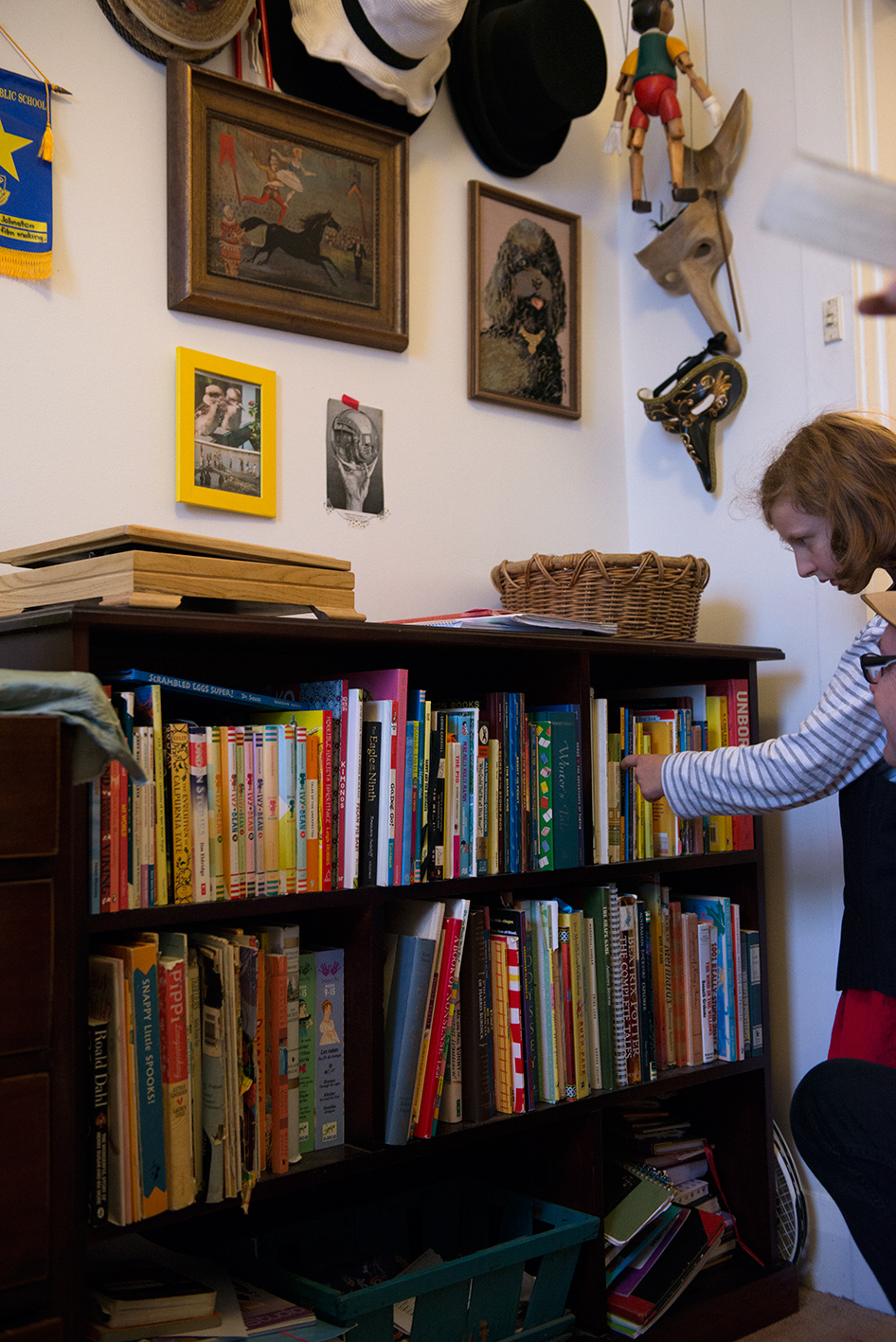 Phillip was flying off to New York that week to deliver a paper at the Music and the Moving Image conference at NYU. I haven't started thinking about what book I will take with me. The Ellington bio is really heavy (that I bought at the Woollahra Library Book Sale) and I am going for week this time. I am not too sure what book  I will take – the attributes of a plane book are very specific and can not be too heavy.
Phillip contacted me when he arrived in New York: I ended up buying Illegal Harmonies by Andrew Ford at the Writers' Festival. I thought his book on film music was really erudite and witty. That's going to be my plane reading. The Ellington biography is really good, I've already started reading it, but I think it's just too heavy (weight, not content) for the trip. I'm trying to travel light.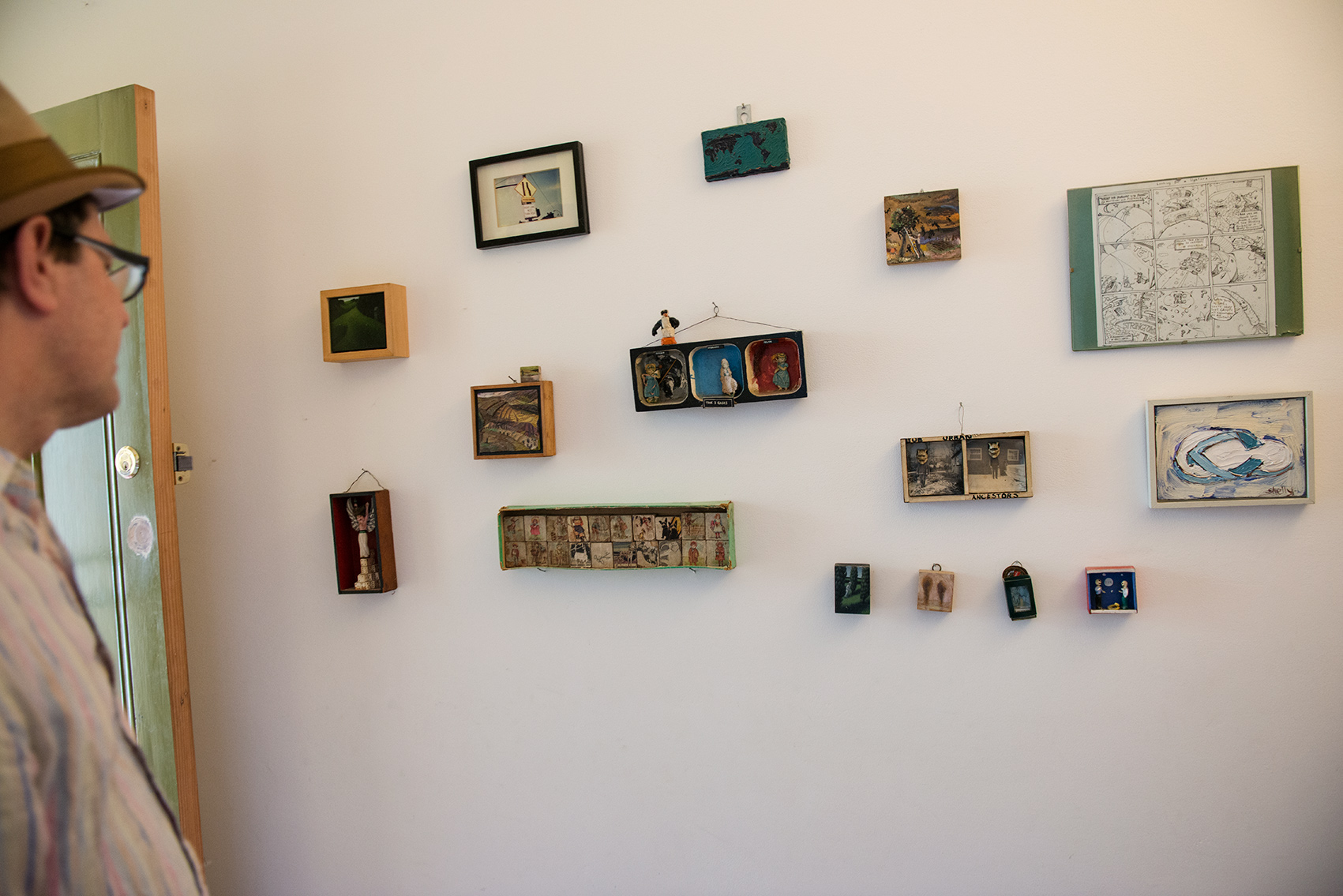 About Hilary Bell
Hilary Bell is an award-winning playwright who has written for stage, radio, screen and music theatre. She is a graduate of the Juilliard Playwrights' Studio, NIDA, and the Australian Film, Television and Radio School and has had her plays performed in Australia, Europe and the United States. Hilary has recently been awarded the Patrick White Playwriting Fellowship.
About Phillip Johnston
Phillip Johnston is a musician and a composer for stage, radio and screen. Phillip tours within Australia and New York with his bands – The Microscopic Septet, Joel Forrester & Phillip Johnston Duo, Fast 'N' Bullbous, The Spokes, Phillip Johnston & the Coolerators and SNAP. Phillip is currently studying for his PhD in Music Composition.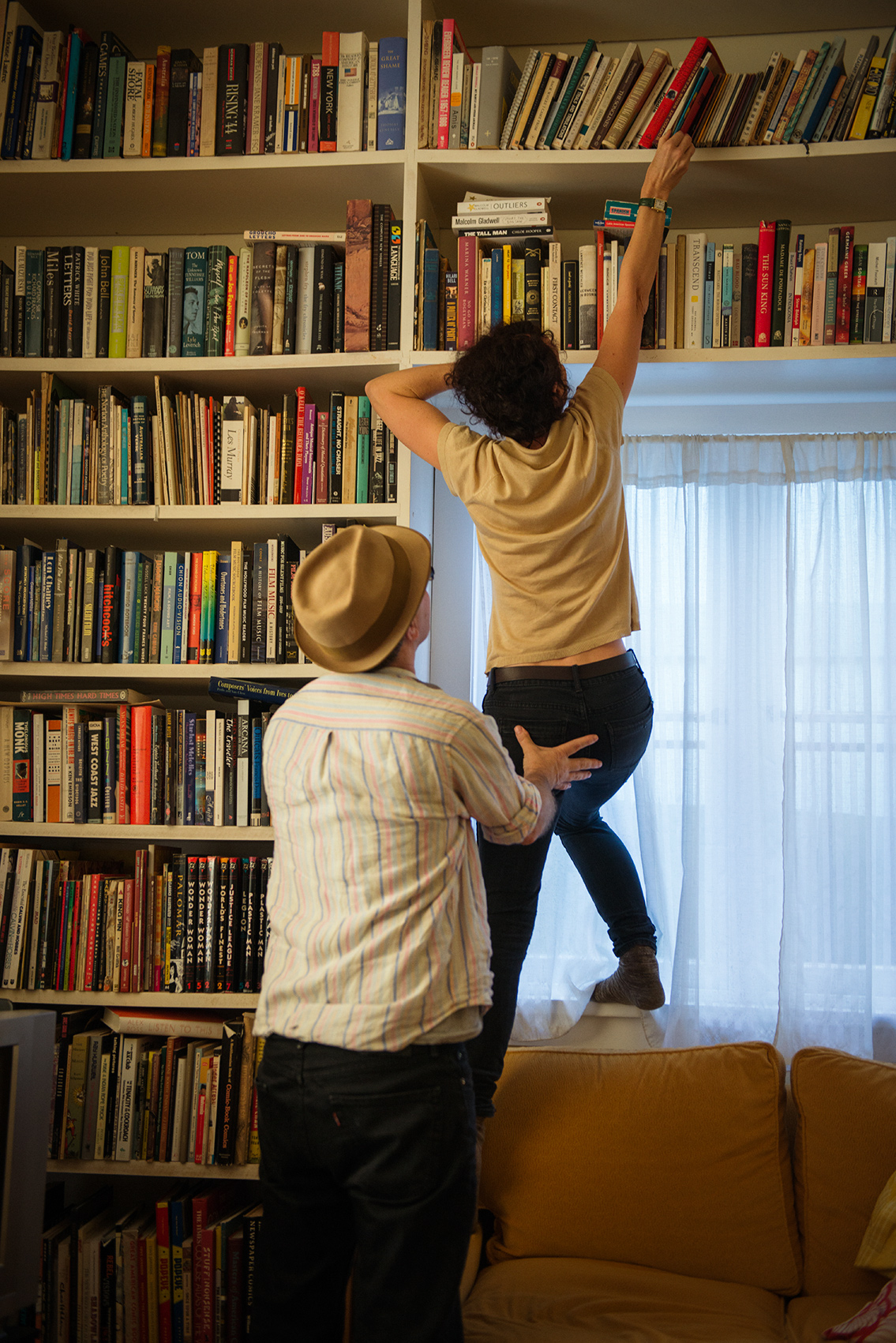 Leigh Russell and Kathy Luu met with the Bell/Johnston family on Saturday 25 May 2013. Images by Kathy Luu.
© Hello Bookcase 2013. Unauthorized use and/or duplication of this material in this specific post without express and written permission from this blog's author and/or owner is strictly prohibited.