Alistair Trung
Written by Hello Bookcase, Posted in Interviews
Visiting the studio of designer Alistair Trung and meeting his bookcase was an experience for all our senses. Worlds collide within the shelves and reveal cultures, people and subjects intersecting in ways unexpected and exciting.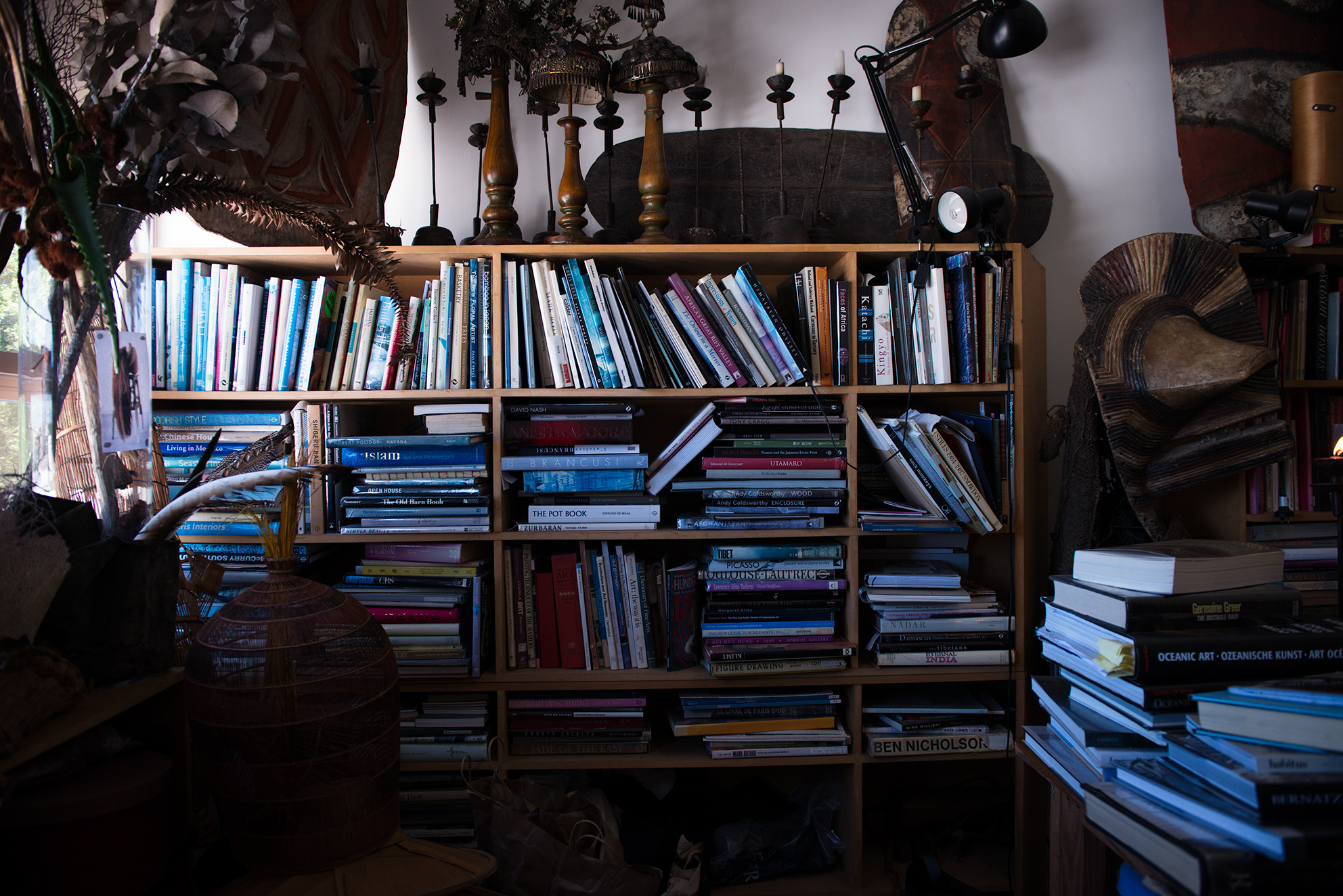 Books are books but there are other layers as well. There is the ritual of sharing but even just the simple act of going through a bookcase is wonderful for me. There are worlds within worlds in here. I get excited with that.
There is something beautiful about going through a bookcase and accidentally moving onto something else. It's actually wonderful because I get reminded of books that I've bought. I'm looking for a book and I bump into another book. I get distracted and slip into a wonderful digression. It's such a beautiful encounter when you rediscover a book you forgot you had.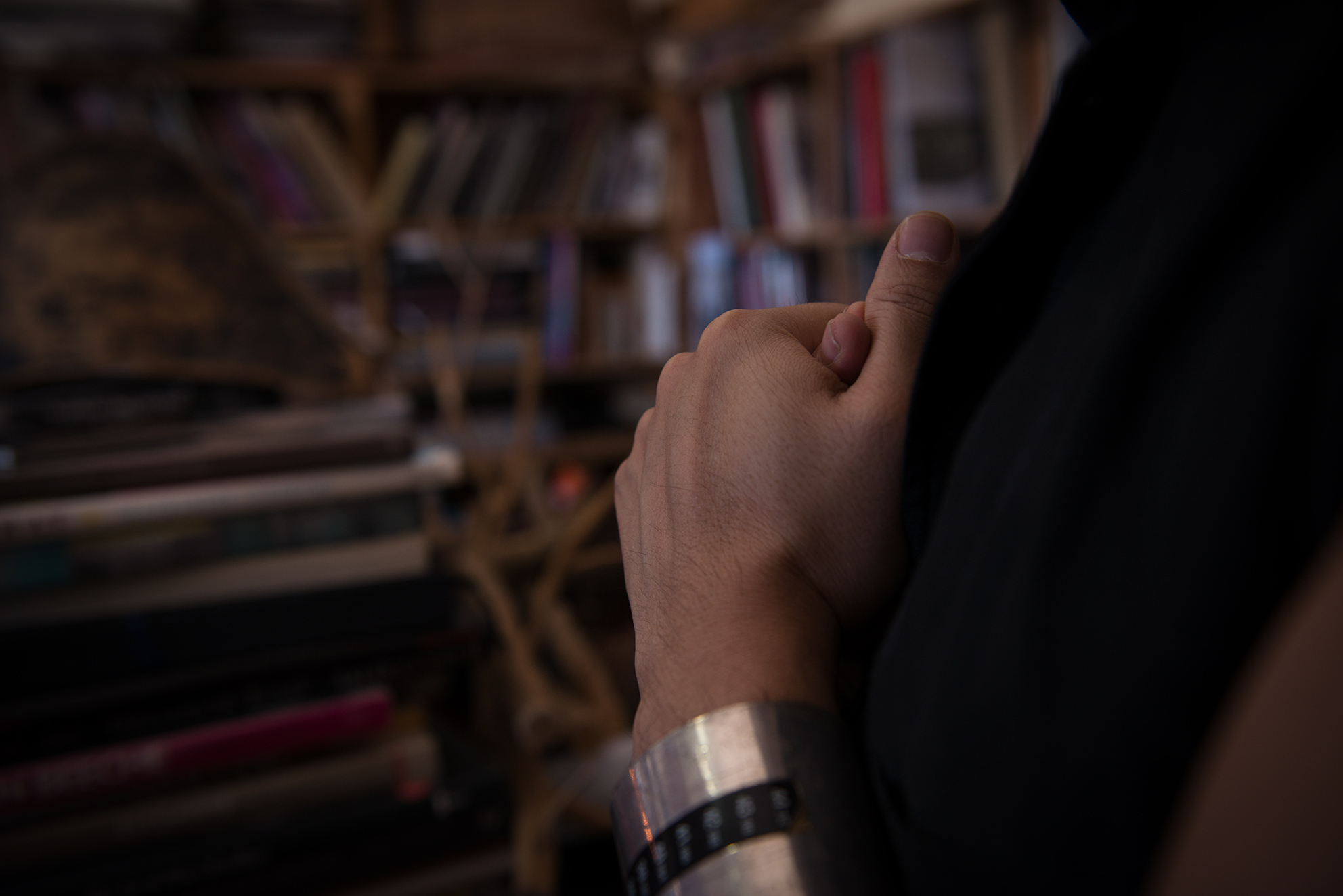 Books are like clothing; there is a lot of trash out there. I was reading about how many books get released each year. I feel there has to be a lot of editing down; when I get a book it has to be quality reference book. I have made mistakes too—some books are seductive but you have to be selective. It's like anything in life: one has to go through and edit and then cultivate what you like.  
I'm not a fashion person per se—I'm more interested in culture. Everything inspires me. I am quite multi- dimensional. It's often people offer me fashion books but I get frustrated because I want to be inspired by something else. The bookstores that know me offer me interesting things.
I'm not that orderly but it is categorised into culture, interiors and art. I have texture, clothing design and a lot of tribal culture, which I am very interested in. But the books that really galvanise me are the ones I go back to all the time.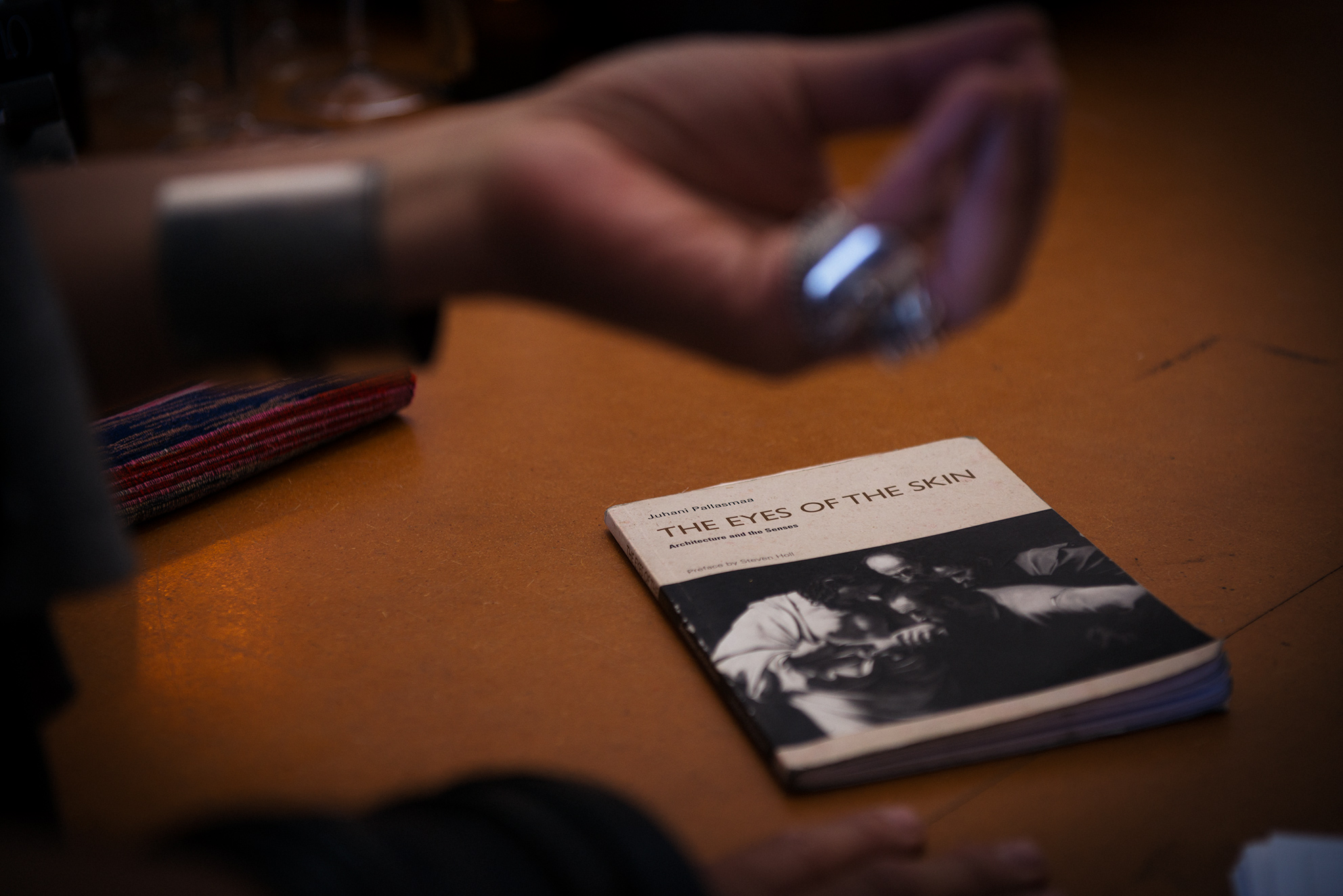 I am interested in books or people who write these books that are interested in the actual experience of things. I think we forget what it is like to experience things on different levels. They talk about things that never get articulated. Eyes of the Skin is a wonderful title. We are such a visual culture and I think the other senses can sometimes get shut down or desensitised. This book was given to me by a friend and it is fantastic. It talks about atmosphere, and the other senses which we forget about: smell, and touch.
We rely so much on image but we forget what a piece of clothing feels like to wear or the actual searching for a book through a bookshelf. Even reading a book on an iPad is very visual but you don't feel it. You don't get the same sort of comfort as holding or caressing a book.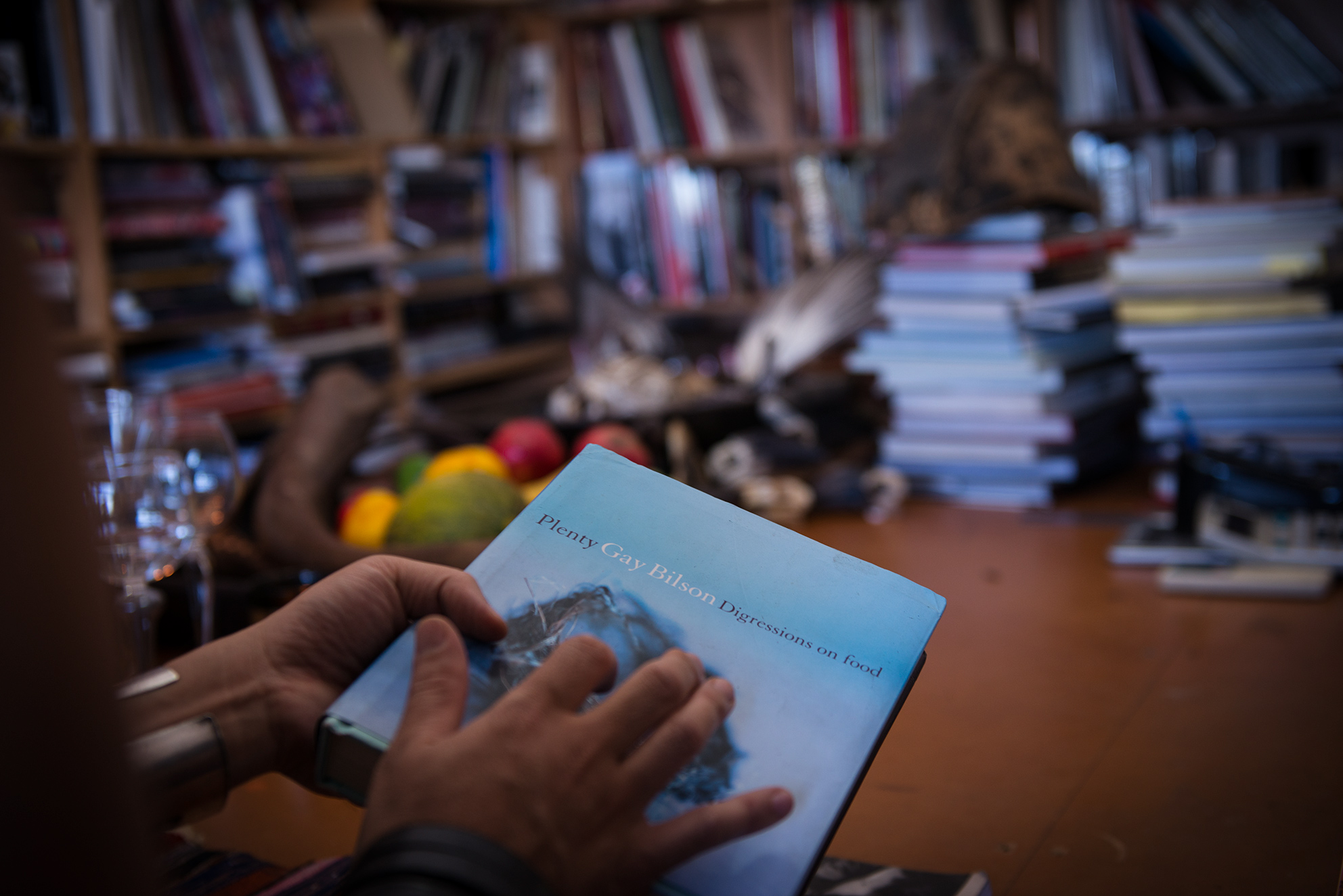 This book is a gem I return to many times over, Plenty: Digressions on Food by Gay Bilson. Because of the way it is written, I can read this book from any chapter. I like books that have this facility.  I 'm normally reading eight books simultaneously, so I have them all open, and depending on the mood I will zoom into the right book, at the right chapter without the need for chronological order.
Plenty is not the usual cliche cookbook, but a cerebral and sensuous collection of personal memories and musings on food and the arousal of the sense. I particularly love Bilson's sensitive and poetic observations.
Or her comparison of a plump pair chicken livers to the winged roof of Le Corbusier's chapel at Ronchamp.  There is a whole delightful chapter on the use and making of charcoal, and one on the collecting of bird nests.
I love the intimate size of this book with its beautiful paper that feels like flicking through a very ancient book. The photographic images are so distilled, sensory and sublimely calming.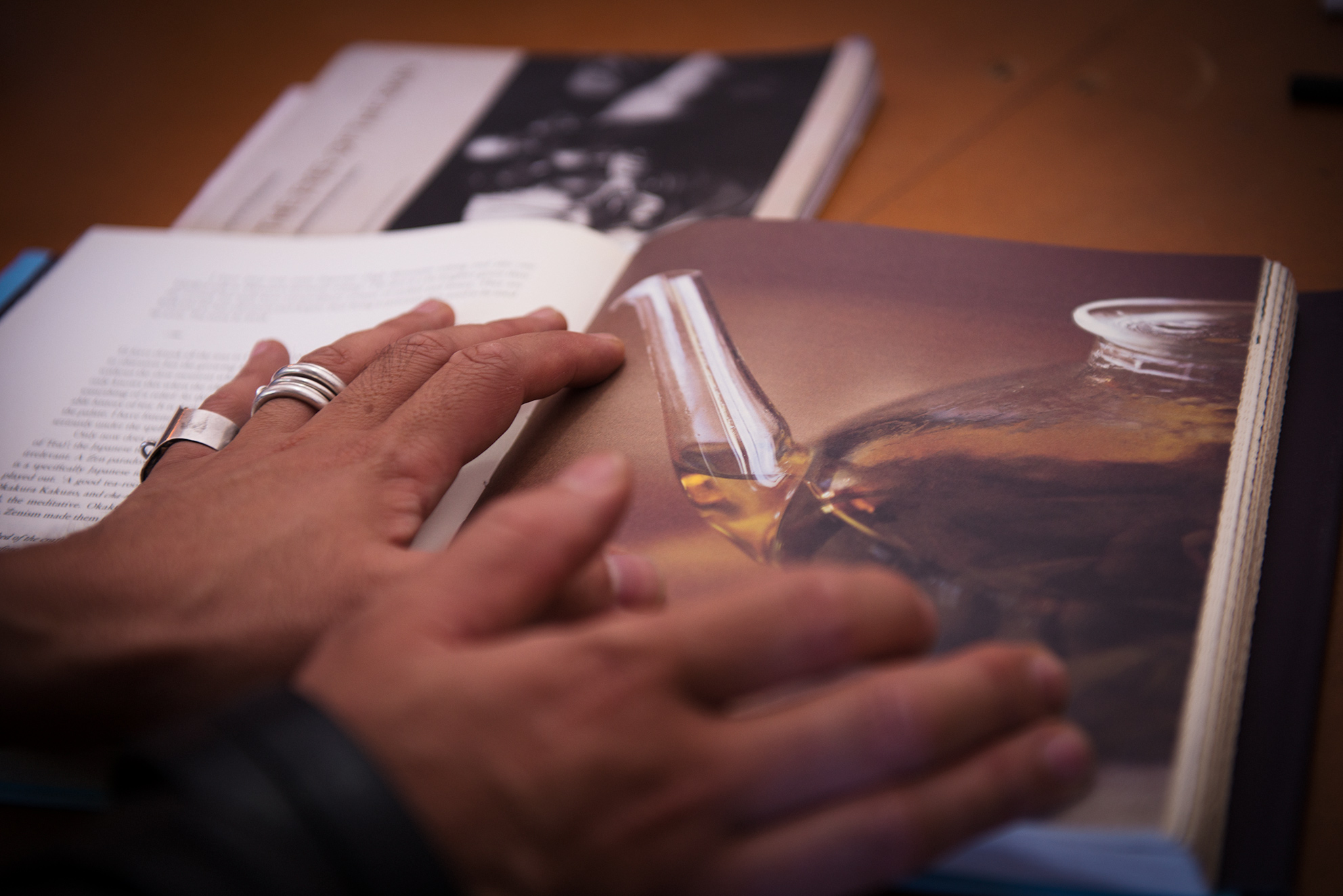 A lot of cookbooks don't catch me but this is so much more. She is multi-dimensional and very well read, and I think the way she expresses everything is so poetic, real and connected. It's about food, lushness, abundance and eroticism. People don't articulate this. It's the same with fashion. It's all dumbed down. The photos are wonderful too. You feel the essence of the tea, don't you? You feel the warmth of it.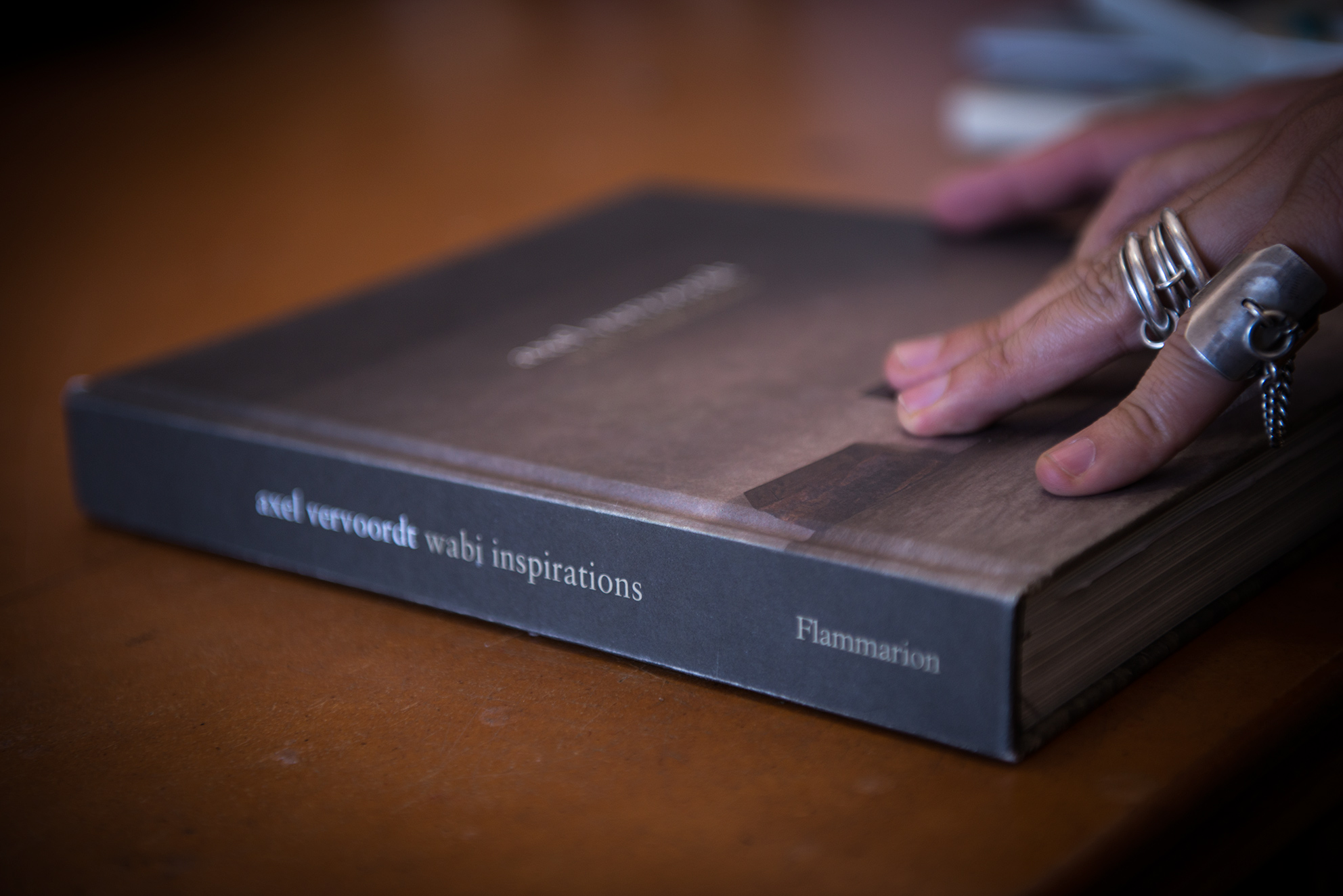 Another one of my very favourite books is Wabi Inspirations by Axel Vervoordt, known as a Belgium antique dealer and interior designer , yet he is so much more. I must have purchased about 15 copies of this book. My long held belief is to pass on the discovery of a great book. I only give people things I actually like. This book is a great example of how a person integrate a philosophy into their life and work.
In this case it's the Japanese coined philosophy of Wabi Sabi , a Zen Buddhist belief in all things incomplete , imperfect and impermanent. Vervoordt makes beautiful connections of Wabi to avant-garde art movements such as Arte Povera, abstract expressionism, European Zero Art and the Japanese Gutai art movement.
I love how human this book is. Vervoordt reminds us: We only know things when we live them. I think this is an extraordinary statement that touches precisely on the need for a many of us to look inward and process things for ourselves rather than the constant need to rely on "experts" and their coaching. I am interested in books that help to shape us into decent  feeling human beings. Books that awaken the spirit, and upon re reading, slowly help you to come into yourself.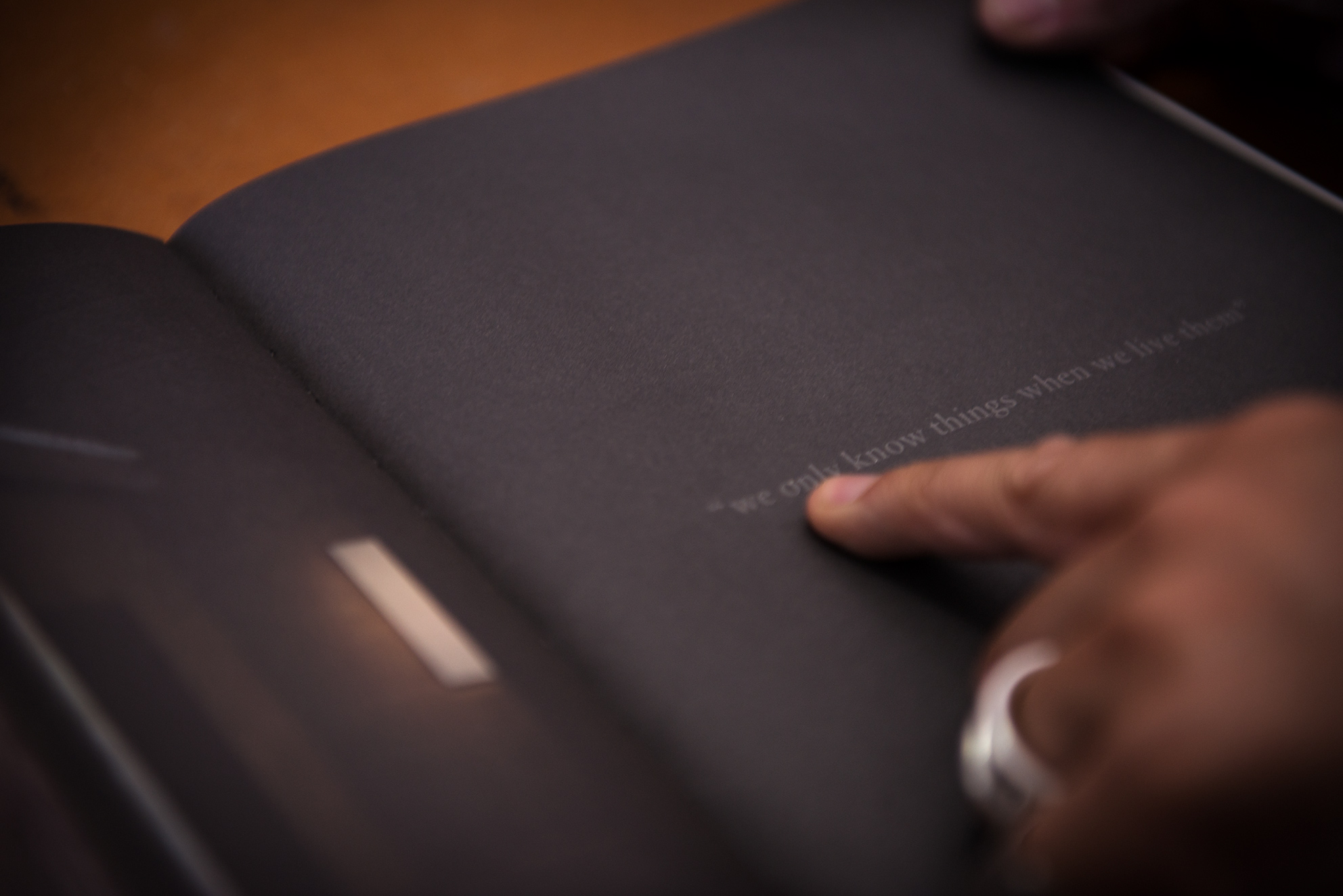 Everyone feels it—most of us can't articulate it. We need someone to awaken us. I have been awakened by these books. Slowly you start to come into yourself.
(I mention how the book In Praise of Shadows is a book that has been appearing on many of the bookcases we meet.)
Yes, I do have that book, In Praise of Shadows. It also talks about Western culture's pursuit of perfection and that comes from the Greek– Roman quest for symmetry and the perfect idea. The book talks about the imperfections in everything and goes into other abstract levels of feelings. This is an extension of Axel Vervoordt's book.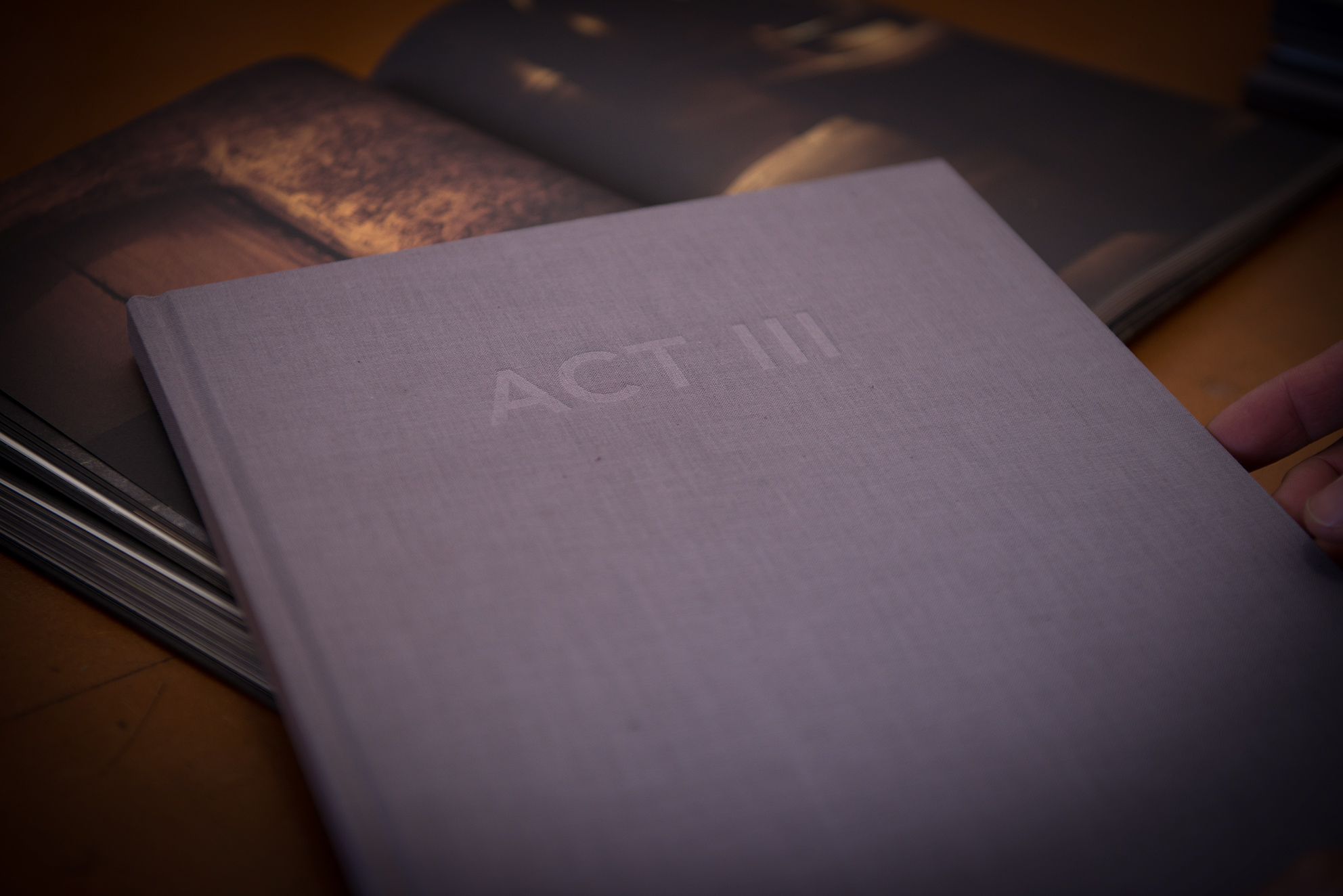 I did go through the exercise of putting a book together. I always wanted to go through the whole process of creating the content, right through the graphic design and the technical process of printing. The book was of my own work of clothing design  called ACT III. The canvas cover is from Japan, and the soy base paper stock from Holland.
I spent three weeks on the factory floor, working with the printer to achieve the correct colours for every page.
I like to write as well, so the book includes statements that encapsulate some of the thoughts that form my working and living philosophy. People often say the clothing I design is avant-garde, but that has never been my premise. Much of what I do is a protest to the insanity that goes on in the world.
I feel my role as a designer has always been about advocating logic, common sense and what feels truthful.
Books are vessels of written knowledge, just as textiles carry tangible memories of the incredible creative human hand.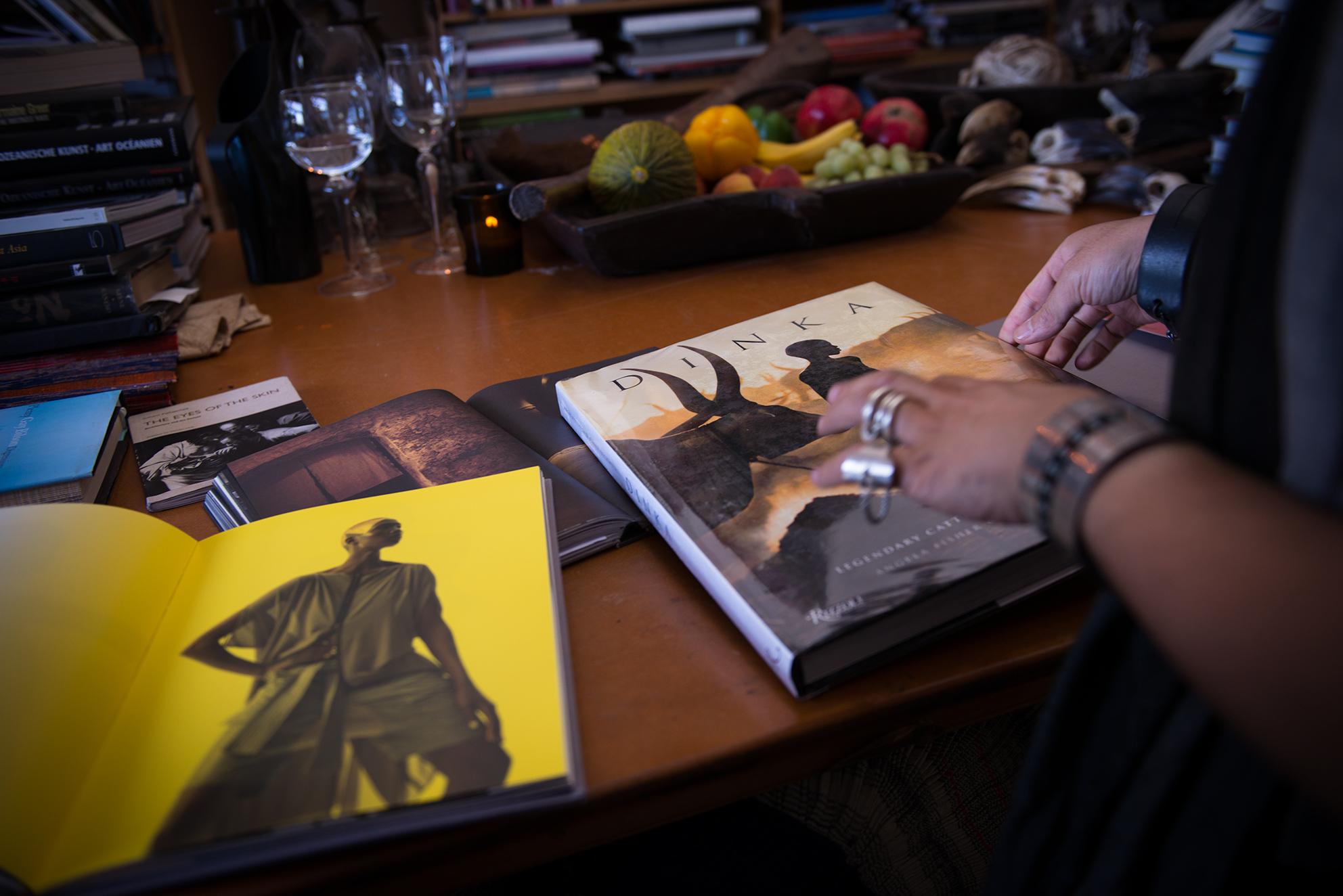 Adhiel is the model featured in the book. She is Sudanese from the Dinka tribe , and is the epitome of a majestic ancestry. I had no idea about her background  before we started working, it slipped out months later through a conversation. I love this synergy, here I am ending up with the real thing I have been studying through books.
I have lots of books on tribal culture. I always go back to these books. They constantly rejuvenate my imagination. I get bored very quickly by fashion magazines. There is of course a lot of creativity in fashion, but often the ideas are disconnected to real life.
There are countless books on clothing and textiles, but it is so rare to find books that talk about feelings. On what it feels like to wear and have a relationship with clothing. People are constantly analysing, rather than connecting.
In tribal societies, body adornment, manipulation and dressing is connected to daily life. It is done with great daring, joy and innate flair.
I also collect tribal textiles, like Maasai leather capes, Dinka beaded corsets worn by men, Boubou robes from West Africa and metal embroidery from the Miao tribe of China.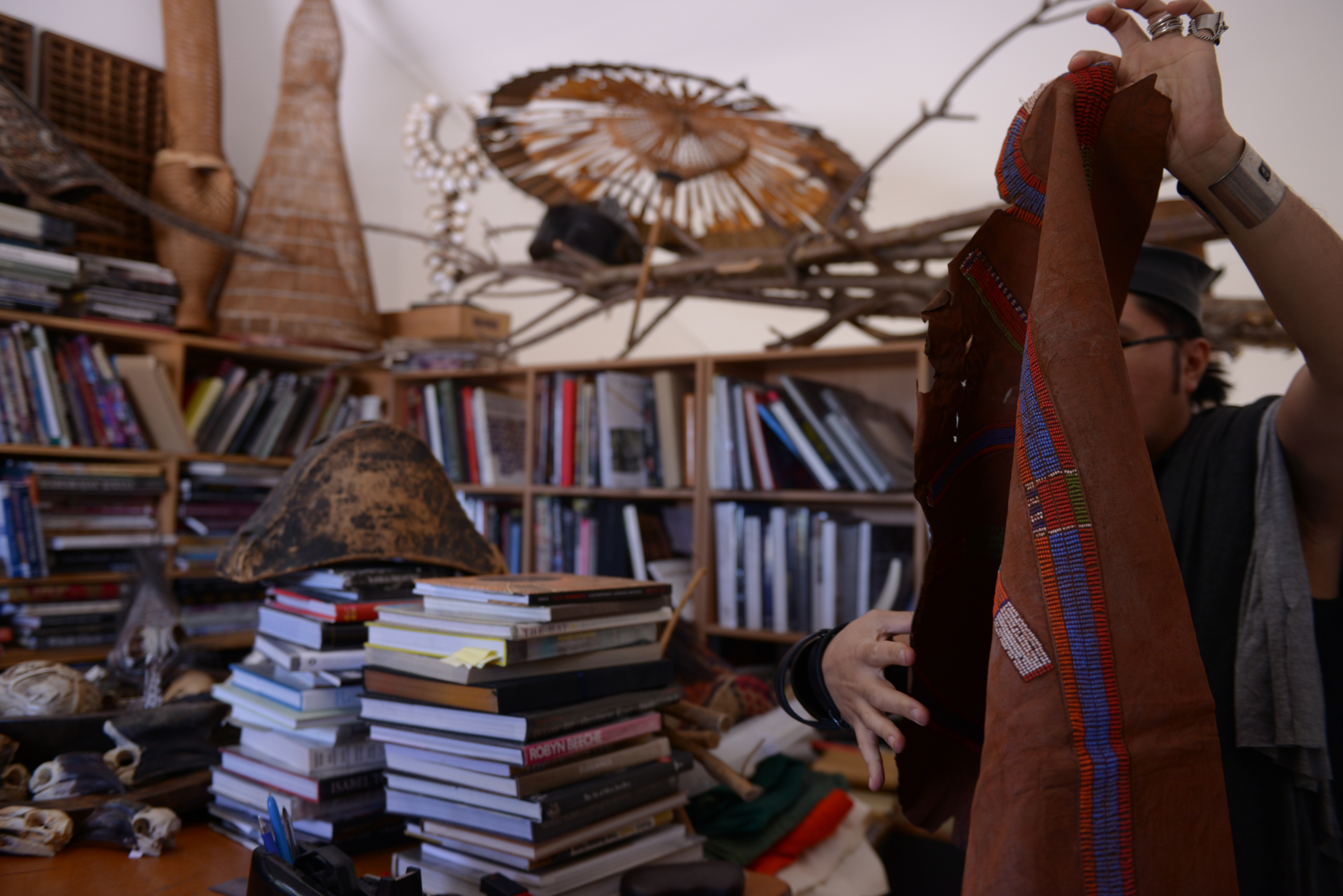 These books are a constant reminder of things that have gone before.
I don't read or listen to music when I travel because I like to be totally absorbed in my environment. I am very much present wherever I go. I like to travel very light so I will only carry a small book in my bag. I am always searching for new books when I travel. I am not so much a fiction person—it's something that has never interested me.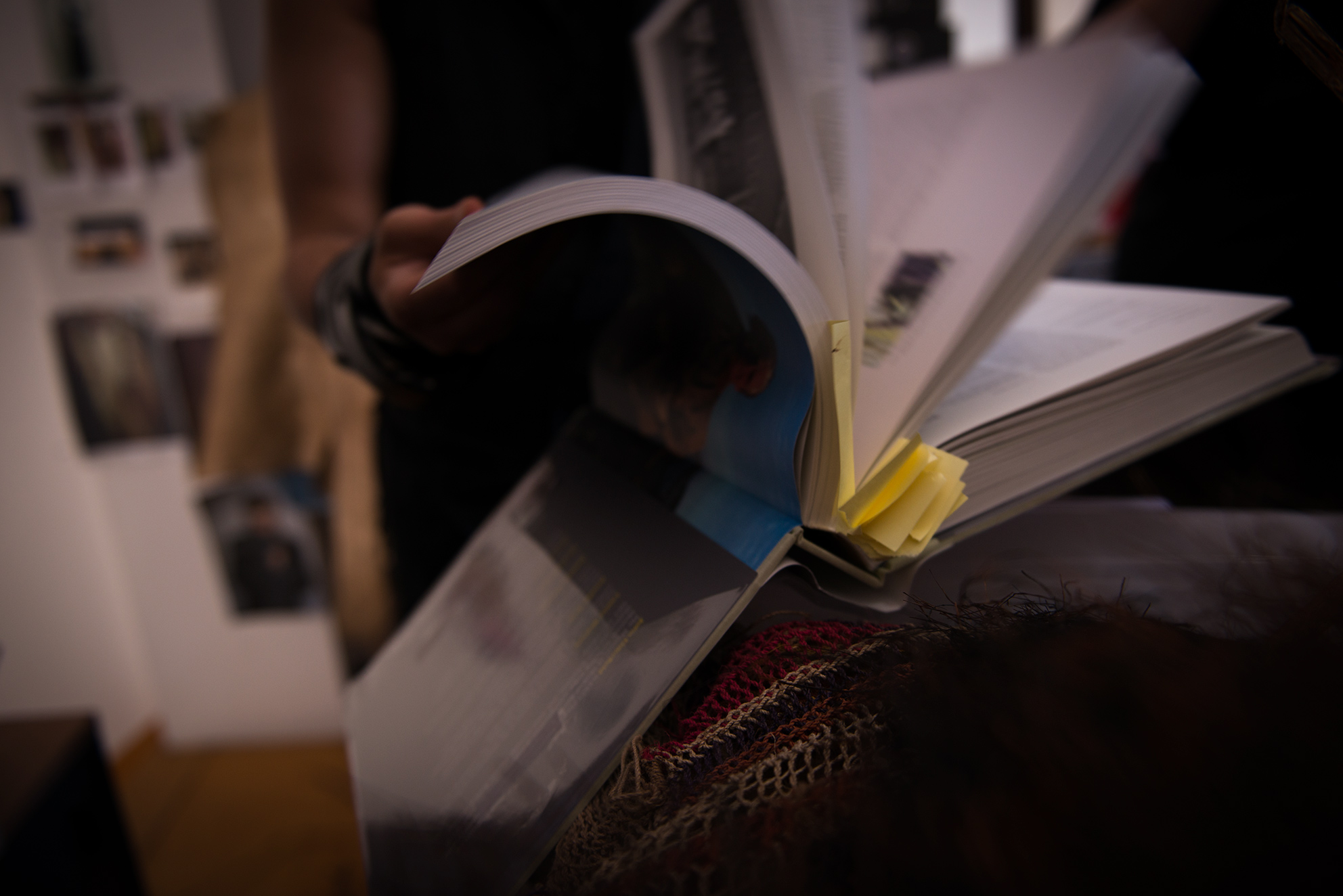 When I was young and moved to Australia I wanted to learn English so I read all the great classics just to pick up the big words. The bigger the words the better the novel for me. I got so sick of it by the end, all the Brontes and Austens. My favourite books at that time were the World Book Encyclopaedias. I didn't have any friends—I've always been a loner and at school I was always in the library. All my friends were the librarians. I started to develop an interest in textiles, clothing, tribal culture, architecture, abstract painters.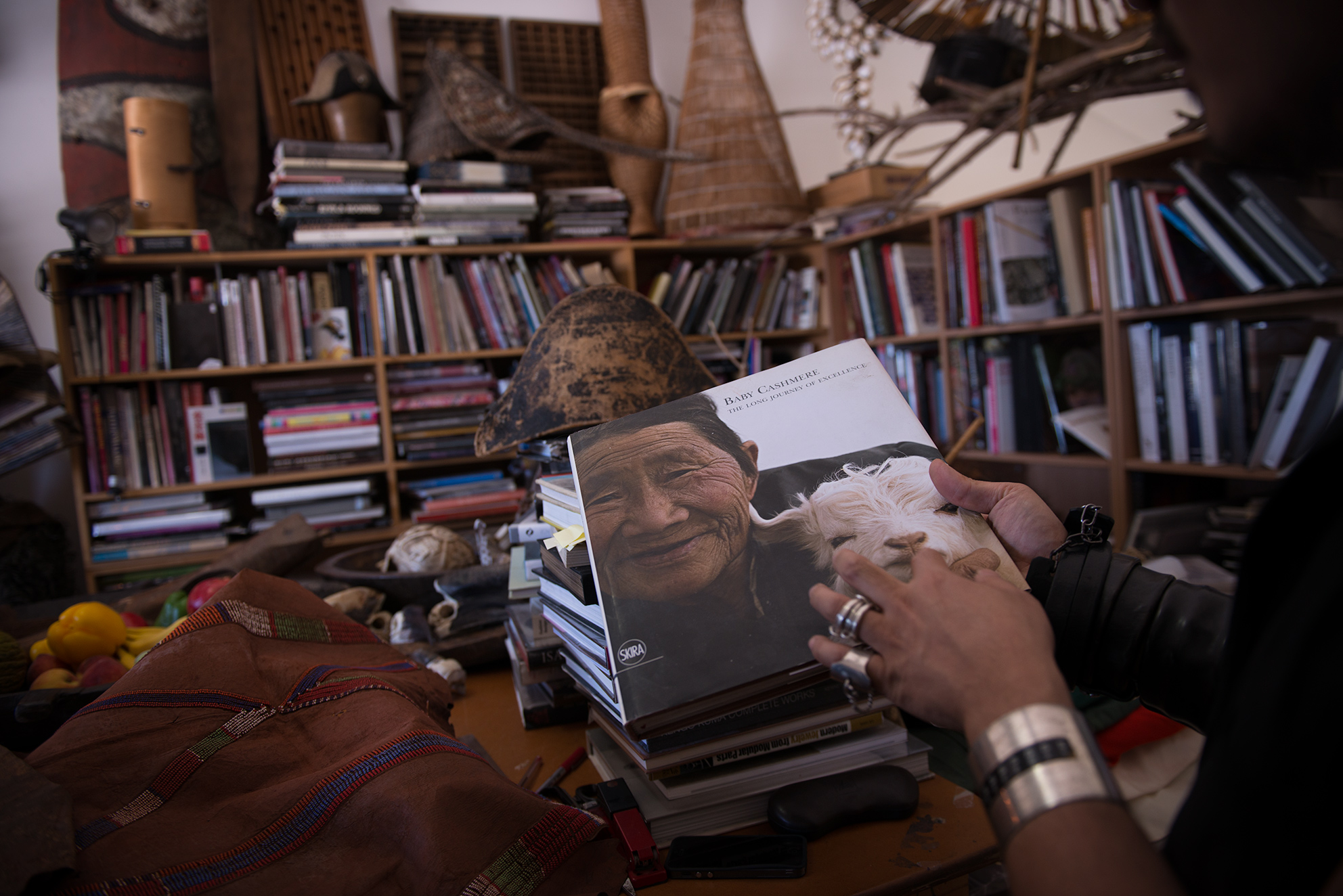 Baby Cashmere is one from a series of books about the journeys taken by the Italian fashion house, Loro Piana, to source the finest fibres around the world for their clothing.
This book explores in very concise writing, but beautifully sensitive photographic studies of the process of collecting baby cashmere in Mongolia, the people, their ancient way of living and the majestic landscape. Only 30 grams of the world's finest cashmere is harvested from each kid just once in its lifetime.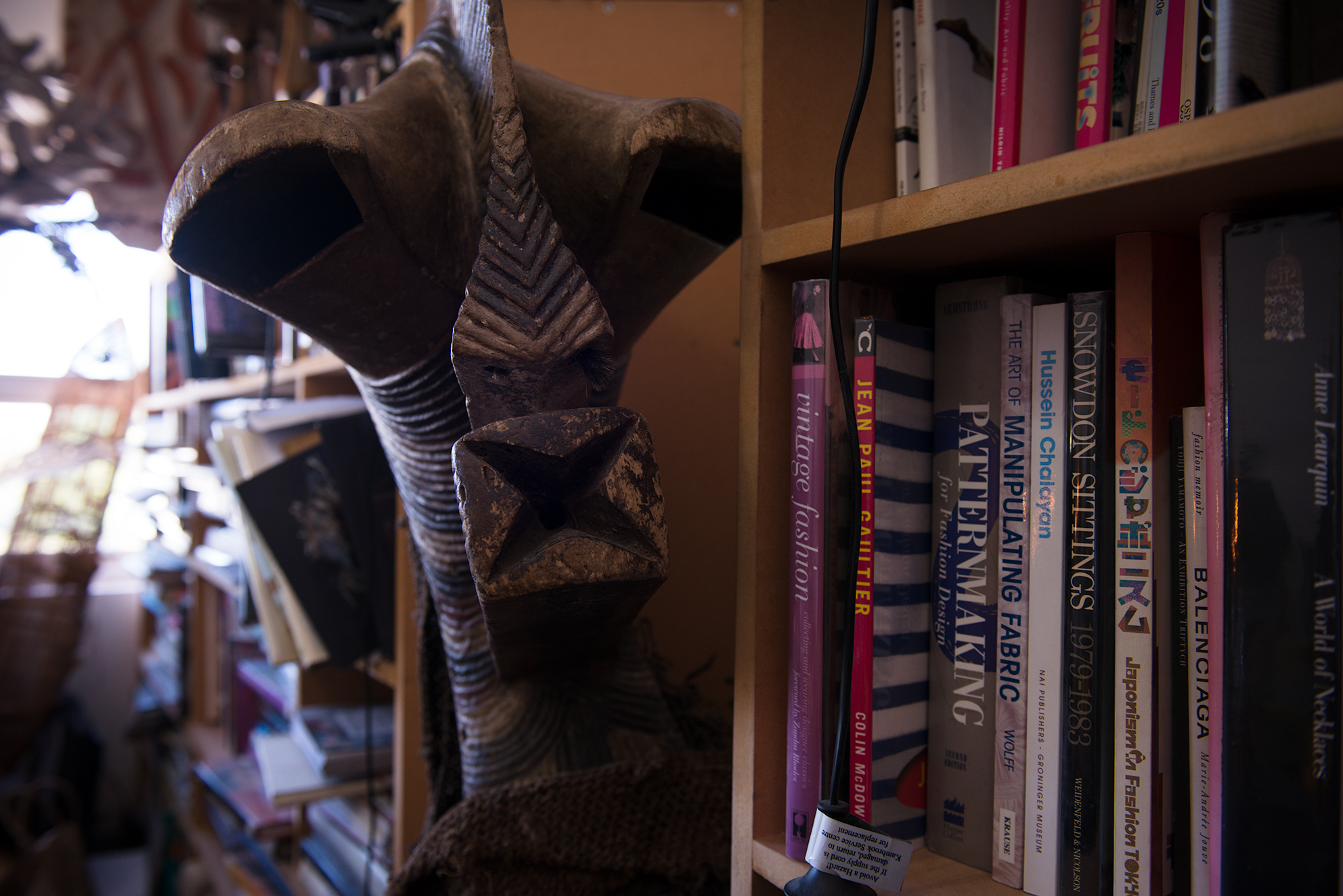 Another book from this series is about cloths woven from lotus stems from Lake Inle in Myanmar. It documents how Loro  Piana  discovers the village, becomes so inspired by the process that it eventually exclusively finances lotus fibre production to preserve the dying tradition.
6,500 lotus stems are needed to produce about four meters of cloth enough for one single jacket.
I'm so self-contained. I buy a lot of books because I was constantly getting fines from the library. I hate to return books because you need time and sometimes you need to go back to books. That's when you know it's a good book if you keep going back to it and it resonates with you. I do love libraries—I have so many library cards in my wallet. But I haven't been for a while because I'm self-contained here now.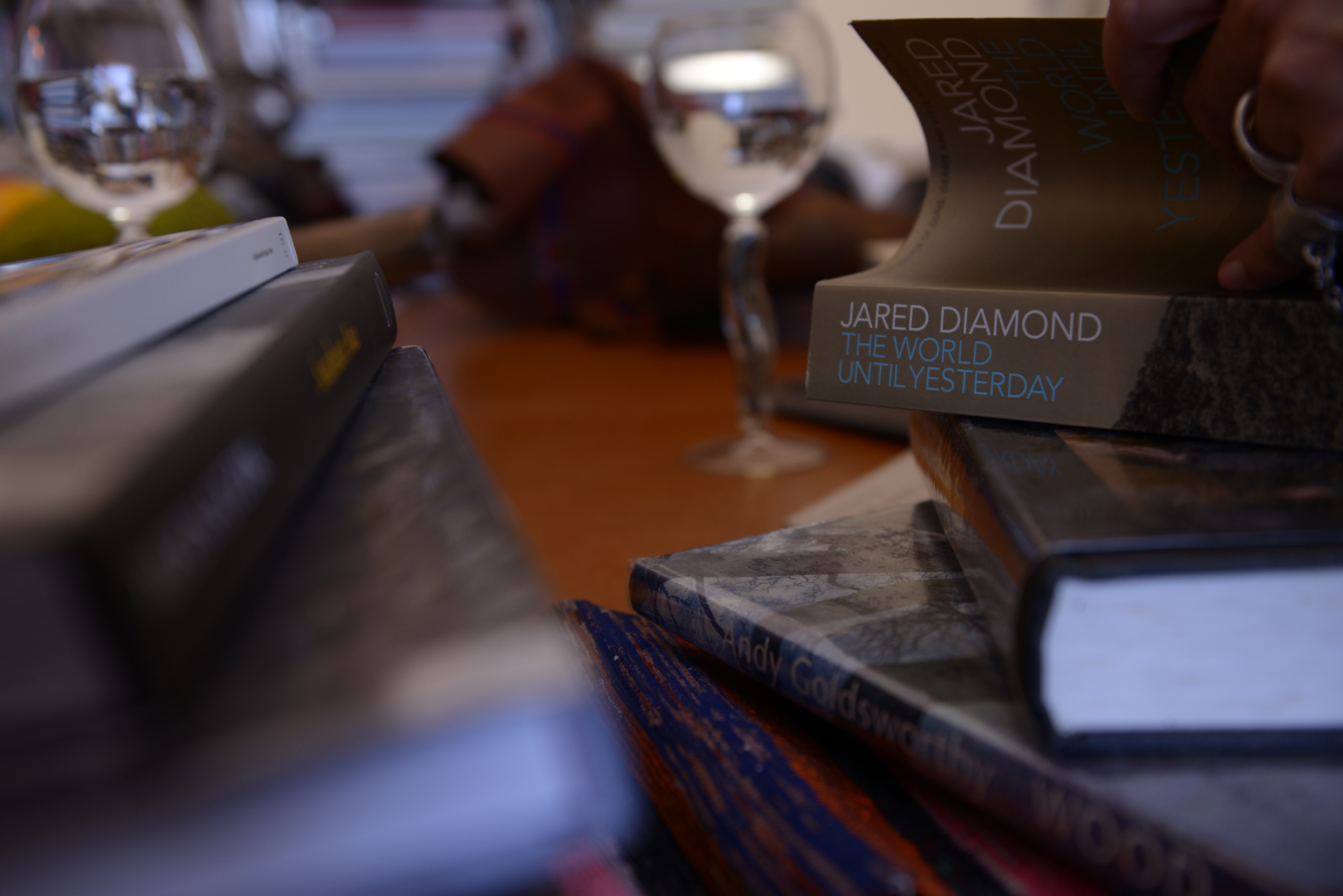 Jared Diamond's The World until Yesterday is a fascinating and truly insightful book is about a man's experiences of living over five decades in New Guinea. Drawing from his own field work, as well as evidence from Inuit, Amazonian Indians and other cultures. Diamond explores how tribal peoples approach essential human problems from childbearing, to old age, to health and conflict resolution. For me, this book is a reminder that while the Western world has global dominance from technological advances, we don't necessarily have superior ideas about how to raise children,  care for the elderly or simply live well.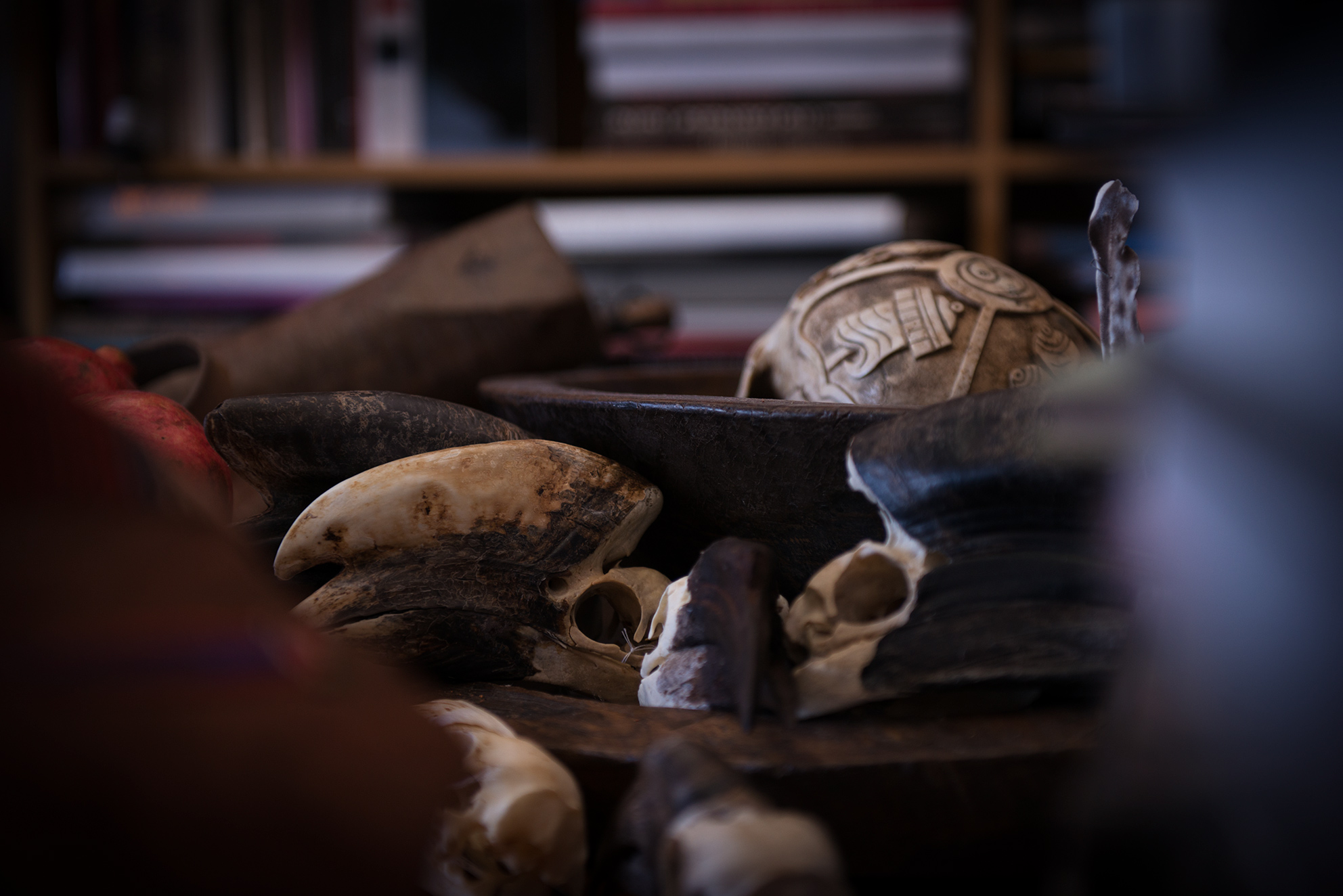 There never seems to be enough shelving for books , so I have many termite piles of books scattered on the table and floor . I have a habit of mixing them with collections of taxidermy, antique glasses , textiles and tribal jewellery.
Books are not for just reading, I adore the way they look  stacked up horizontally or accumulate vertically into columns among beautiful objects, fruit, foliage and flowers.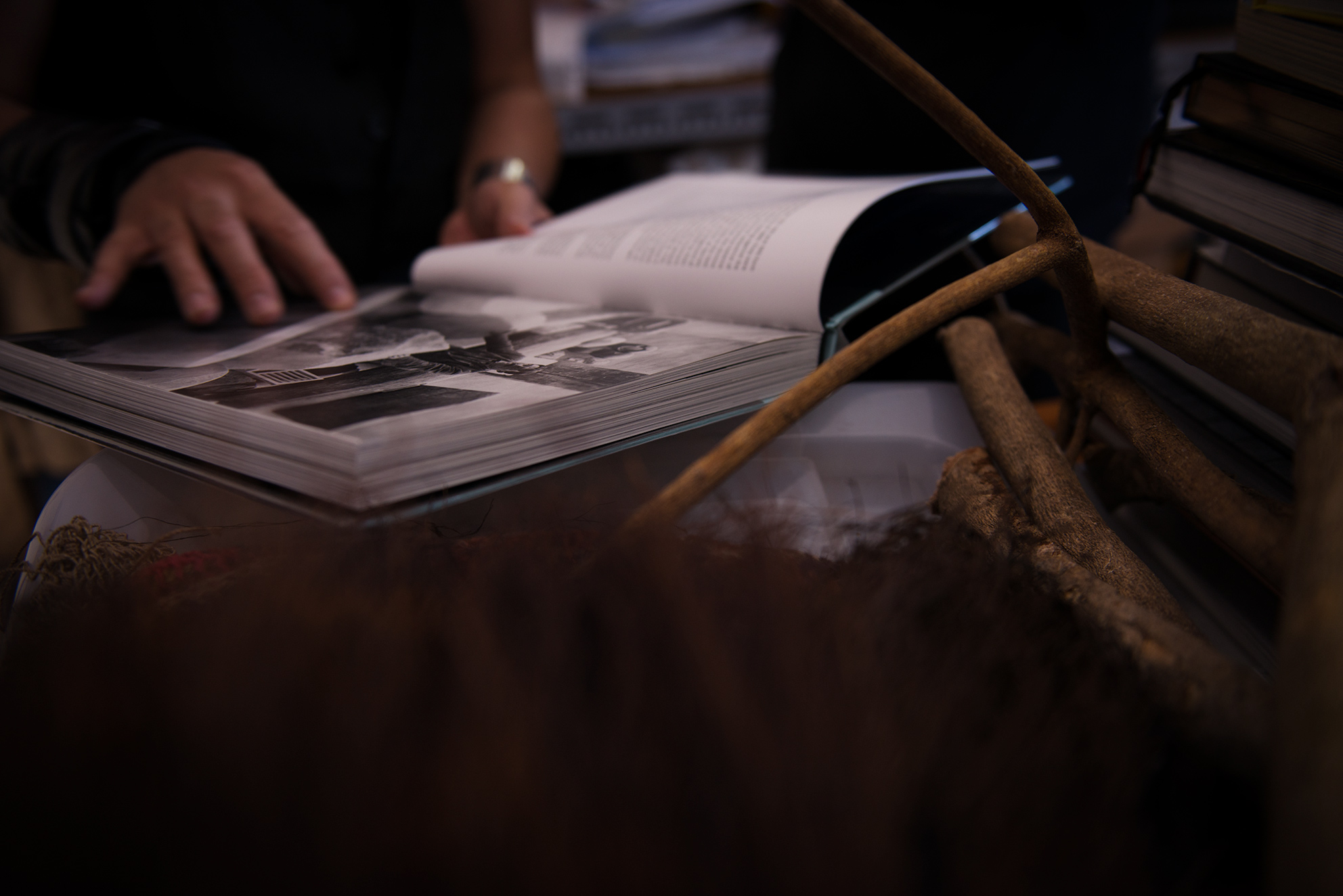 L ' Atelier Brancusi is a fantastic reference book is a  study of Branncusi 's studio , which was reconstructed permanently outside the Centre Pompidou by Renzo Piano.
It is full of amazing original photos, often taken by Brancusi himself, of how he organised the sculptures within the studio space. His sensitivity to scale in relation to space and light is so instinctive and precise. Half looking like an archeological dig , half cathedral, these studio images are an incredible revelation of how I could build my future home.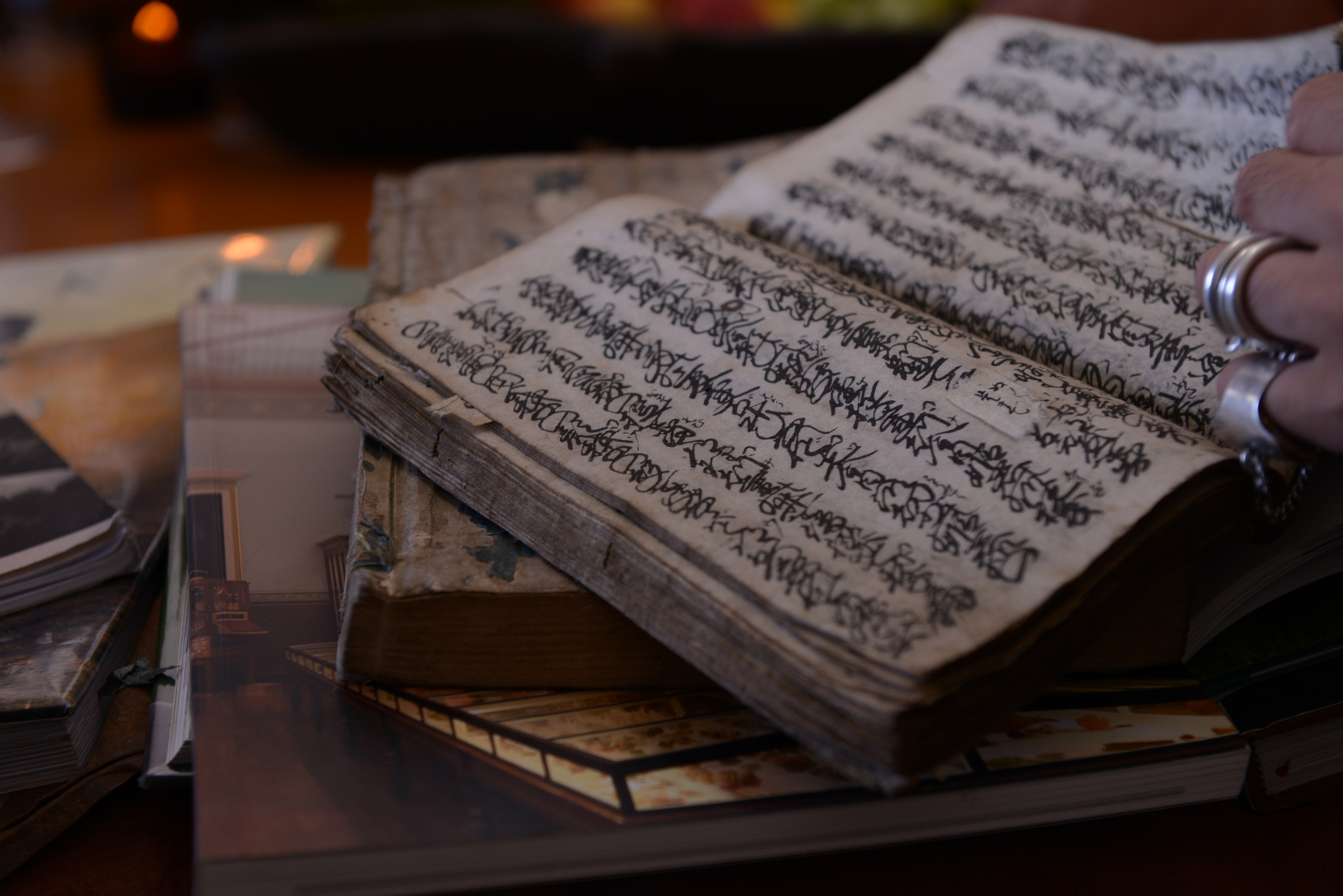 These are very special—19th century books from Japan. All of the characters are like an abstract painting. I got them from the markets in Tokyo.
 I love maps. I picked this Atlas up from the street. Can you believe someone was throwing it out?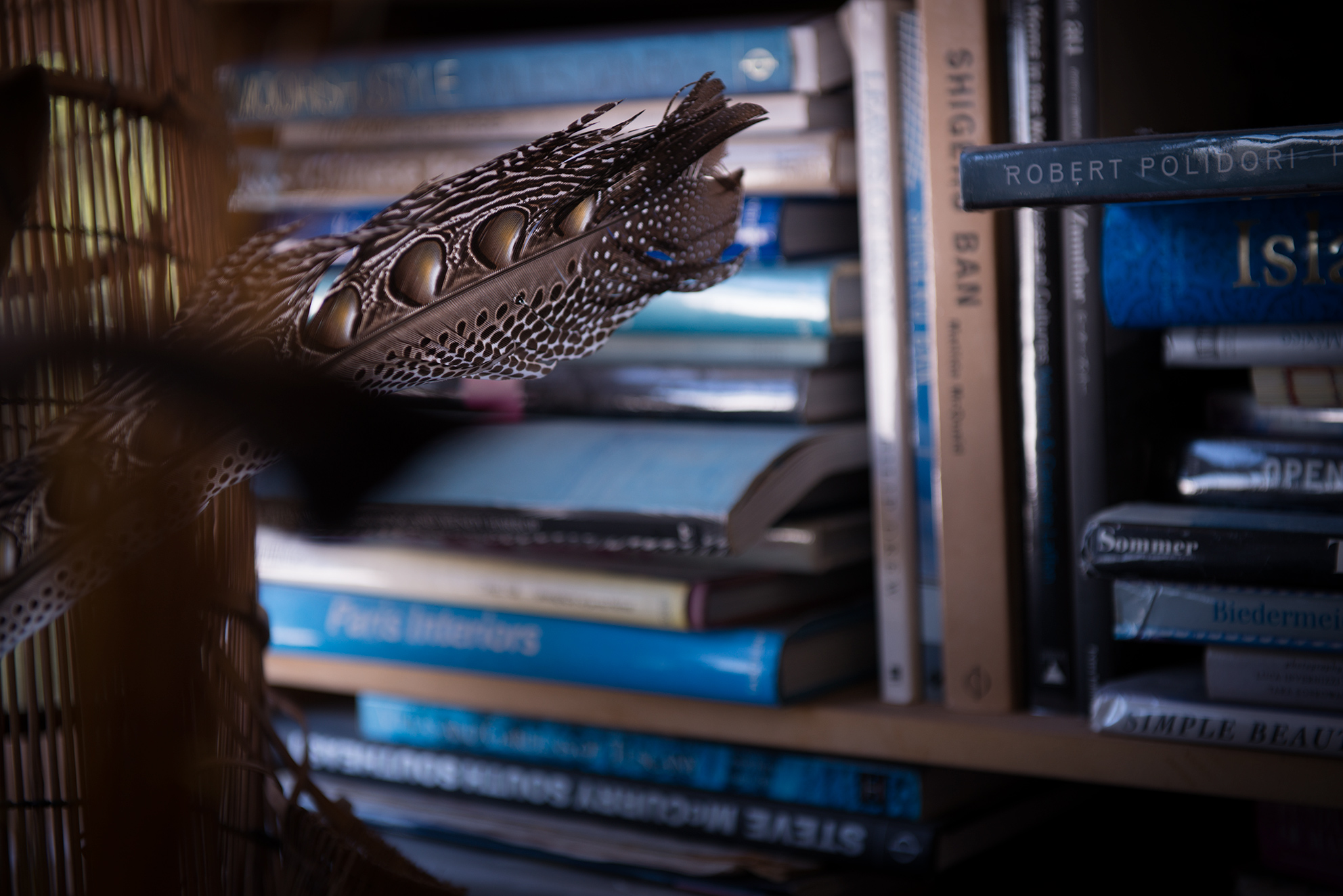 Steve McCurry's book from National Geographic [in which McCurry rediscovers the previously unidentified Afghan refugee girl he had photographed in 1984] is so eloquent about humanity. It's very moving and shows there are other voices in the world—it's not just the West. I got it about 10 years ago. He is a great photographer and creates such an atmosphere.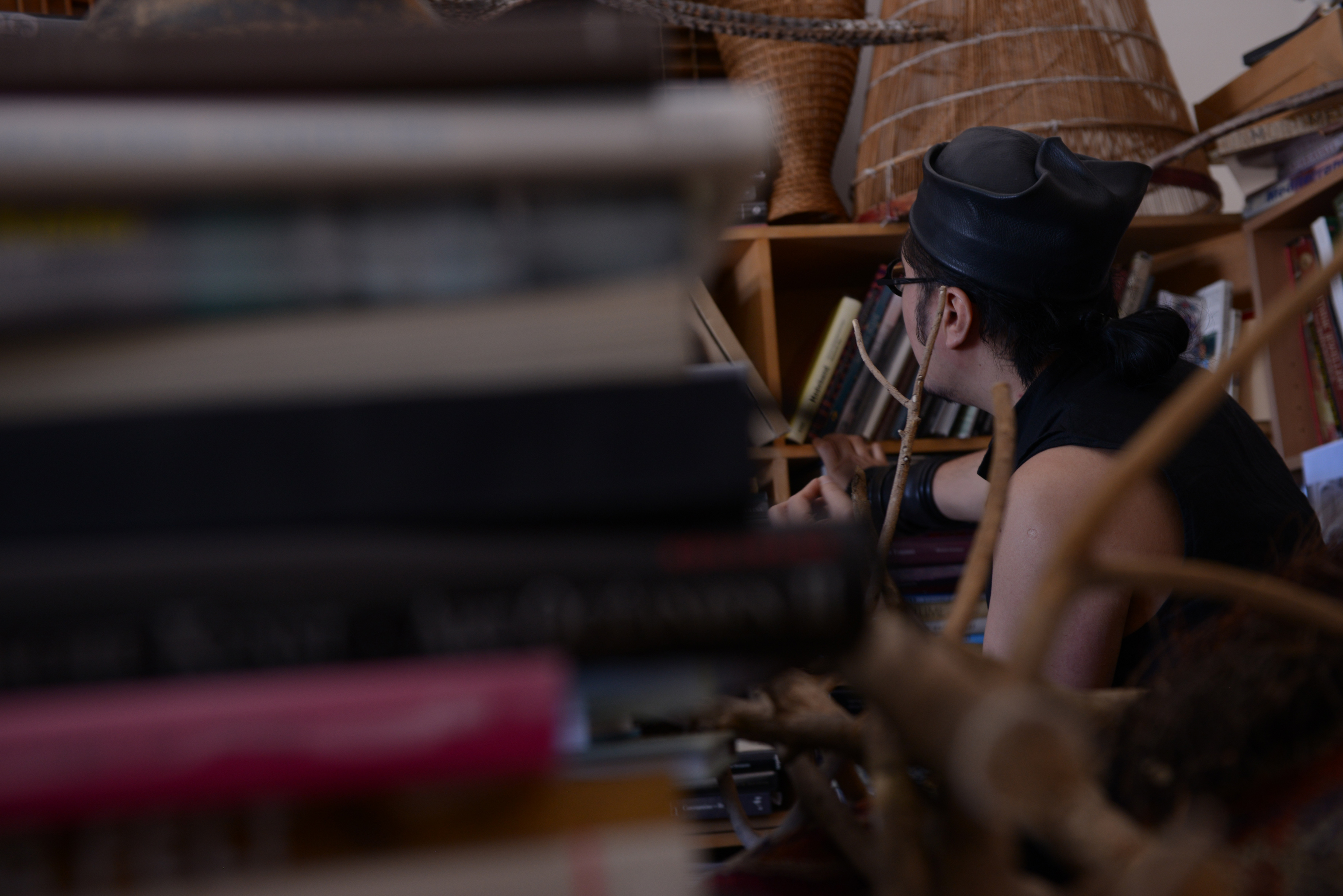 I am drawn to someone's bookcase immediately—you find out who they are. For me it is so personal and something that deeply interests me. It's so much more than just collecting books, it's a great solace.
I have been reading about menopause – The Change: Women, Ageing and the Menopause by Germaine Greer. This book jumped out at me in a Glebe secondhand bookstore. It's a subject linked very much to my work in designing clothing, and one that fascinates and concerns me as it not only deeply affects women physically , but profoundly alters their psyche, and sense of what it means to be a "real" woman.
Germaine Greer is simply not a contrarian for affect . Beyond being an academic, she is a very sensitive and perceptive human being who always reads between the lines. Greer's analysis on this subject is really absorbing as she explores how the medical industry deals with menopause and how our cultural perception of women as a sex, profoundly affects how we deal with this taboo and mysterious condition.
I am also reading another Greer book, White Beech: The Rainforest Years. It is a really I uplifting book on how she found a piece of depleted land and its restoration to a thriving rainforest. Lots of sharp and touching insights into our human need to care and heal the injured and destroyed.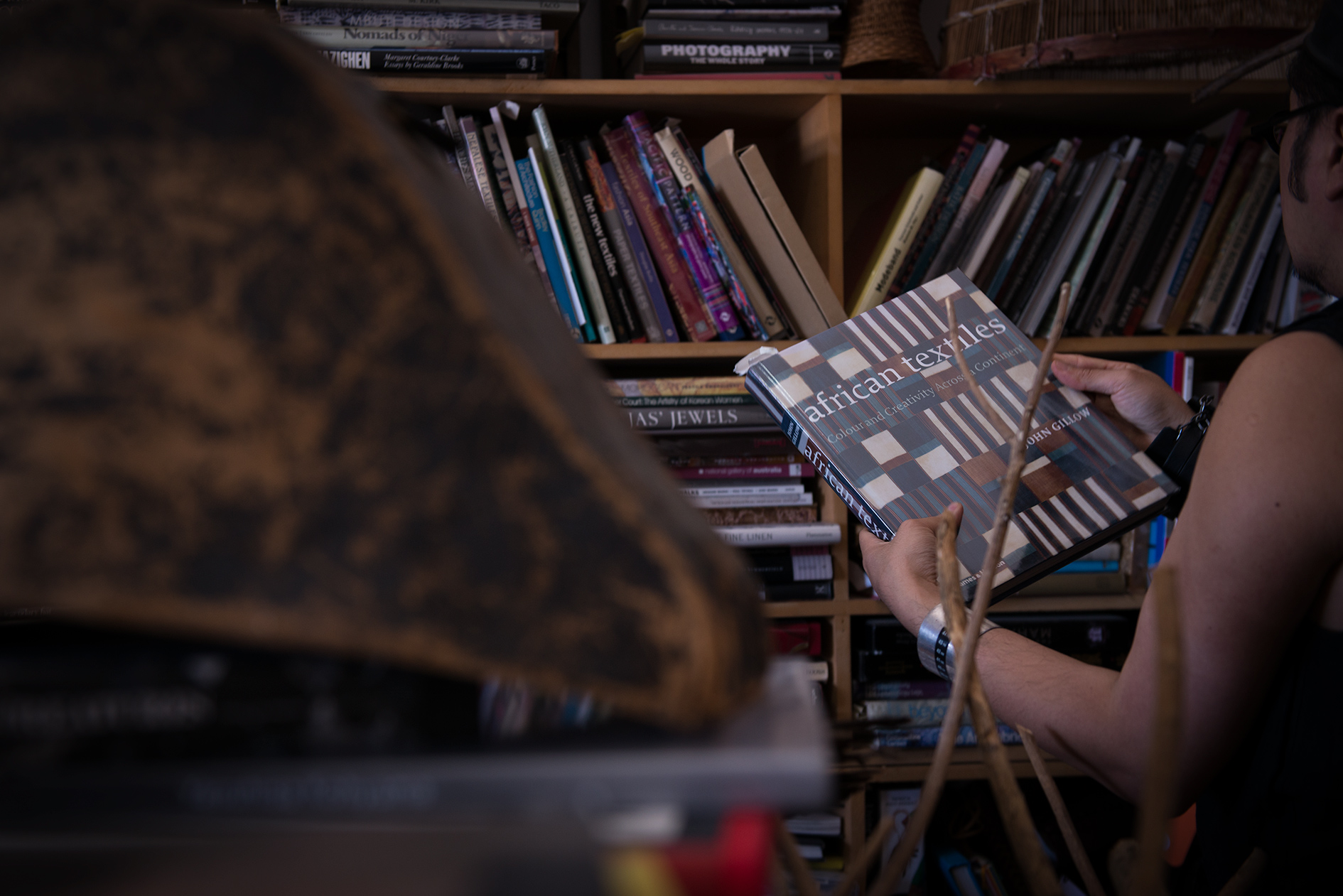 African Textiles (John Gillow) is a wonderful reference book that surveys textile designs across the African continent. I particularly love the old photo references of people wearing traditional clothing.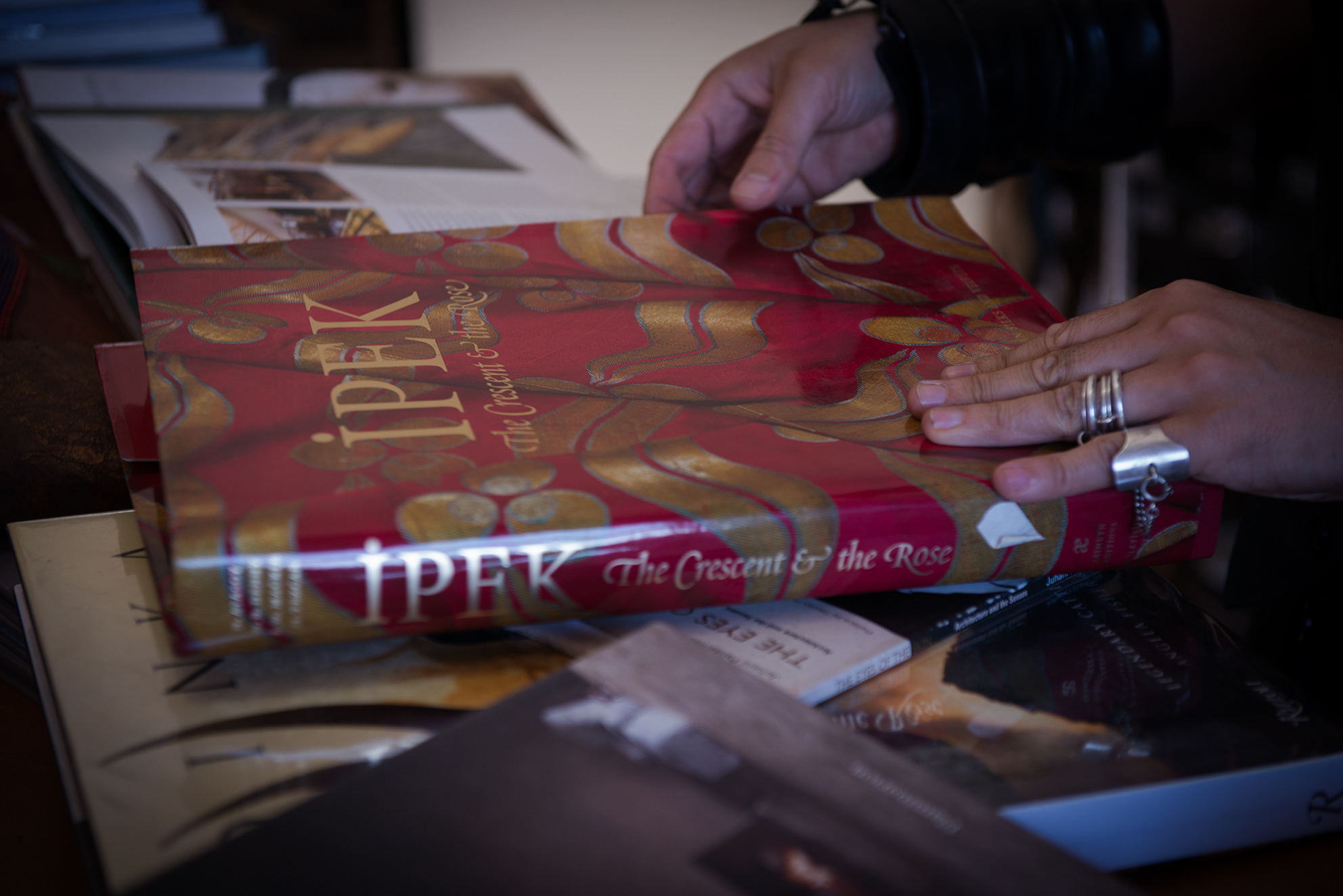 Such a lush object and one of my very priceless books (IPEK The Crescent and the Rose). It is a study of textile and dress of the Ottoman Empire. The scale of this book is impressive to match its majestic content of large close up of handwoven silk brocades and garment details of buttons and collars.
I hyperventilate every time looking over this book.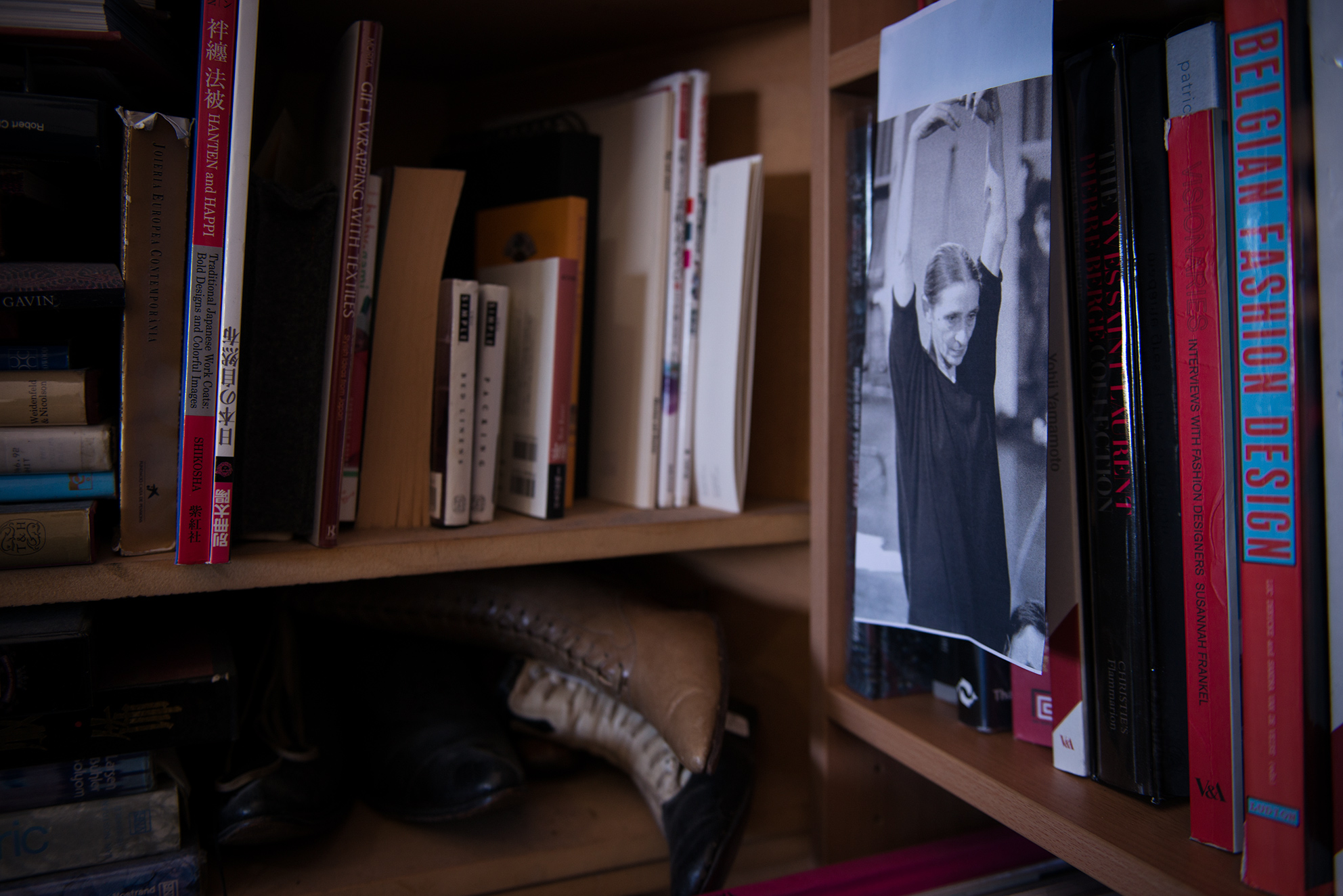 It's a beautiful surprise finding a book—one that expands your curiosity and lures and seduces you into getting a book you wouldn't normally pick up.
I start up here when I work and go through my books and when I get some ideas I go downstairs and start making.
One of the most beautiful books and my most favourite is Worlds in a Small Room. Irving Penn went around the world and set up a simple tent and would photograph, for example, the Northern Lights. So much knowledge has been accumulated in this book.
Everyone's bookcase has worlds in it.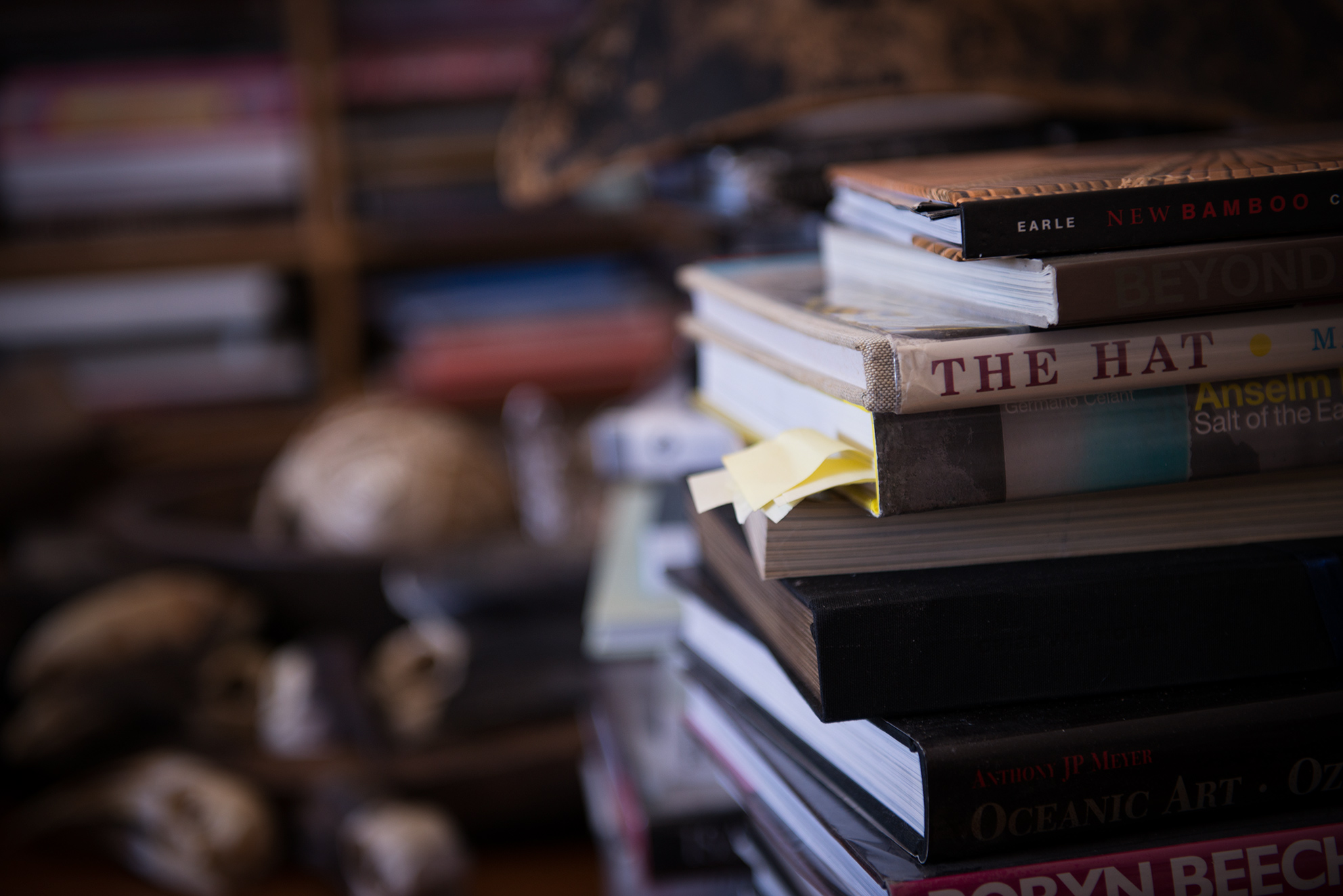 About Alistair Trung
Born in Saigon ,Vietnam, Alistair Trung immigrated to Australia as a refugee at the age of eleven. Trung is proud to be a Vietnamese /Australian designer based in Sydney . He believes deeply in "the wisdom and beauty of world cultures and the importance of their preservation through reinterpretation "
Having graduated from the University of Technology , Sydney with an honours degree in Fashion and textile design, Trung however believes " an apprenticeship with a tailor , learning how to knit and sew with your grandma, or growing up in the bush, is just as valid an education for designers. "
Alistair Trung was founded in 2000. Working beyond the fashion system , Alistair Trung remains a thriving and resolutely independent label with five boutiques in Sydney and Melbourne.
Trung believes in creating a language of clothing and dressing that is " trans- seasonal , trans- occasional , trans- age , trans- size , and ultimately trans- gender. "
Trung' s other passions are Pina Bausch, Anselm Kieffer, Chopin, green tea, book buying and " the abstraction of everything."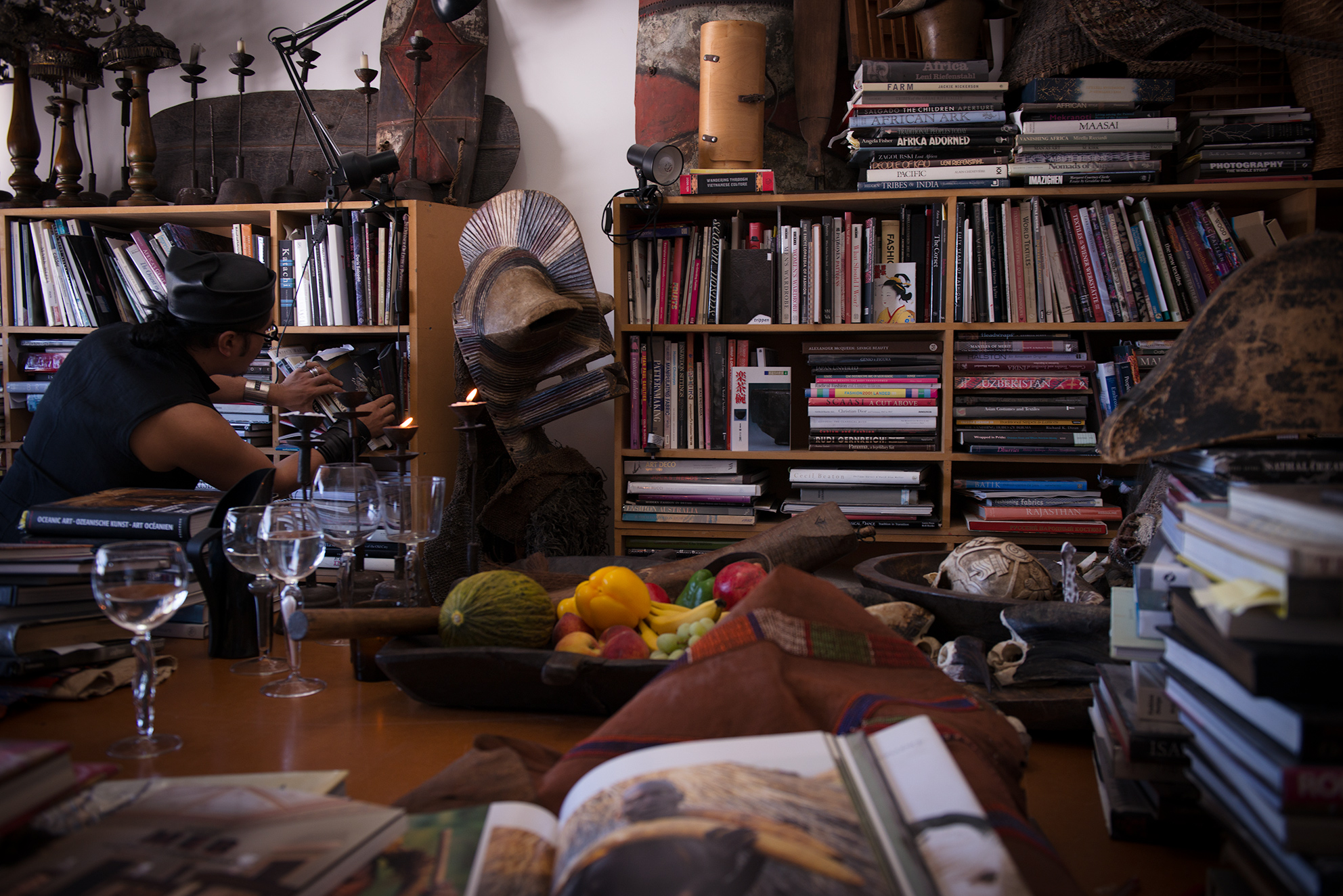 Leigh Russell and Kathy Luu spoke to Alistair Trung in 2014 and August 2016.
© Hello Bookcase 2013. Unauthorized use and/or duplication of this material without express and written permission from this blog's author and/or owner is strictly prohibited.