Interview: Paul Capsis
Written by Hello Bookcase, Posted in Interviews
The bookcase of Paul Capsis is screaming with teenage obsessions. Obsessions that carried him from his small bedroom in Surry Hills as a youth to where he belongs today, on the stage and screen. Paul's exuberance doesn't leave the stage when the show is over and on our visit we were drawn into his world of Hollywood stars from the golden era, Janis Joplin, the poetry of Rimbaud and Omar Musa.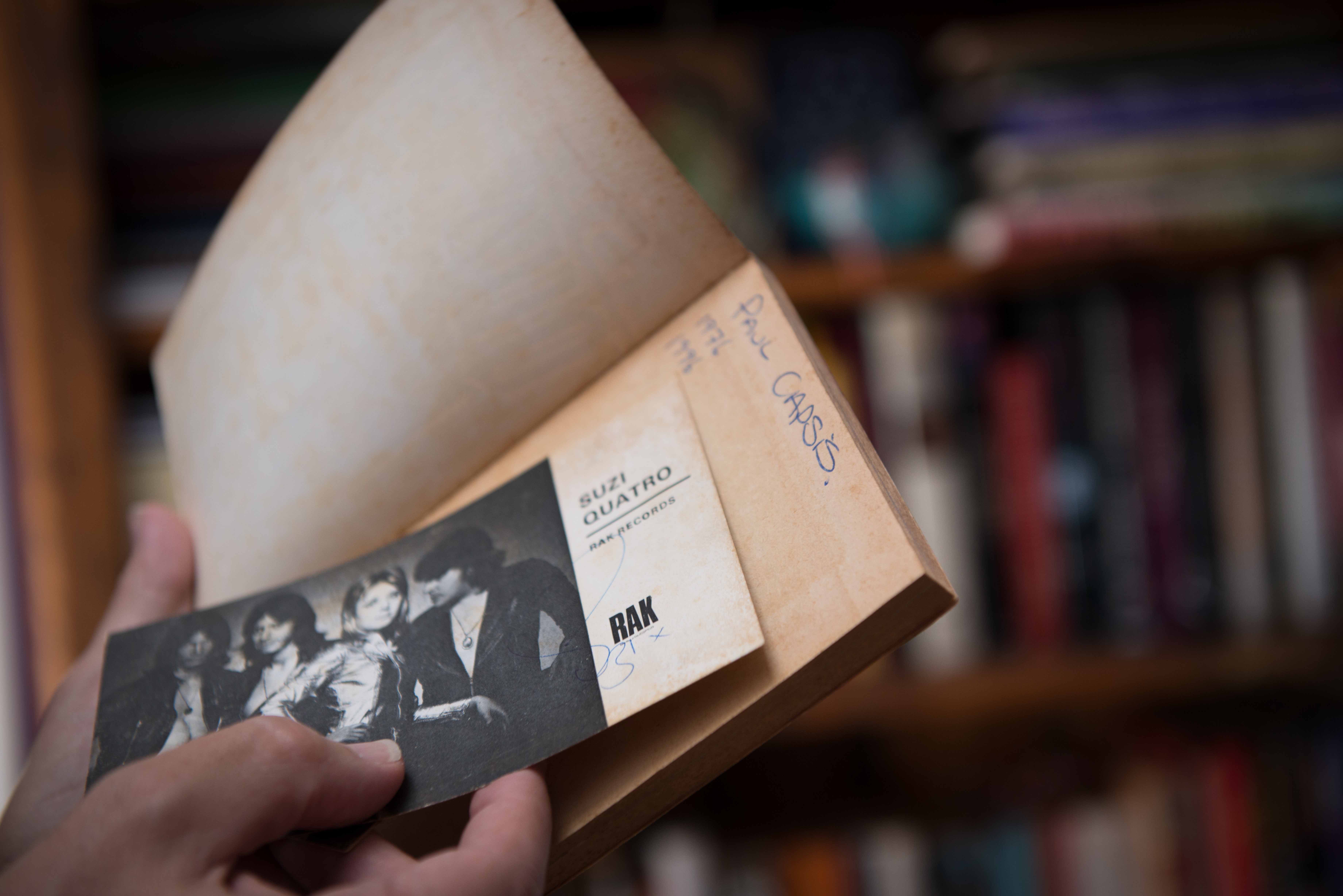 My books go through different periods of my life and different obsessions. The oldest book I have is one that I read when I was ten years old – Suzie Quatro by Margaret Mander. It is inscribed with when I first read it in 1976 and I  reread it in 1996. I don't date my books anymore as one day they will go to other people, but I could never get rid of this book.
Suzie was one of my earliest obsessions as a child and was the first concert I ever went to at the Horden Pavilion. Before Suzie, I was crazy for Skyhooks and I had Million Dollar Riff by Jenny Brown. But I never read the book; I just loved their image. The image was the thing that always got me – Suzie's leather pants and jumpsuits and the Skyhooks – men in make-up and shiny clothes.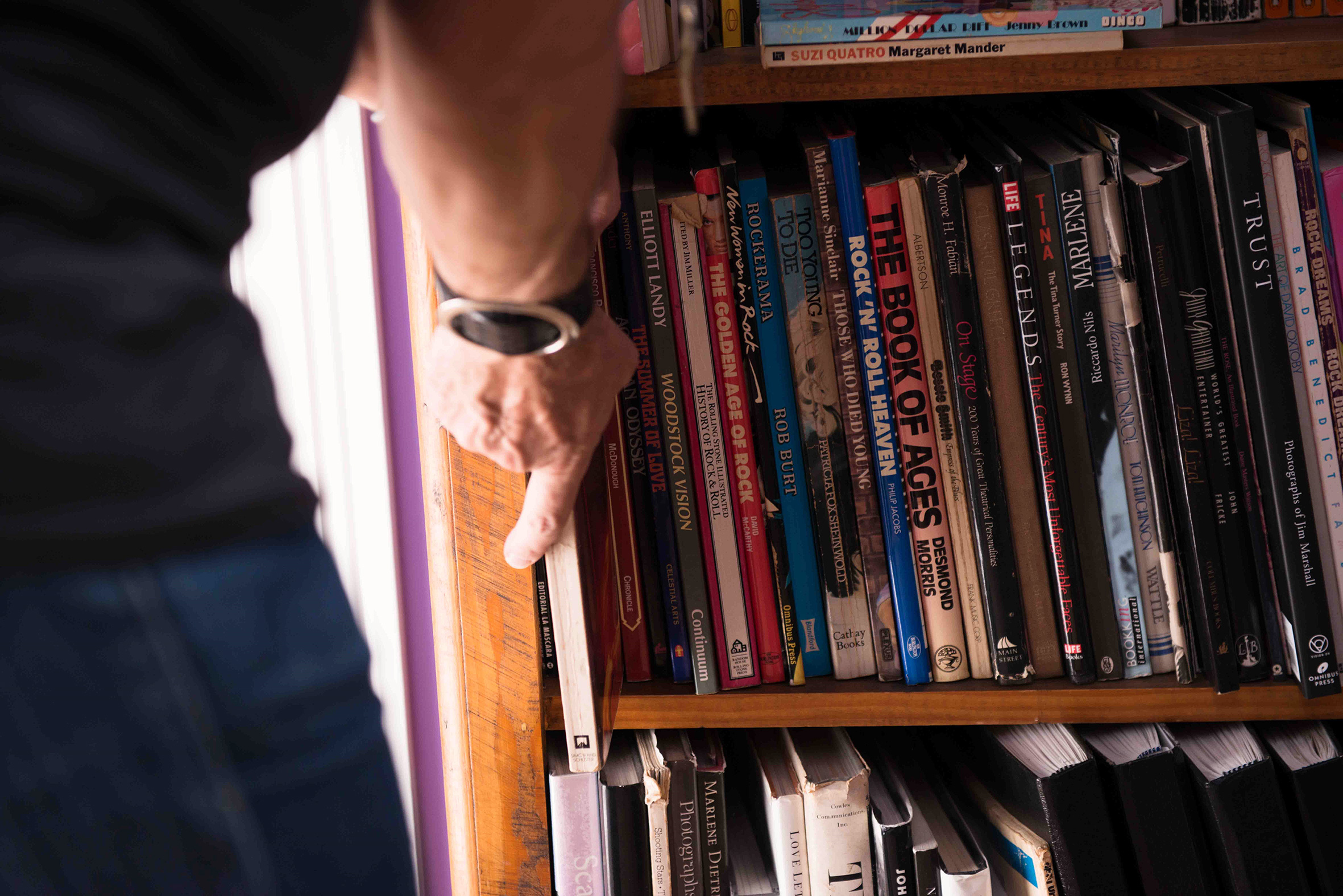 Janis Joplin completely changed everything. I came across a book on her as a 12-year-old in a second-hand shop – this is when it changed for me and I decided I wanted to be a performer. I had to know everything about her – I hadn't even heard her, I was just fascinated her image. I can look at any photo of her now and date it and tell you where it was taken.
I grew up in a strict Maltese family so instead of going out, I would go to my room and spend hours looking through my books. She was the wild woman of Rock and Roll and through her I discovered other people, music and even philosophy. For me going through my teen years and the awkwardness, it was her voice and message that I connected with. I wrote a piece in Women of Letters on how this woman changed my life.
I have met a lot of people who knew Janis. I met one woman who used to shoot up with her, she told me that they would sit in bed and read – stoned.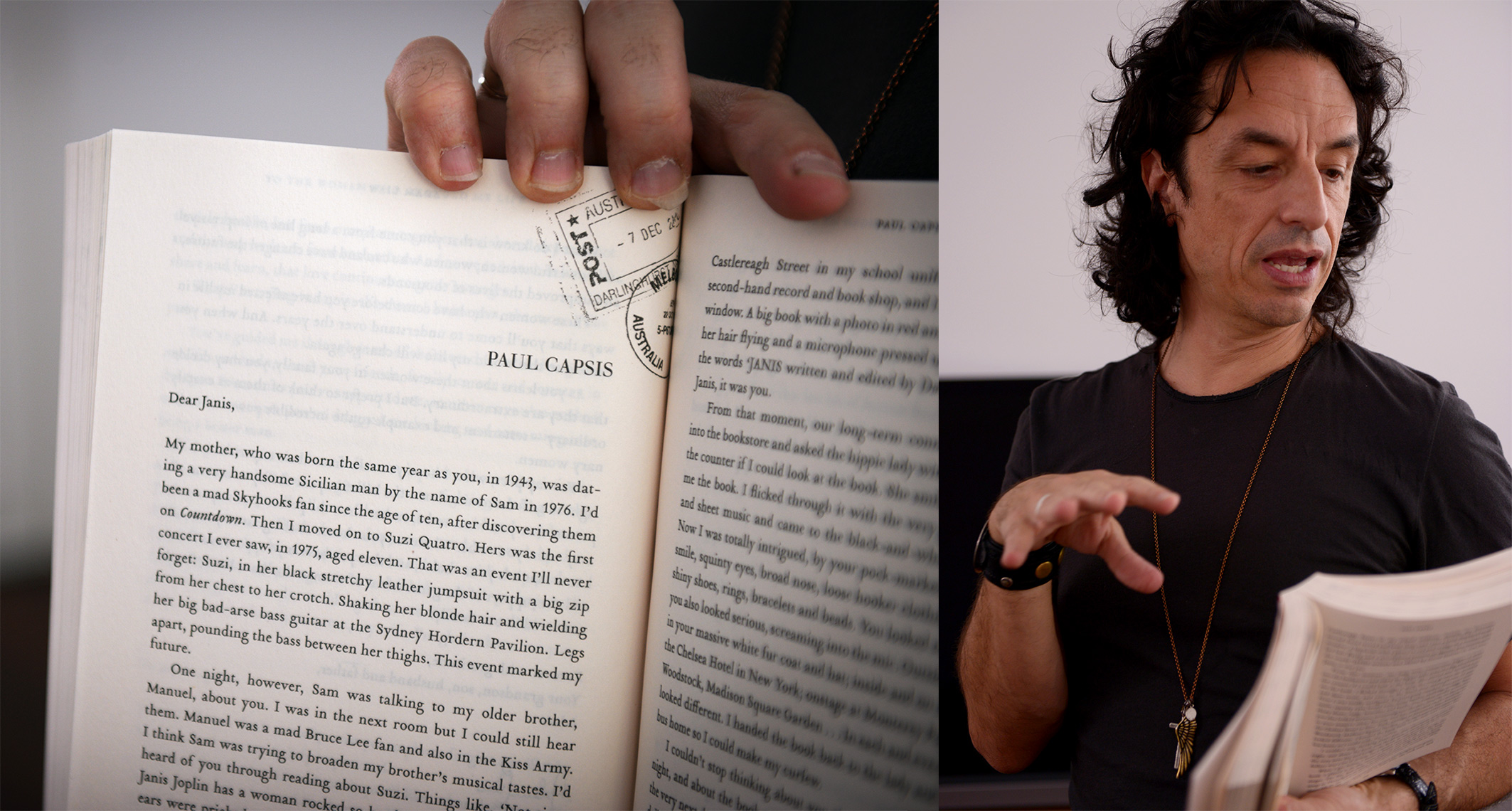 My two favourite books of recent times which I feel like are more than a read, they take you into another realm are Jim Sharman's memoir Blood and Tinsel and Patti Smith – Just Kids.  I sobbed at the end of Blood and Tinsel – I loved the last message that was conveyed on handing it on to the next generation.  These books both evoke a time that has gone.
I'm starting to read poetry and I have got into Australian poet, Omar Musa – he is so exciting and his  finger is on the pulse and that is what Sharman's book is about. I was blown away by a book I read recently, Justin Vivian Bond's Tango. It's about gender and I could relate to it as I thought I was a girl when I younger, but I got over it – sort of.
I'm very proud of my play, Angela's Kitchen getting published by Currency Press – it was the first play I wrote. I am often asked when am I bringing it back to the stage as it had a real impact. It's a play I can do at any age. That book sits between Patti and Janice in my bookcase.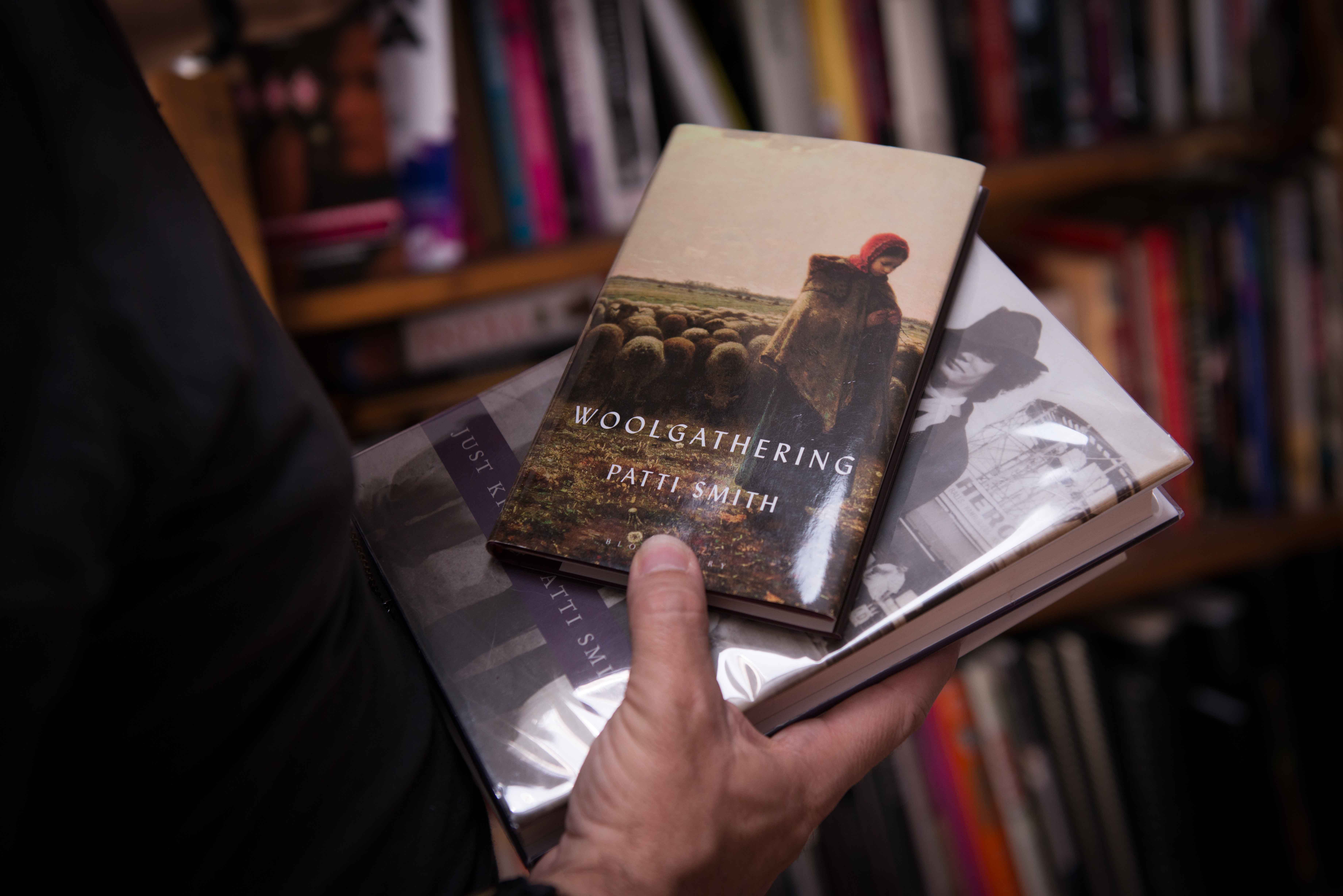 I have scrapbooks that are filled with my work. I have kept everything, as it was unimaginable to me that I would become a performer so I had to keep it all to prove it really happened, but then I went a bit overboard.
These are my private books and no-one has ever seen them. Everything is in strict date order; if I wasn't a performer I would be an archivist. I have also kept a journal since I was 18. One day I will digitise it all.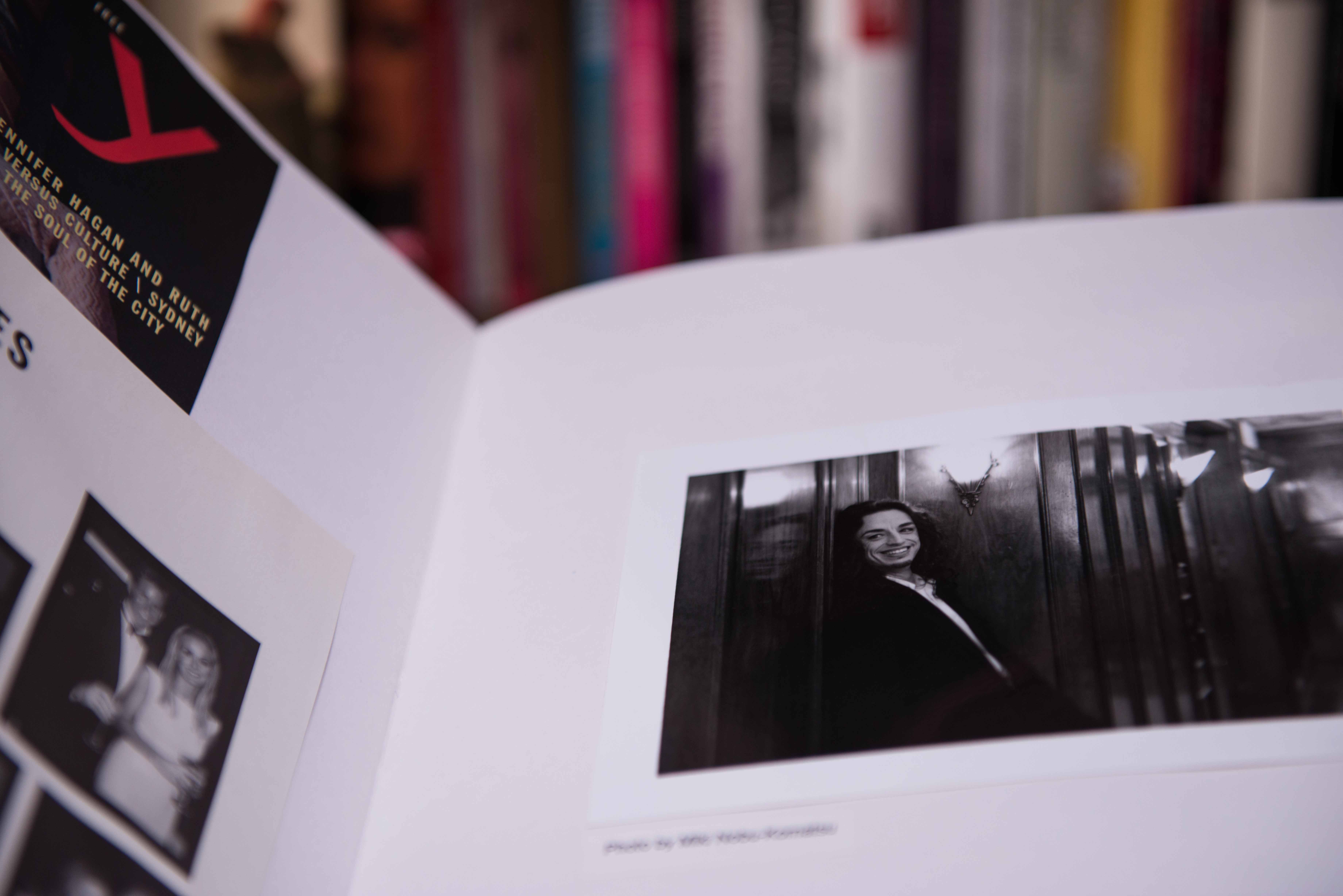 I love the writing of Christopher Isherwood and the first book of his I read was Goodbye to Berlin. My favourite film is Cabaret and the story is based on that book. I had to sticky tape the cover back on Prick Up Your Ears by John Lahr because I wore it out, it's about playwright Joe Orton and his lover. This book is inscribed 1986, London and I read it just before the film came out in 1987.
I never thought I would be a book person as I wasn't very good at school, it is something that has happened as I got older.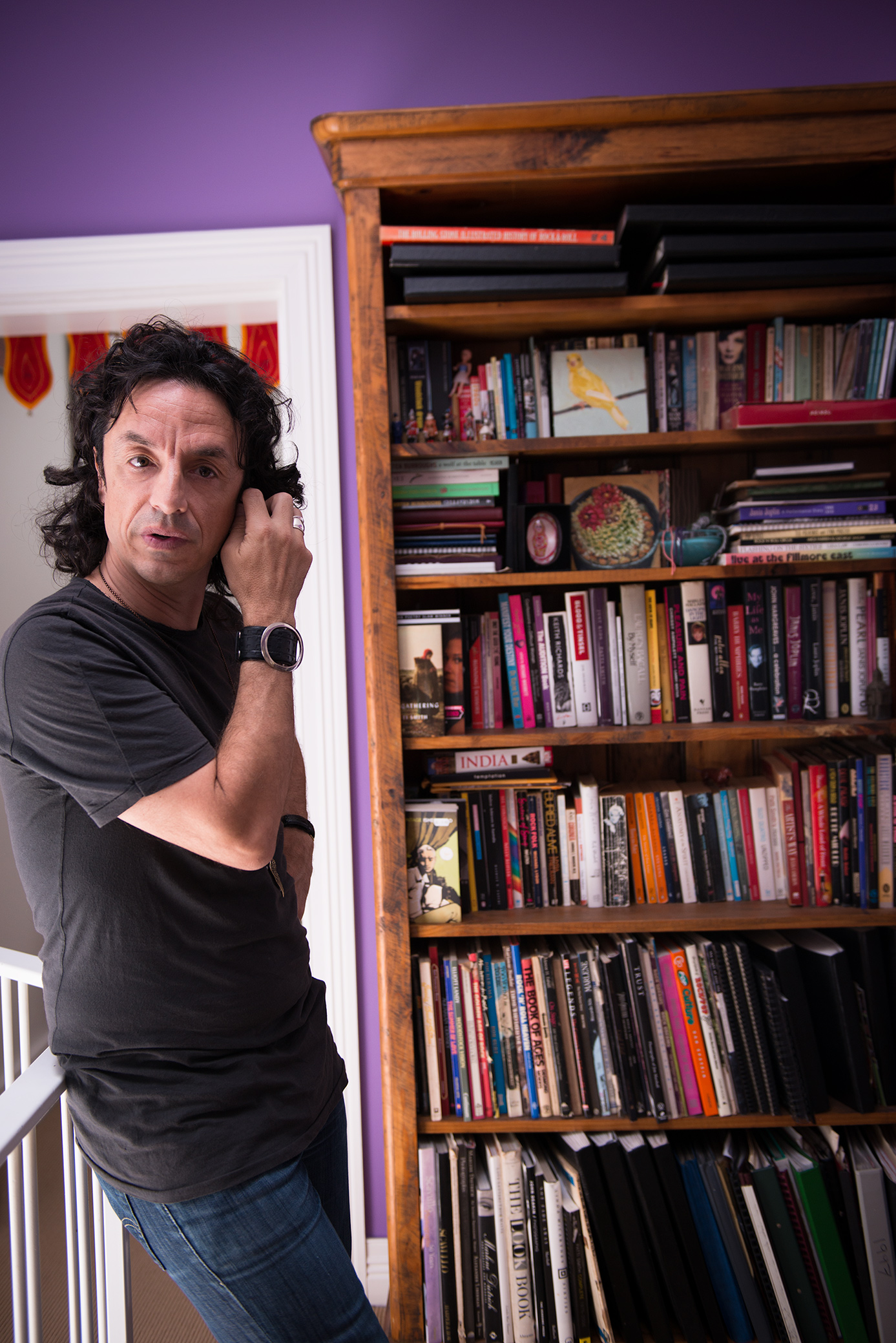 The Artist's Way by Julia Cameron is a very important book to me. I was feeling uninspired as a performer and it was given to me as a present. I didn't think I needed it and I put it in my giveaway pile but I took another look at it and I got stuck into to it. It's all about the process and it was the first the time I had read someone describing what we go through as an artist and the challenges. Completing it was a total release and I came out of it empowered. I recommend this book to so many people.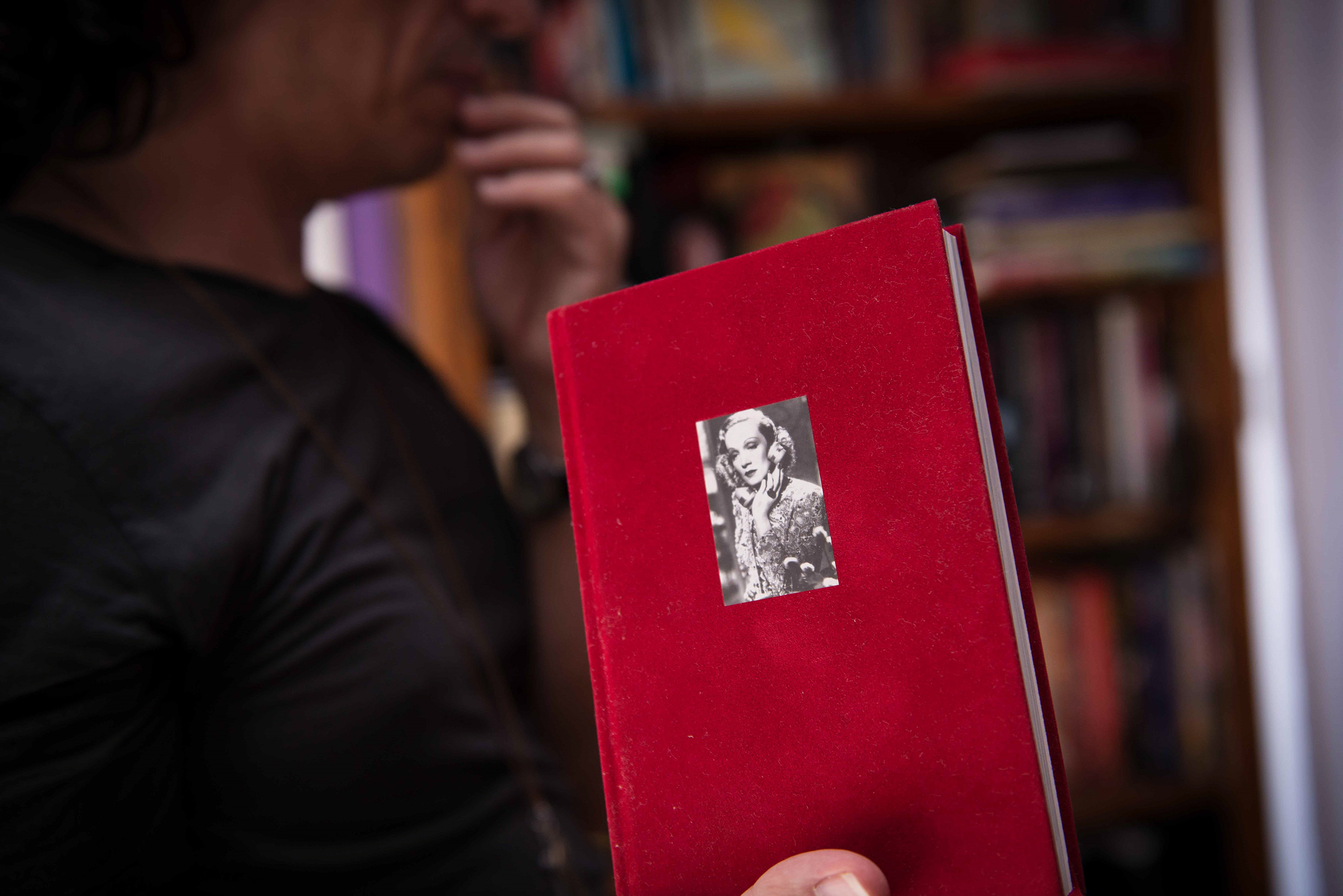 Barrie Kosky gave me this Marlene Dietrich book when we were in Vienna for Boulevard Delirium, it's in German, but it's all on Marlene's diaries and has rare pictures.  My favourite thing in that show was when I did the Dietrich scene. She got to a certain age and that was it  – no more photos and became a recluse and wouldn't even let her friends see her. She was all about controlling her legacy and how she would be remembered.
My favourite type of book is a biography and I have so many of the early ones still boxed away. Lauren Bacall signed one of my books and she was cross with me because my pen didn't work.  She snapped, "Give me a pen that works." There was just the two of us standing at the door of the Old Majesties Theatre in Sydney, 1986.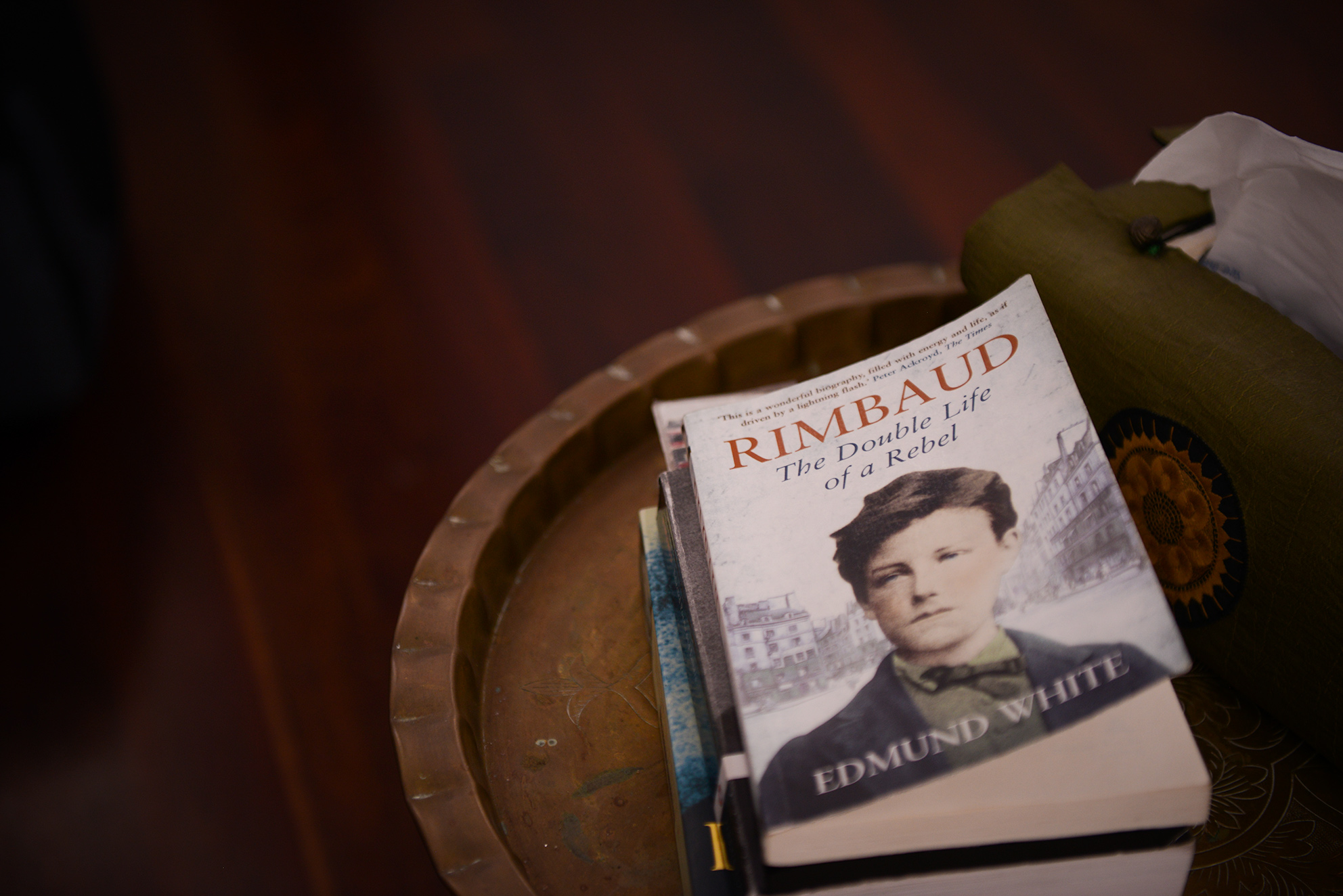 On my to read pile is getting higher and higher – I'll find them at garage sales or second-hand stores  I just picked up a  book on Rimbaud  by Graham Robb over the weekend.  Rimbaud died in 1891 and was so ahead of his time. He shocked many people and they thought he was nuts. He then gave up poetry and never wrote again, he worked and lived in Africa. He had previously lived a debauched life with an older man. When I was in London I found Edmond White's biography on him and I couldn't put it down
I started reading Proust once – I couldn't go beyond the first page, it was so heavy.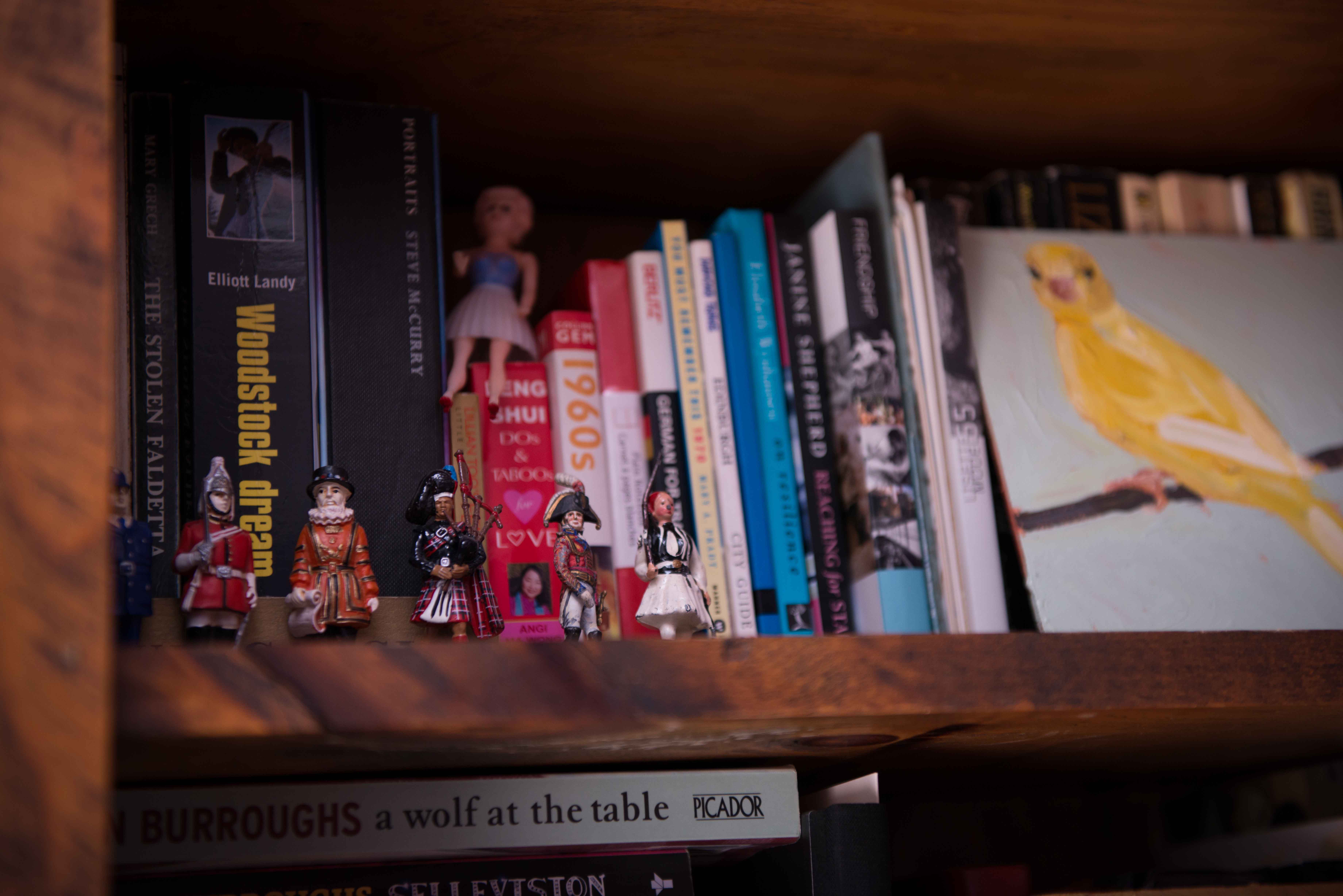 I was given these wonderful paintings by one of my favourite artists Lucy Culliton. I went to one of her exhibitions recently at Ray Hughes Gallery and I said that one day I want to own a Lucy and she sent these to me. For now they will live in my bookcase until I get them framed.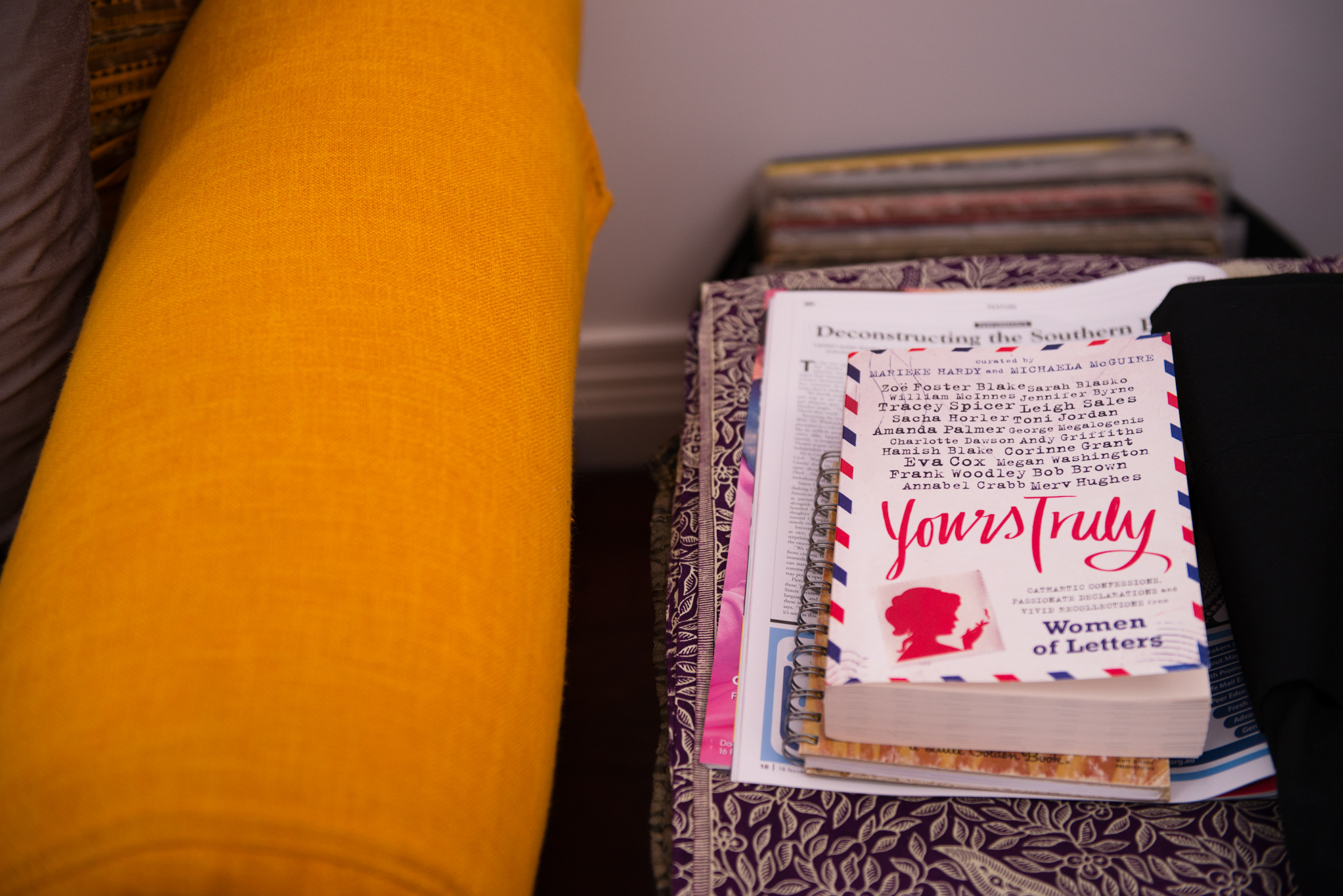 About Paul
Spanning an extensive career, Paul Capsis is probably best known as a performer of theatre, concert and cabaret. Critically acclaimed theatre highlights include: Angela's Kitchen (his co-written solo piece), Little Bird (commissioned by the State Theatre Company of South Australia and Adelaide Cabaret Festival as a one Spanning an extensive career, Paul Capsis is probably best known as a performer of theatre, concert and cabaret. Critically acclaimed theatre highlights include: Angela's Kitchen (his co-written solo piece), Little Bird (commissioned by the State Theatre Company of South Australia and Adelaide Cabaret Festival as a one-man musical), The Threepenny Opera (best supporting actor Sydney Theatre Awards), Boulevard Delirium, Three Furies, The Rocky Horror Show, All About My Mother, Thyestes and Volpone with various State and independent theatre companies throughout Australia.   Paul has also worked extensively internationally, his favourites being New York, London, Vienna, Shanghai and Hong Kong. 
Paul takes a leading role in the Australian feature film, THE BOY CASTAWAYS and appears in the acclaimed telemovie, CARLOTTA. His debut feature film role was the groundbreaking Australian film HEAD ON.
Paul has recorded four albums in addition to the commercially released soundtrack of THE BOY CASTAWAYS and is a popular guest for various television programs.
Award highlights: Five Helpmann awards, including in 2012 for Best Actor in a Play and Best New Work (for Angela's Kitchen), Greenroom award, Film Critics Circle Award and the 2010 Sidney Myer Individual Performing Arts Award.
@officialcapsis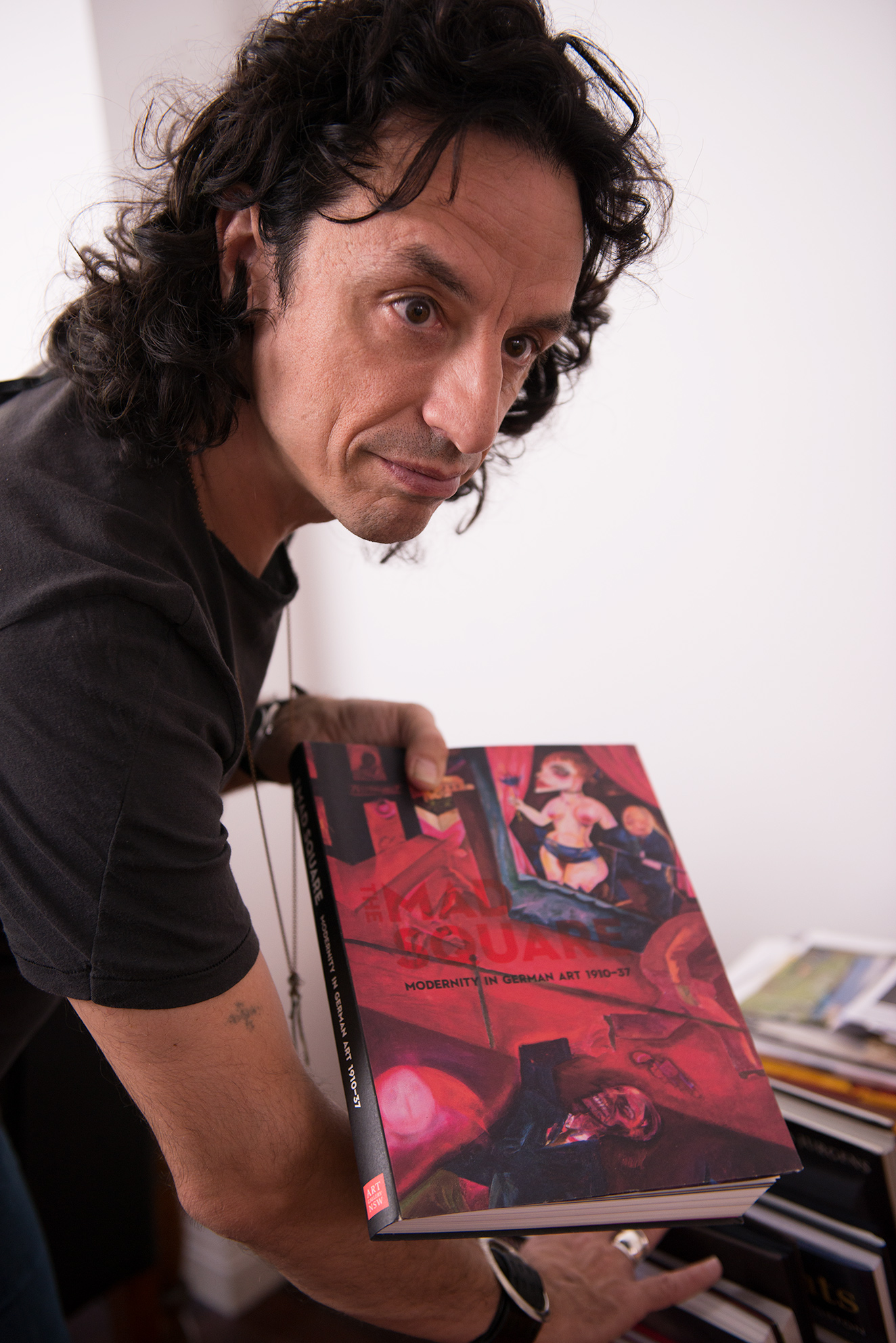 Leigh Russell and Kathy Luu chatted with Paul on the 11th December 2013.  Images by Kathy Luu © Hello Bookcase 2013. Unauthorised use and/or duplication of this material without express and written permission from this blog's author and/or owner is strictly prohibited.